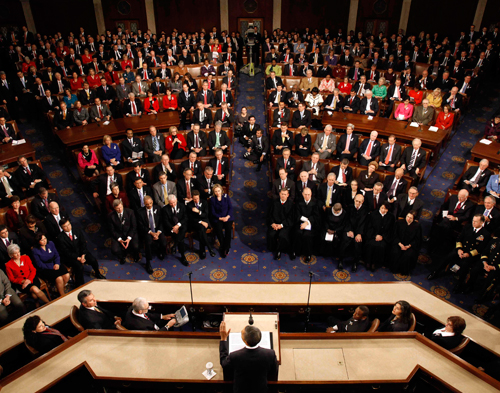 I got two e-mails after the president's State of the Union address. One was signed simply Barack. Among other things it said:
"Moving forward, America's economic growth at home is inextricably connected to our competitiveness in the global community. The more products American companies can export, the more jobs we can create at home.
"This vision for the future starts with innovation, tapping into the creativity and imagination of our people to create the jobs and industries of the future. Instead of subsidizing yesterday's energy, let's invest in tomorrow's. It's why I challenged Congress to join me in setting a new goal: By 2035, 80 percent of America's electricity will come from clean energy sources.
"It means leading the world in educating our kids, giving each of our children the best opportunity to succeed and preparing them for the jobs of tomorrow.
"We must build a 21st century infrastructure for our country, putting millions of Americans to work rebuilding roads and bridges and expanding high-speed Internet and high-speed rail."
The other e-mail came from the Ayn Rand Center and included this:
"On the day of the State of the Union address, voters are split on the likely new spending proposals coming out of the White House, according to a new Rasmussen poll. Eighty-two percent (82%) of Democrats and unaffiliated voters think new government programs are more likely to create jobs. Sixty-four percent (64%) of Republicans feel cutting federal spending would be more likely to create jobs. So what should the government do?

"'If we want to see significant, enduring job creation, the government needs to dramatically cut spending, reduce regulations, and cut taxes–far beyond what Republicans are proposing,' says Yaron Brook, president of the Ayn Rand Center for Individual Rights. 'Jobs are created as the result of capital formation, savings, investments, production, and entrepreneurs having a sense of certainty about the future. None of these are accomplished by the government taking money from some people by force and handing it to others.'"
Joblessness has remained stagnant nationally and gone up in Nevada. Who has the answer? They can't both be right.
While the president talked about those green energy jobs, I couldn't help but recall a story in the paper recently.
It was about a lawsuit filed Tuesday to block a wind turbine project near Great Basin National Park. The suit said that despite "very significant and unknown environmental and cultural impacts," the BLM gave "fast track" approval of the Spring Valley Wind project in White Pine County four miles from a cave where more than 1 million Mexican free-tailed bats roost in the fall.
The story quoted a proponent of the project as saying "if the Spring Valley project is not environmentally acceptable, then no project in Nevada will ever be acceptable."
There's the jobs of the future! We'll just sue each other into prosperity.
p.s.
At one point during his speech, Obama said, "At the California Institute of Technology, they're developing a way to turn sunlight and water into fuel for our cars."
I think that is called steam.