Worries over firearms surface in rooftop-solar debate
February 10, 2016 - 7:25 pm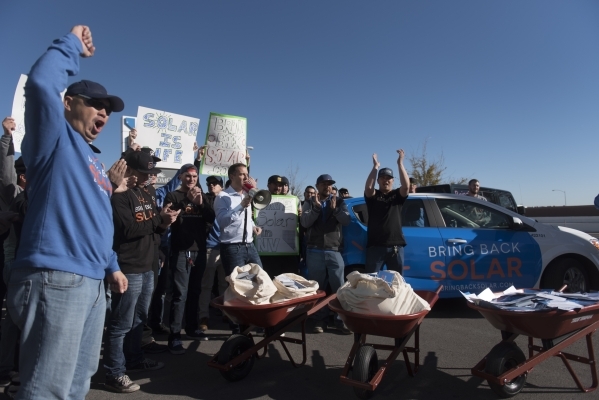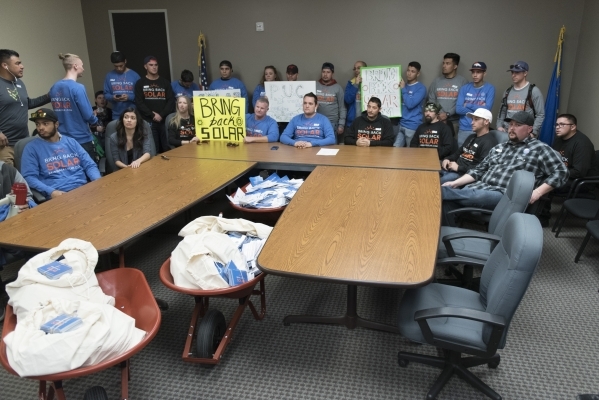 CARSON CITY — An official with the Nevada Public Utilities Commission said Wednesday that there has been escalating tension and intimidation directed at agency staff over the rooftop-solar debate and that at least two Las Vegas protesters at a Monday hearing on the issue were openly carrying firearms.
With as many as 1,000 people expected in Las Vegas at the Friday meeting of the commission — where a decision is expected on whether to finalize or reconsider the new, controversial net metering rates — General Counsel Lina Tanner said some agency employees are frightened because of the irresponsible behavior of some individuals.
"Things were getting really tense on the ground," Tanner said of the Monday hearing to consider new information about whether existing rooftop-solar customers should be able to stay on the original, more generous net metering rates that existed prior to Jan. 1.
Three individuals wearing Bring Back Solar T-shirts who had wheelbarrows full of cards indicating support for a referendum petition to restore net metering rates to 2015 standards were carrying weapons and were not allowed entry into to the hearing, she said. The hearing was not a formal public meeting, however, where Friday's meeting will include public comment periods, Tanner said.
The three individuals indicated they would be back at Friday's meeting and said they would be armed, she said.
"We are mindful of Second Amendment rights and that Nevada is an open carry state," Tanner said.
But efforts to carry weapons into a PUC hearing on such a contentious issue is inappropriate and appears to be an effort to threaten or exert undue influence on the commission, she said.
Asked to comment on the PUC concerns, Gov. Brian Sandoval said in a statement: "I am hopeful that this hearing will provide an open forum for a civil debate on this important energy issue. I realize that heightened rhetoric has escalated the tensions surrounding this discussion and I ask for all parties to approach this important hearing with civility and respect for the process and their fellow Nevadans."
The PUC has been working with Capitol Police and Las Vegas police, who assist outside the hearing rooms, primarily on crowd control. But staff is considering the use of metal detectors at Friday's meeting, she said.
Tanner has detailed her concerns to the state Department of Public Safety in a memo as well. The level of public involvement on the rooftop-solar issue is unprecedented in the agency's history, Tanner said.
At the Monday hearing the home addresses of the members of the commission were also being circulated via email, Tanner said. There were no threats accompanying the addresses but it was alarming to staff and the commissioners, she said.
Tanner said she would like the affected companies that have protested the new rates, including SolarCity, to come out with statements asking all those involved to be respectful of staff and the process.
In a statement, Chandler Sherman, speaking on behalf of SolarCity, said: "The vast majority of Nevadans disagree with the PUC's decision. Many have expressed their views and everyone that we've observed has done so in a respectful manner. We have zero tolerance for unlawful conduct, and we have not observed or heard about any unlawful conduct inside or outside of the proceedings."
Contact Sean Whaley at swhaley@reviewjournal.com or 775-461-3820. Find him on Twitter: @seanw801