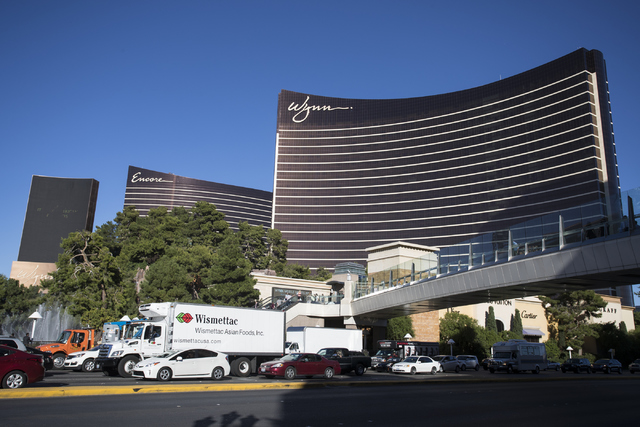 CARSON CITY — A Las Vegas gaming company approved by state utility regulators in 2015 to leave as a retail customer of Nevada Power is arguing that the exit fee imposed to do so is unfair and discriminatory.
Wynn Las Vegas, in a recent filing with the Nevada Public Utilities Commission, said that the fees charged to the company to purchase its own electricity on the open market are much higher than those imposed on the data storage company Switch when its departure was approved in 2016. The company has asked for a hearing on the claims made in its filing.
In the filing, Wynn notes by way of example that the exit fee imposed on the company was about $184 per megawatt hour compared to just under $97 charged to Switch, which operates data centers both in Northern and Southern Nevada.
The PUC staff used a different methodology for the Switch exit application.
State law prohibits unjust or unreasonable charges, and Wynn has asked the PUC for a hearing on its claims.
Wynn was assessed an exit fee of $15.7 million to leave as a customer of Nevada Power, part of NV Energy. Wynn said in its filing that additional charges included by state regulators made the total cost to leave $36.8 million. Wynn left as a retail customer on Oct. 1, 2016.
Switch was approved to leave by the PUC in December and was required to pay a $27 million exit fee.
The exit fees are intended to ensure that departing companies protect remaining ratepayers for energy investments made by the utility to ensure an adequate energy supply for all customers.
Wynn said in its filing that the charges and fees being assessed against the company are "supporting and subsidizing costs that should be borne by (Nevada) ratepayers."
Several large companies have left or are seeking to leave NV Energy as retail customers to secure their own electricity on the open market. MGM Resorts International also left on Oct. 1, 2016,
Large companies can leave under the provisions of a law enacted by the Legislature in 2001.
Contact Sean Whaley at swhaley@reviewjournal.com or 775-461-3820. Follow @seanw801 on Twitter.