Wynn, Sands apply to leave NV Energy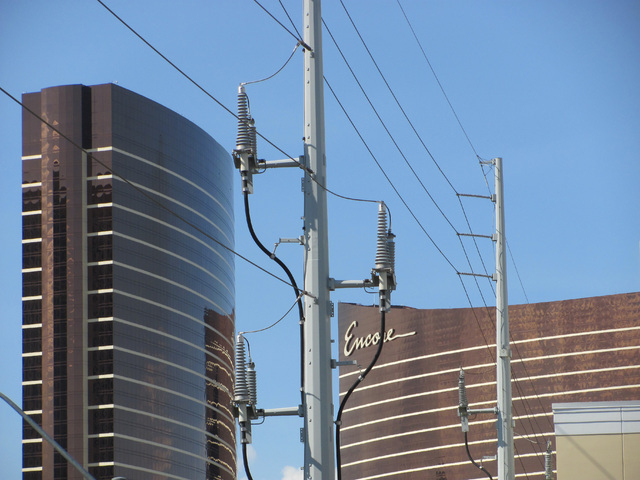 CARSON CITY – Applications by Wynn Las Vegas and the Las Vegas Sands Corp. to leave Nevada Power Company and acquire their own electricity on the wholesale market have been filed with state regulators.
The Wynn exit application was filed May 4 and the Sands application was filed May 1.
The Sands application says the company issued a request for proposals to three potential providers of energy on April 29, and the responses are due May 12. The application says the requested loads for delivery are 44 megawatts of maximum capacity with 29 megawatts of expected average capacity.
The Wynn application also indicates that the company has not selected a provider yet.
Much of the information about the plans by the companies to exit from Nevada Power is confidential.
The two gaming properties are the first of four expected to seek approval from the Nevada Public Utilities Commission to acquire their own electricity. The others are MGM Resorts International and Caesars.
The casinos are following in the steps of the data storage company Switch in seeking to leave Nevada Power, doing business as part of NV Energy.
A decision on the request by Switch to leave is expected by the end of the month. The only issue is the amount of an exit fee the company will be required to pay to leave.
Switch argues the fee should be no more than $18.5 million to leave the retail market as a Nevada Power customer. The Nevada Public Utilities Commission staff has recommended a $27 million fee.
The four gaming companies collectively have a peak demand of about 370 megawatts of electricity. By contrast, Switch has an average load of 34 megawatts annually.
The companies are using a 2001 law approved by the Legislature allowing companies to leave the retail market. The law was designed to help Nevada Power control its energy costs at a time when explosive growth was pushing prices higher.
But now, those pressures don't exist and there is a concern that the departure of Switch and other large companies could end up costing the average utility customer in the form of higher rates.
Contact Sean Whaley at swhaley@reviewjournal.com or 775-687-3900. Find him on Twitter: @seanw801.
Related Stories:
Major casinos, Switch want to leave NV Energy
Add Caesars to list of big companies seeking to drop Nevada Power
Companies seek to leave Nevada Power, utility considers adding capacity