'A game changer': Las Vegas startup creates customized baby bottles
Updated May 6, 2023 - 8:39 am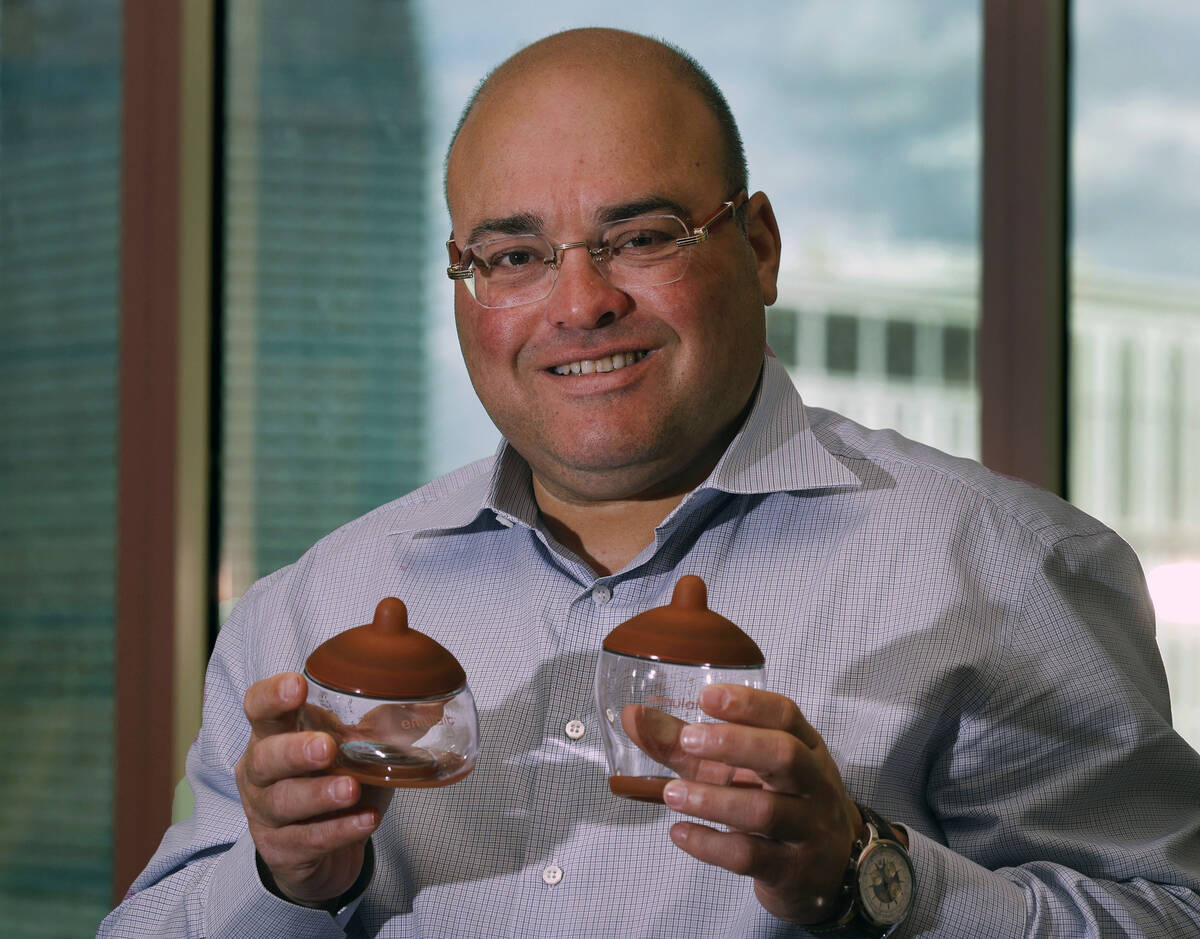 A Las Vegas-based startup set out to help close the gap between breastfeeding and bottle feeding, and two years later, its product has a waitlist of 50,000 customers.
Shilo Ben Zeev founded the custom baby bottle brand Emulait in 2021, but the idea came to him about eight years ago when his first daughter was born. The serial entrepreneur with a background in developing health-focused startups saw his wife struggle to breastfeed, and he wanted to develop products that could help those in the first stages of parenthood.
While the product appears to look like a slightly different-shaped baby bottle, it includes a number of features to help emulate the breastfeeding experience for a baby.
"What we are trying to prove is that using our product is the closest possible to breastfeeding," he said.
The bottles can be customized into 25 different variations, with five different types of nipples and five different colors that reflect various skin tones. To find the best style, a mother scans their breast on the Emulait app — which doesn't take photos — to find the bottle type that most closely matches their body.
Emulait first hit the market in March and there has been strong consumer demand ever since. Ben Zeev said the company has a waitlist of about 50,000 people. He expects the waitlist to dwindle as the company's manufacturing hits full scale in August.
Science behind the bottle
Since its founding, Emulait has utilized scientists and researchers from across a wide range of specialties including lactation, physiology, neonatal intensive care and pediatrics, according to Judith Shamian, former president of the International Council of Nurses and chair of Emulait's eight-member scientific advisory board.
"In order to build something that is completely a game changer in this field, (Ben Zeev) needed strong science advice," Shamian said.
She noted the bottles have unique features such as a special air intake system to reduce the amount of air a baby swallows, different valves to regulate flow and elasticity to mimic a real nipple.
Breastfeeding is viewed as the healthiest way to feed a baby and it's recommended by the American Academy of Pediatrics that a baby should be exclusively breastfed for the first six months and that breastfeeding should then be accompanied with age-appropriate foods until the baby is 2 years old.
The 2022 Breastfeeding Report Card from the Centers for Disease Control and Prevention showed that 62.6 percent of babies were exclusively breastfed during their first month, but that number steadily declines each month to 24.9 percent at 6 months. The report notes that families often don't breastfeed as long as they intend to and blames the decline on a lack of support systems for families.
Ben Zeev said he hopes its customized bottles can make it easier for mothers to continue breastfeeding as long as they desire.
"In America, we expect mothers to breastfeed and go to work and come back home and still breastfeed," he said. "Today, if you give them a bottle, it's very very hard, even impossible, to go back to breastfeeding."
Future plans
So far, Emulait has raised about $16 million in funding from family, friends, individual investors and its manufacturer, Roembke Manufacturing and Design Inc., according to Ben Zeev.
"This is a huge market," he said. "You're talking about pacifiers; you're talking about breast pumps and adapters. We have more than 10 accessories planned outside of the bottles."
Emulait recently released pacifiers and plans to introduce a bottle warmer this summer that can track how much liquid is in a bottle.
The company has relied on social media for its advertising, with online posts featuring influencers sharing product reviews and unboxing videos (opening new packages for viewers) on platforms such as TikTok and Instagram.
Wells resident and stay-at-home mom Kristina Colangelo said she became aware of Emulait after seeing its TikTok ads. Colangelo, a TikTok creator known as @power_baker, said she was impressed that the company worked with people certified by the International Board of Lactation Consultant Examiners.
"So many companies will reference pediatrician recommended … but they leave out the (lactation) experts on the issue," Colangelo said, who is pregnant with her third child.
Her first daughter is 2 1/2 years old and her second daughter is 9 1/2 months, who was already bottle feeding by the time she purchased Emulait's product.
Colangelo noted it was initially difficult to put the bottle together and that its March launch was "rocky," since there was a large demand for the bottles.
But she wished Emulait was available sooner since it was hard to transition her youngest daughter to the bottle.
"It basically had to get to a point where she just got hungry enough and realized that the only way that she was getting any food was going to be through the bottle," Colangelo said.
"I saw that Emulait could help mamas avoid those situations, where their child has to basically just get hungry enough to be forced to take it. That was something that I was like, 'Yes, I need to have this.' Just because I don't want to go through that again and have to have it be them learning the hard way."
Contact Sean Hemmersmeier at shemmersmeier@reviewjournal.com. Follow @seanhemmers34 on Twitter.