Entrepreneurs turn arcade nostalgia into growing business in Las Vegas Valley
October 15, 2016 - 8:49 pm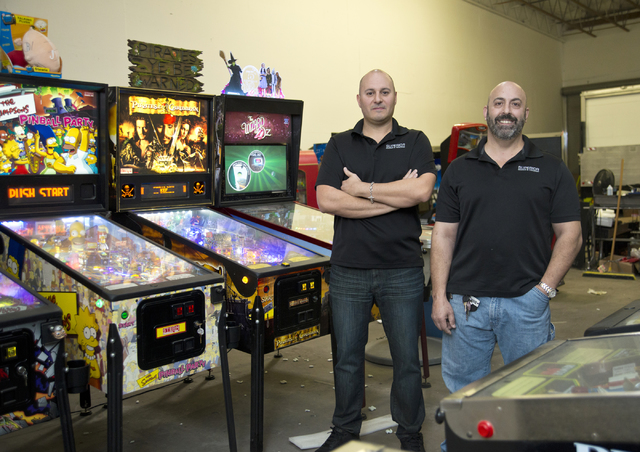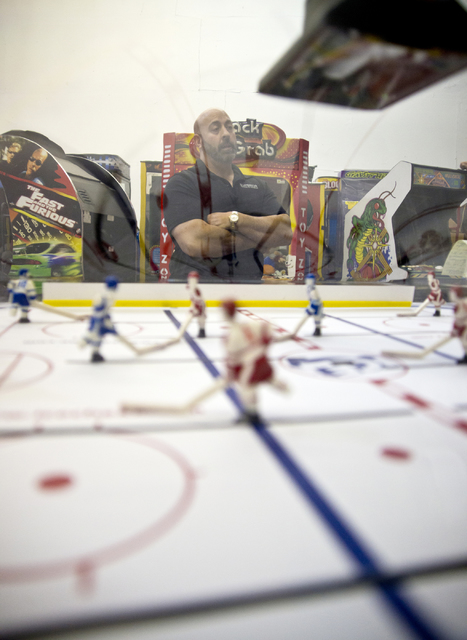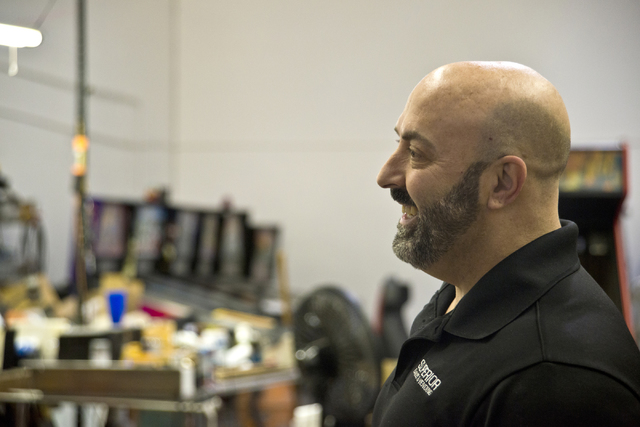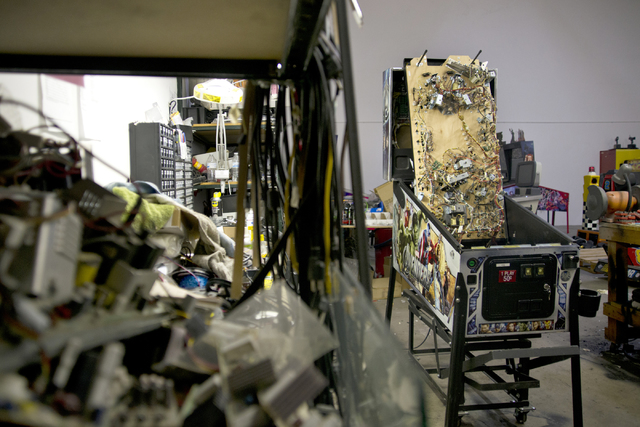 James Angelone and Laurence Galbraith share both an entrepreneurial spirit and a love of video games.
The two Fort Lauderdale, Florida natives run Superior Games & Vending, which provides arcade games for existing businesses and shares the revenues.
Now the duo is hoping to cash in on childhood nostalgia with a recently opened arcade on Fremont Street.
Angelone, 41, who once ran a printing business, joined Galbraith, 50, after "burning out" as a poker player.
Galbraith has a background as an auto mechanic and rare-coin dealer.
Growing up the 1980s, Galbraith said he grew fond of video games such as "Pong" on early home systems. Angelone grew up playing at an arcade owned by the family of a childhood friend.
In early 2009, Galbraith launched Superior Games & Vending with another friend and Fort Lauderdale native, Jesse Sieg, 40. Sieg, also a poker player, left to pursue the game, and Angelone came on a year later.
Standing in a North Las Vegas warehouse housing arcade games, pinball machines and toy cranes Tuesday, Galbraith recalled starting out and storing early machines in his home garage.
Galbraith said he got his first account before he even started the business. A CiCi's Pizza regular, Galbraith persuaded a local franchise owner to let him take over the arcade at another location that was opening in a few months.
To build their arcade arsenal, Galbraith and Sieg rented a truck and drove as far as Cheyenne, Wyoming.
"There's very few arcade games available for sale or purchase in Las Vegas. So you're either gonna have it shipped in — which can be $400 or $500 a game — or you're gonna go get it," Galbraith said.
Pointing to a crane machine behind him that he bought early on, Galbraith recalled driving through below-zero temperatures and braving a blizzard to buy five or six arcade games in Wyoming.
"I'd buy a used game, bring it back to the house and refurbish it in the garage," Galbraith said. The former mechanic would add new LED lighting and "freshen up" the pieces.
The average cost of a new arcade game is $10,000, according to Galbraith, compared with some of the games from Wyoming that he paid $550 for.
Today, the business has about 300 games that are spread across valley businesses and housed in the warehouse.
Galbraith said they have about 11 accounts, including two on the Strip at Big Apple Arcade at New York-New York and at Fun Dungeon at Excalibur.
A game at Excalibur might get played 1,000 times a week while a machine at a pizza parlor might get played 50 times a week, Galbraith said.
Galbraith said they try to establish themselves as a business by valuing quality over quantity and buying newer games.
Galbraith said he spends $300,000 a year on new equipment and frequents auctions regularly to find new gems and flip older pieces.
A "Star Wars Battle Pod" game at Excalibur cost $30,000, Galbraith said. A piece like that doesn't pay for itself quickly but attracts gamers, he said.
Galbraith acknowledged that physical arcades have more competition than ever because of games on cellphones, consoles and tablets.
"In the 1980s, you weren't competing against anything. You set up "Pac-Man" or an "Asteroids," and it was just making money hand over (fist)," he said. "You could return your investment in weeks."
Their newest venture is the Fremont Arcade inside Neonopolis. That venture opened over the summer.
Despite competition from mobile games, casino gaming and national arcade-restaurant franchises, Angelone said there's still room for their arcade.
"We're not interested in becoming the Dave & Buster's on Fremont Street or on Las Vegas Boulevard; we just want to be the classic arcade," Angelone said.
tag rey@reviewjournal.com or 702-383-0270. Follow @acoreynews on Twitter.