Las Vegas couple opens at-home care facility for seniors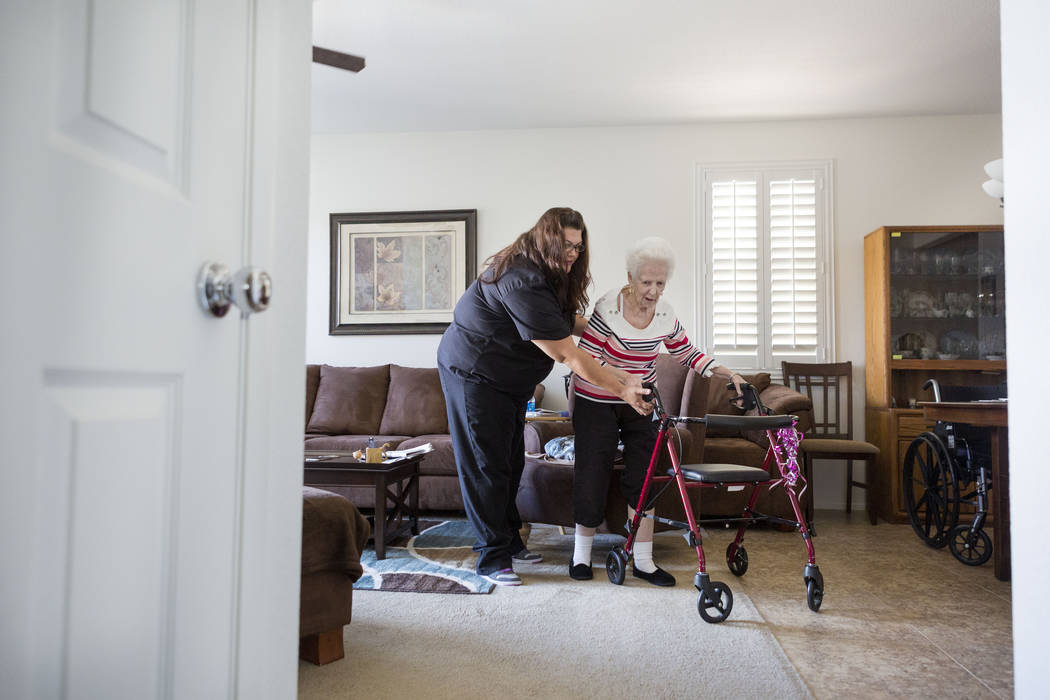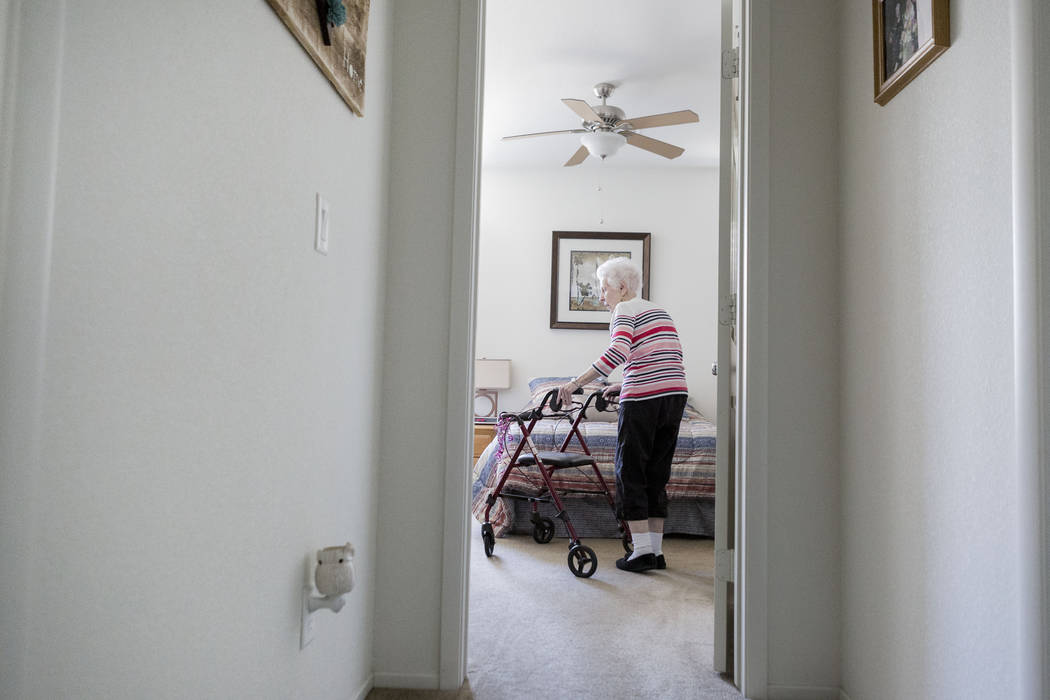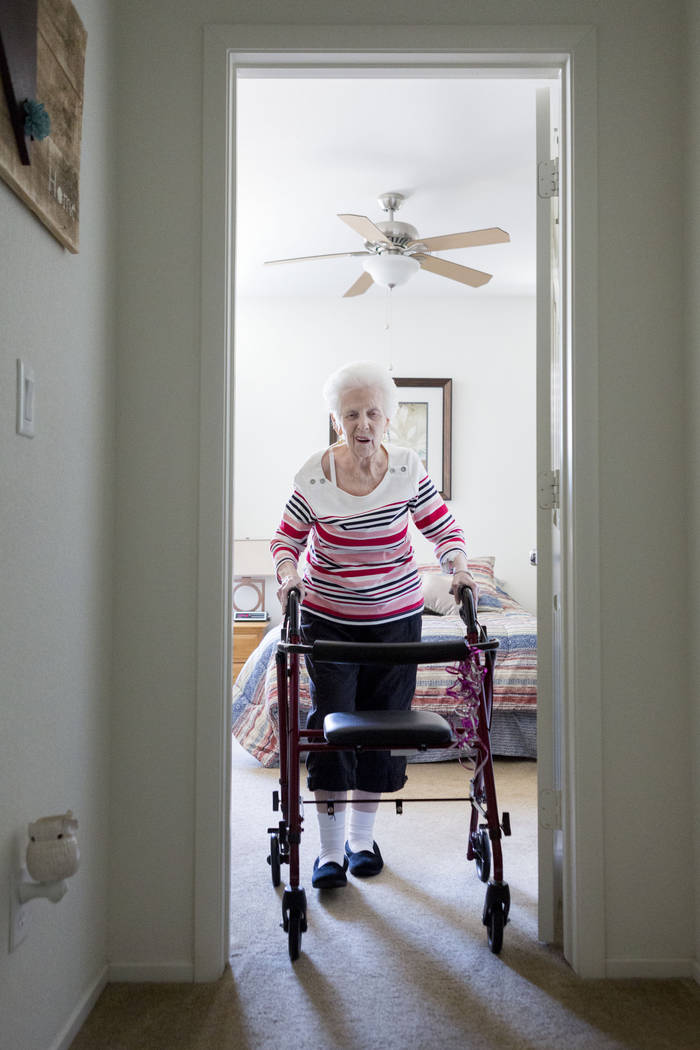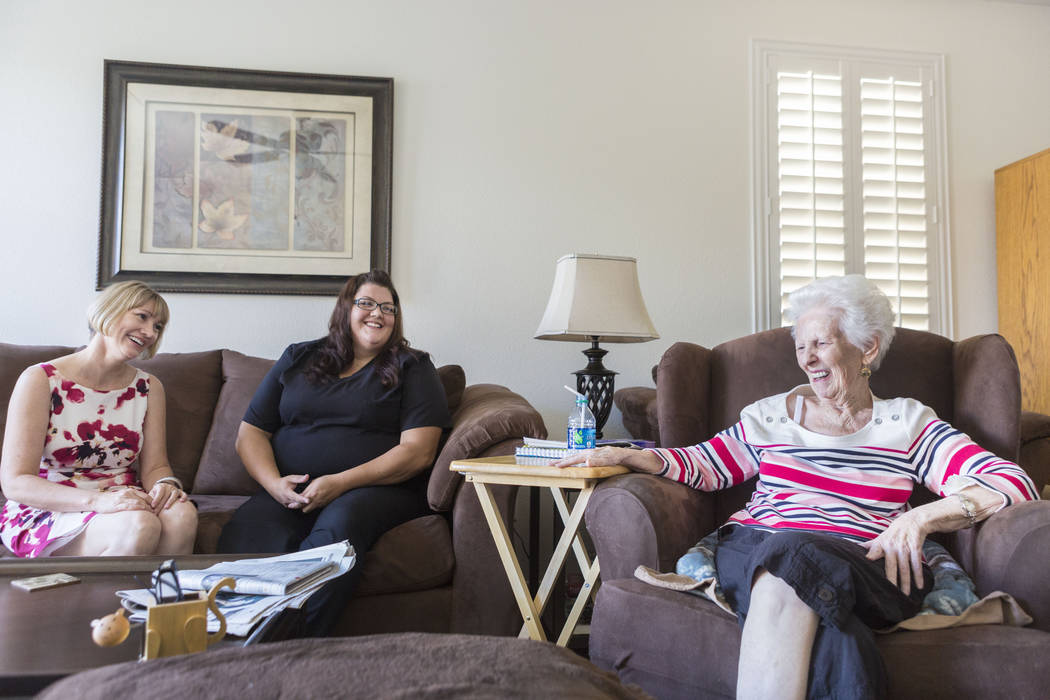 It was 2010 when Christy Swadkins first saw signs of dementia in her father.
It started with little things. Marv Ehret would get confused reading clocks or find it difficult to hold a conversation. Then there was the time he visited Christy Swadkins and her husband, Bob Swadkins, and left for home in the middle of the night, calling his daughter to ask why the roads were still dark. Other times, he'd get lost looking for the bathroom when visiting the Swadkins' home.
Later that year, Ehret was diagnosed with Parkinson's disease and Lewy body disease, one of the most common causes of dementia among older people.
Christy Swadkins found it difficult to watch her father slip further into his own mind. While he was already receiving in-home care in Phoenix, she began searching for full-time care for him in Las Vegas, talking to others with parents in similar situations.
"I just learned that every family's needs are different," Christy Swadkins said.
So when she heard a radio advertisement asking for franchise owners of an at-home senior care facility, she immediately was interested.
New business owners
Christy and Bob Swadkins became owners of the Summerlin branch of Golden Heart Senior Care last fall, gaining their first client in September. The business is licensed to provide nonmedical in-home care for seniors, with a staff of about 35 certified nursing assistants and personal care assistants working with about 20 clients.
While Christy Swadkins' father isn't a client — he receives full-time care from a senior living facility in Las Vegas — she knew there were other families out there with needs she could address.
Christy Swadkins had worked as a school counselor for 13 years, but she said she and her husband had always talked about starting a business.
"It was really important for me to stay in the social work, caregiving business," she said. "I'd always done volunteer work with seniors in the past … I thought this could be perfect."
The couple had made attempts at owning different businesses in the past, but none had stuck. Christy Swadkins said the passion just wasn't there, but she believed Golden Heart would be different.
The two split roles in the business evenly — Bob Swadkins takes care of "the boring stuff" in the business, like working with the licensing and financing, while Christy Swadkins acts as the primary administrator for daily operations.
Christy Swadkins' experience as a counselor has played a large part in what she does at Golden Heart, especially when pairing caregivers and clients.
"In the interview process, I can get a sense for a personality, who might work well together," she said. "Sometimes I miss, but I'm pretty good at it."
Bob Swadkins said the extra effort is worthwhile for both the clients and caregivers.
"We don't just take a person and throw them in a house," he said. "It's almost like a dating service to an extent to make sure you put the right client with the right (caregiver)."
Like a family
Renee Nadeau, a 34-year-old personal care assistant, has been working with Golden Heart for about six months. Her roles include helping clients with different tasks throughout the day: preparing meals, dressing and bathing them, bringing them to appointments and providing companionship.
As a caregiver, Nadeau spends anywhere from eight to 10 hours a day with her clients, and she often develops friendships along the way.
"You get close," she said. "It's a lot of time to spend with someone and not form a relationship."
Mary Jones, 88, is one client who works with Nadeau. She said their relationship is similar to that of a mother and daughter. They disagree sometimes — like when Nadeau urges Jones to take a walk when she isn't in the mood — but overall, the relationship is a good one. They like the same TV shows and share jokes over doctor's appointments.
"We've had some fun," Jones said. "We've shared some laughs."
Being picky
For Christy Swadkins, seeing her father receive subpar care from past organizations has pushed her to provide the best care possible for her own clients.
"It's really important that you trust the facility or the caregiver to give the most quality care," she said. "You can have all the background in the world, you can have CNA or whatever those letters are behind your name, but it breaks my heart sometimes because he knows that people are rolling their eyes behind his back."
Because of this, the two business owners have high standards when selecting their own staff. Bob Swadkins said they're pickier than many other facilities; he estimated that they've hired only 35 people out of 500 applicants.
"It's a struggle," Christy Swadkins said. "Sometimes we have more clients than we do quality people … But the internal compass for me is, when I'm thinking about hiring, would I allow this person to go into my home or my dad's home?"
Going the extra mile
The couple tries to go above and beyond when offering care for their clients. They take pride in being one of the few senior care businesses that are truly a 24/7 service.
"I don't know how many times she's gotten calls at 1, 2, 3, 4 in the morning," Bob Swadkins said.
And during working hours, Christy Swadkins does her best to make sure her clients feel at home with the company and its staff. She's gained the nickname "the nut lady" from her clients for delivering boxes of homemade candied pecans during visits.
"If you're not a people person, you're certainly going to fail at this business," Bob Swadkins said. "You have to be able to connect with people, and you have to be able to really engage with them. … They're looking to trust someone."
Contact Bailey Schulz at bschulz@reviewjournal.com or (702)383-0256. Follow @bailey_schulz on Twitter.