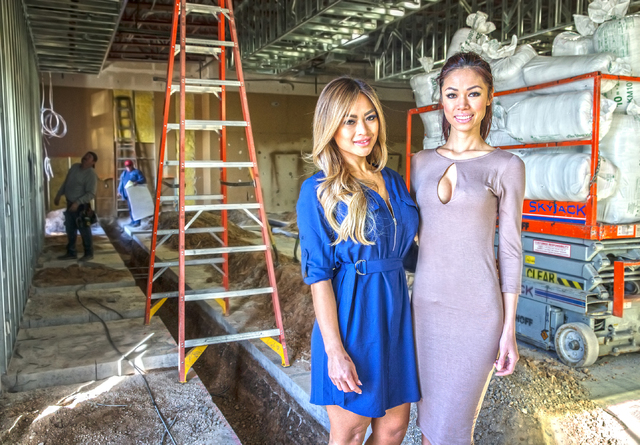 Jeanne Phatdoung didn't know what to expect five years ago when she packed up and left her hometown of Modesto, Calif., to break out in Las Vegas' hospitality scene.
Phatdoung served cocktails in nightclubs like Omnia at Caesars Palace and Light at Mandalay Bay. She adjusted to city life, made good money and met one her closest friends, Kym Kieu.
"It was a big shock," said Phatdoung, now 33.
Now, the two women have invested in opening their first business together. In March, Phatdoung and Kieu will open Nail Society, an upscale salon at 7700 Las Vegas Blvd. South, near the intersection with Robindale Road.
The general contractor they hired received a permit Jan. 9 for $225,000 worth of work for two units of the shopping center, according to county records. They demolished the interior walls, ceiling and fixtures to create an open front with private rooms for waxing and facials.
Phatdoung previously worked as a hairdresser, which felt like running her own business. But this new venture feels more stressful and exciting, she said.
The 3,000-square-foot salon will cater to women who work at nightclubs, a business particular about the looks of its employees down to their fingernails and toenails.
"We can only have pinks and nude color," Phatdoung said.
She wants to cater to locals and tourists as well. A location inside the same shopping center as the Bootlegger Italian Bistro and wedding venue sold Phatdoung on where to set up shop, she said. The family of former Nevada Lt. Gov. Lorraine Hunt-Bono opened the Bootlegger at its current location in 2001.
Phatdoung has started interviewing for nail technicians, hoping to reach a staff of 25 before opening. She is also receiving advice from and modeling the salon on a friend's in Hollywood called the Champagne Nail Lounge.
"We want to be different than any other nail place," Phatdoung said. "This will be more grand, more spa-like."
Raj Tumber, a mentor with the Las Vegas chapter of Score, a nonprofit that advises small businesses, said a typical obstacle for first-time business owners with a brick-and-mortar store space is qualifying for loans to fund their project.
Las Vegas and Nevada are considered more cost-efficient for starting a business compared to places like neighboring California, Tumber said. But he still advises first-time business owners to slow down and understand regulatory hurdles and what inspections are needed before their first sales.
Starting with enough money to last past the setup phase and keep your landlord happy is key, he said.
"Every business is different," he said. "It's better in the Las Vegas Valley compared to other cities and states. However, it still takes time."
Contact Wade Tyler Millward at 702-383-4602 or wmillward@reviewjournal.com. Follow @wademillward on Twitter.