Las Vegas startup PropSwap will let you get out of Super Bowl bets
February 3, 2017 - 10:12 pm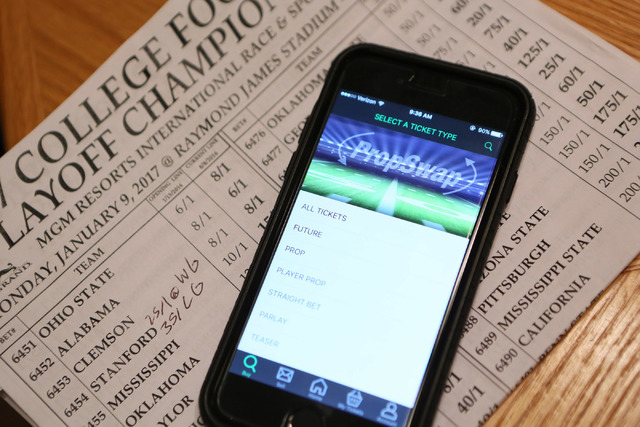 As usual, stakes are high for those placing bets on the Super Bowl.
This year, for those who can't handle the pressure, a local Las Vegas startup is offering a way out.
"You either can take the guaranteed money that we're offering you, or you can let it ride to try to win it big," said Luke Pergande, co-founder of nearly 1-year-old PropSwap, the first secondary market for active sports bets in Las Vegas.
PropSwap allows people to make a profit on a bet they could lose, or get out of a bet that they don't want anymore for a loss.
"The Falcons were actually 100-to-1 or even 150-to-1 earlier in the year, so nobody really thought they would be in this position," Pergande said. "If you got that ticket at 100-to-1 or 150-to-1 back then, you can sell that slip now for a massive profit before the game starts."
Pergande said they've been doling out hundreds of quotes for sports slip values online and via their app. So far they've sold about 20 slips related to the game. "I'm hoping to get the 50s by the time the game takes off."
Buyers have had two weeks to mail their slips to Pergande and co-founder Ian Epstein; the weekend will be a rush to get additional slips in person. Pergande said he and Epstein will be dashing up and down the Strip all day Saturday and Sunday before the game in hopes of recruiting more PropSwap users.
"I post a slip for sale, a buyer writes them a check, the seller is happy — they don't have to be sweating the game Sunday, and they get a nice chunk of change," Pergande said, adding that PropSwap takes 10 percent of the transaction.
The last year in sports has been one to raise some eyebrows with long shot teams making it to the end — especially the eyebrows of sports betters.
"I can point to examples in the NBA, NHL last year, and the MLB — with the Cubs and the Cleveland Indians," Pergande said.
"Maybe that's a trend," Pergande said. "Maybe you start taking some long shots at the beginning of the year because they're starting to pay off."
Contact Nicole Raz at nraz@reviewjournal.com or 702-380-4512. Follow @JournalistNikki on Twitter.
RELATED
2 Las Vegas companies compete for Startup of the Year