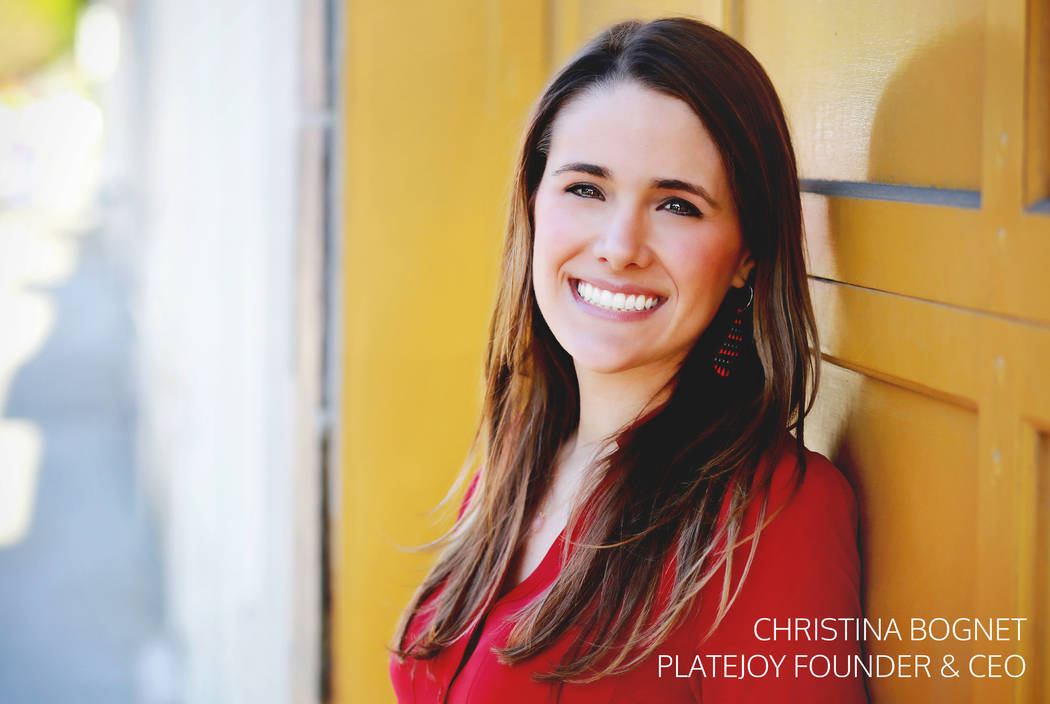 Las Vegas residents can now cook personalized recipes from home without grocery shopping.
PlateJoy, a meal-planning startup, announced its Las Vegas launch Thursday morning. While the online service can provide individualized recipes to anyone, CEO Christina Bognet said Las Vegas is the 30th city that gives customers the option to have ingredients delivered directly to their door.
"It's a sprawling city, which means there's not great access to grocery stores, especially in areas like downtown," Bognet said. "(Grocery delivery is) a huge benefit for a lot of these customers."
Unlike most meal kit companies that send packaged food in precise measurements, PlateJoy gives customers the option to have the ingredients delivered from local grocery stores through their partnership with Instacart. The grocery delivery service launched in Las Vegas last month and can deliver PlateJoy customers food from Costco, Natural Grocers or Albertsons, among others.
To use PlateJoy, users first take a three-minute quiz, answering questions on dietary restrictions, personal preferences, health goals and time restraints. PlateJoy's algorithm then creates personalized recipes and shopping lists for breakfast, lunch, dinner and snacks. Once users have the recipes, they have the option to buy the ingredients themselves or have them delivered to their door.
Subscriptions to the service cost $69 for 6 months and $99 for one year, and do not include the price of the food.
Brian Gordon, principal of Applied Analysis, said services like PlateJoy are attractive to consumers because of their simplicity.
"People's time is generally more limited, and the population is looking for ways to save time and streamline their operation of their households," Gordon said. "This may just be one way that they'll be able to have a simpler lifestyle."
The meal kit market generated an estimated $1.5 billion in 2016, according to market research firm Packaged Facts. Technomic, a food industry consulting firm, predicts that the meal kit market will become a $3 billion to $5 billion segment of the food industry over the next decade.
Brian Todd, president and CEO of The Food Institute, a nonprofit organization that tracks economic trends related to food, said he predicts competition between food kit companies will rise as more businesses try to take part in the growing market.
The best way for companies to stand out from the growing competition, according to Todd, is to differentiate their product.
"What I foresee is what happens a lot in the food industry: little niches appear," he said. "Whether it's a dietary need or a cultural need or just a specific need they want to fill … Those companies will kind of withstand the competition."
Bognet believes her company is able to stand out from the competition because of its customer-based meal plans.
"The plans are so personalized," she said. "(It's like) if you sent your nutritionist and fairy godmother to the grocery store, what would they buy you?"
Bognet said she hopes customers can find a way to make healthy eating effortless through PlateJoy.
"Getting poeple cooking instead of ordering takeout from restaurants that tends to be loaded with sodium or processed food is a mission of ours," she said. "We want people to eat healthy food."
Contact Bailey Schulz at bschulz@reviewjournal.com or 702-383-0256. Follow @bailey_schulz on Twitter.