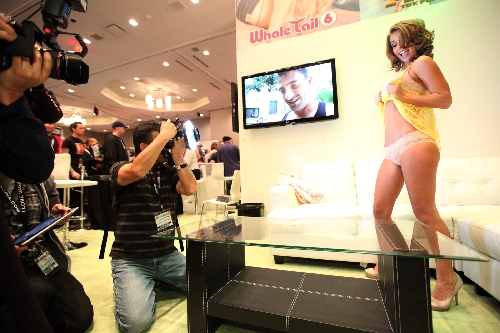 Faced with regulatory challenges and an ever-evolving consumer landscape, the adult entertainment industry has to keep changing if it wants to survive.
But that's really nothing new, is it?
The 2013 AVN Adult Entertainment Expo runs through Saturday at the Hard Rock Hotel. The show is bringing an estimated 30,000 attendees to Las Vegas with $38.2 million in nongaming economic impact, according to the Las Vegas Convention and Visitors Authority.
Although a portion of the show is open to trade only, for $80 the public can see the Fan Fest and entertainment expo areas.
AVN founder Paul Fishbein moderated an all-male panel discussion Thursday on the state of the industry that featured a handful of adult entertainment heavyweights. First and foremost, Fishbein brought up Measure B. In case you aren't particularly versed in Los Angeles County drama, Measure B requires the use of condoms and other prophylactics on the sets of adult films.
Let's just say it doesn't resonate with the industry.
Last week, for instance, a lawsuit was filed with the U.S. District Court for the Central District of California on behalf of Vivid Entertainment and performers Kayden Kross and Logan Pierce, challenging the constitutionality of the measure.
"My concern is about the domino effect," said Christian Mann, general manager of Evil Angel Productions.
He noted that he's afraid the measure could go statewide, or even eventually be extended state by state, which could severely change the way adult film studios operate.
"In that regard, it's very dangerous. And in my opinion, it's a regulation that hugely impacts the way we make movies," Mann continued.
Steve Orenstein, founder of Wicked Pictures, agreed with Mann. He said the industry doesn't know how far regulators will take the measure, and the ramifications could be much larger than just condoms.
"I think it's a lot more than that," Orenstein said.
Michael Klein, president of Hustler, sounded confident that the industry would eventually prevail.
"We'll always find a place to shoot," he said.
And even though Las Vegas is close to Los Angeles, the industry isn't throwing around Vegas as a possible refuge from Measure B. No, Hawaii has been the locale mentioned more often than not as a possible refuge, if it comes to that.
Mann, though, said porn fans shouldn't worry. Since he entered the business in 1979, he said he's been hearing predictions that the industry is dying or at risk of dying. Regulations and emerging technologies threaten business models, not the industry as a whole.
"People want to see sexually explicit material," Mann said.
He argued that studios just have to adapt and if they're willing to do that, they'll still be around.
"I see myself on a panel in 10 years," Mann said.
And with piracy and free porn sites having infiltrated adult entertainment in recent years, the panel agreed that the key to staying relevant is diversification.
"Customers are starting to realize if you want something with a little bit better quality, you're going to have to pay for it," Klein said.
Mann said although piracy is a huge issue, the biggest threat to a company's bottom line is being complacent and doing nothing when changes arise.
"If you bury your head in the sand you will be left behind," he added. "There's growth out there, we just have to go find it."
Orenstein noted that free content can be a business model.
"The problem is when people don't own their own content," he said.
Contact reporter Laura Carroll at lcarroll@reviewjournal.com or 702-380-4588. Follow @lscvegas on Twitter.