Excitement runs high at Mecum's vintage motorcycle auction
Updated January 25, 2023 - 3:40 pm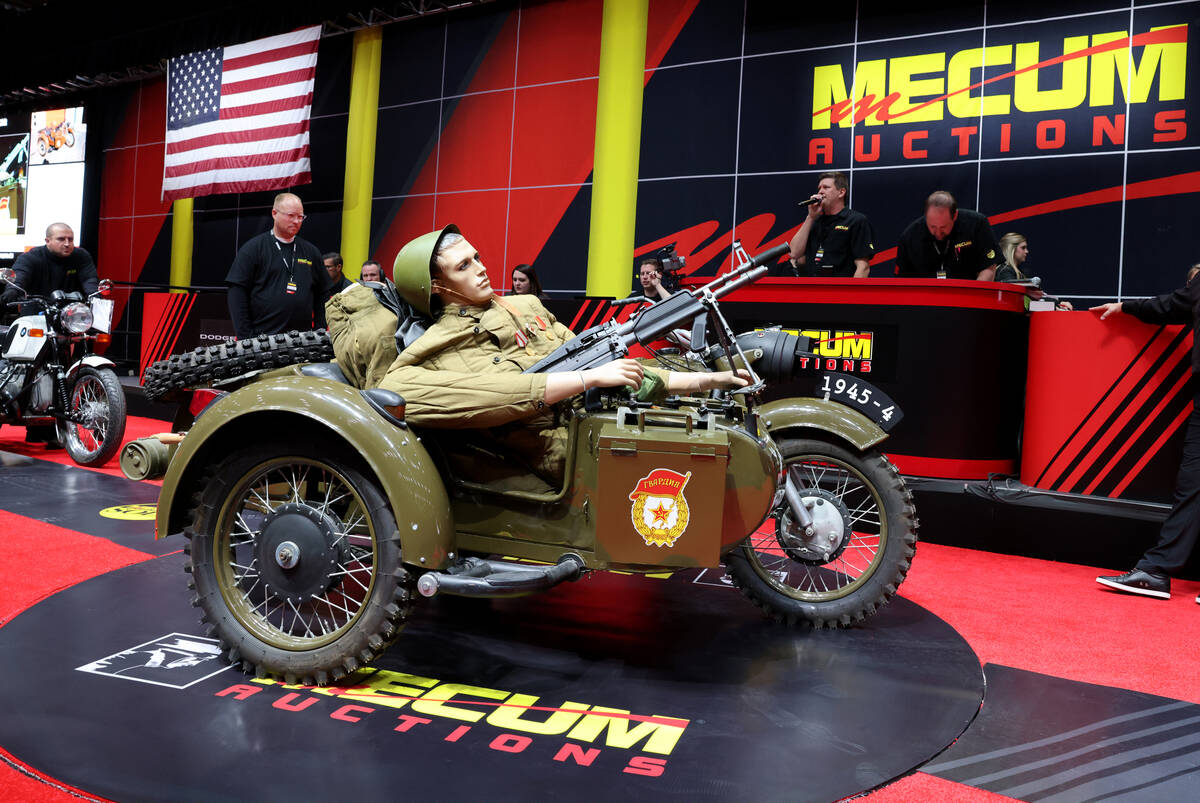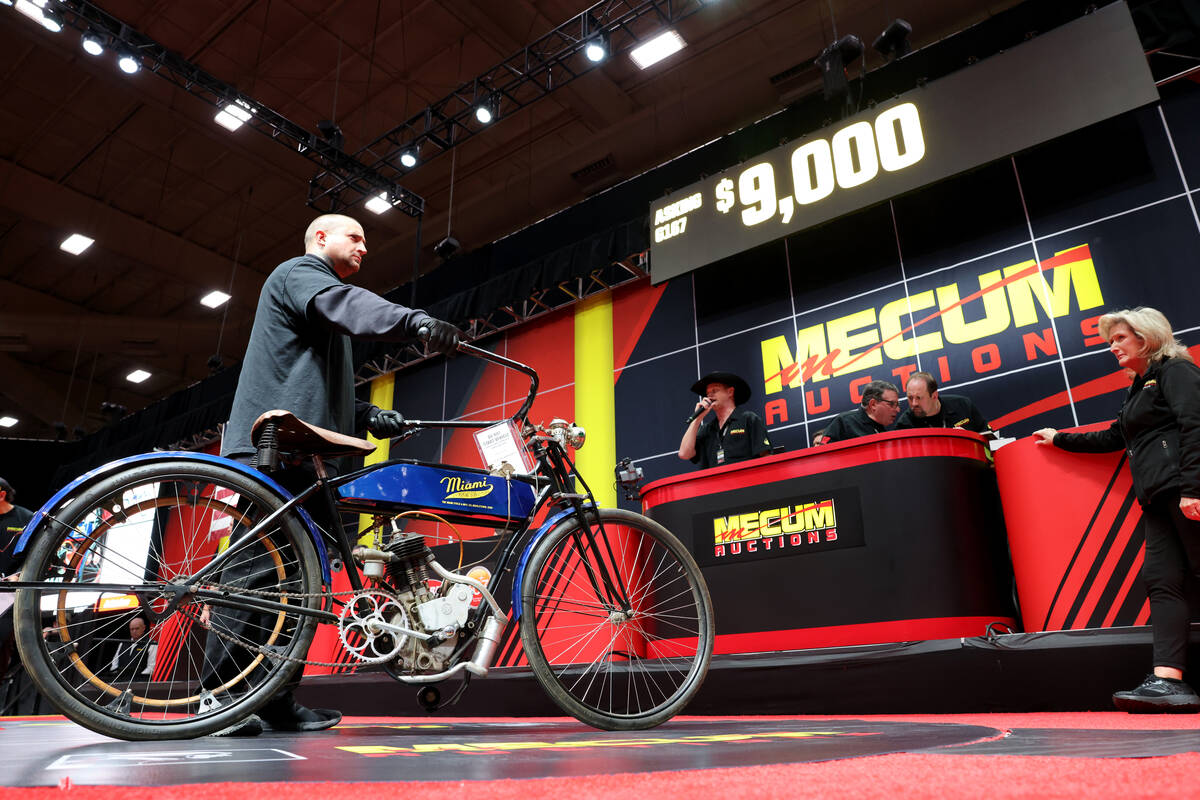 Jim and Nickie Williams were surveying the thousands of motorcycles on display Tuesday at Mecum Auctions Vintage and Antique Motorcycle Auction, held at South Point.
It was the first day of the five-day auction, and the couple were acting as scouts for their friends. They've attended the auction for several years, and own a motorcycle mechanic shop in the Bay Area called Catalyst Reaction Suspension Tuning.
"You have to look at what you want in person since these bikes can look a lot different than their pictures," Jim Williams said.
Greg Arnold, motorcycle auction manager for Mecum Auctions, said anyone should do their "due diligence" on the motorcycles since after the auctioneer slams the gavel down to close a sale its final.
This year, organizers collected about 2,000 vintage and antique motorcycles in addition to motorcycle-themed street signs, pinball machines and even a six-seat Harley Davidson poker table.
Arnold said attendees should see a "staggering" variety of motorcycles.
"You will see every kind of motorcycle … manufactured anywhere on the planet," he said. "There's a huge variety and a big range of prices with motorcycles that are $2,000 (and) we'll have motorcycles that are $500,000."
Some items up for sale include a 2005 custom-built motorcycle designed in the theme of Walt Disney's first "Pirates of the Caribbean" film, a 1949 Doodlebug mini-scooter that is smaller than most mobility scooters often seen on the Strip, and a 1904 Harley-Davidson Strap Tank motorcycle.
Attendees could be seen on the show floor jotting notes about the bikes and making phone calls, likely to potential buyers on whether they should commit to bidding.
Scott Chantland was one such advisor. He helps clients buy vintage motorcycles and said doing research on motorcycles is vital, especially for the older offerings.
"There is a lot of mystery added to these motorcycles the older they get," Chantland said.
He has attended several of Mecum's motorcycle auctions and said the mystery is what makes it cool. But he had a simple piece of advice for potential bidders at this year's show.
"Have a number in your mind and add much more to that if you want to buy something," Chantland said.
Sellers like Michael Langem, who was listing three vintage Harley-Davidson motorcycles, said he mainly works with Mecum because of the attention the auction gets from the public.
"I go where the money is, and this Las Vegas event is where you get the most exposure and hopefully, the maximum value for your bike," Langem said.
Nickie Williams said the first day is always quiet in terms of crowd and sales, but the auction "amps up every day" in terms of excitement and energy.
Karl Krulls drove with his girlfriend, Michelle Brown, for 38 hours from Sarasota, Florida to sell their 2009 Harley-Davidson Cross Bones, previously owned by AC/DC lead singer Brian Johnson, who also signed the bike.
"I asked them to put it there (Saturday) because being a businessman, I think Saturday is the day where people are going to be off from work and everybody's going to be around and hopefully buy it then," Krulls said.
The Williams admitted that bidding wars can happen at the auction and that a level head is needed to make it through the show.
Last year, the pair spent about $44,000 on five motorcycles, but this year, they plan to hold off unless something catches their eye.
"I bid on stuff that I wanted as a kid but couldn't afford," Jim Williams said.
"Or something that you just can't get anywhere else," Nickie Williams added.
Doors open at 8 a.m. daily with the auction starting at 10 a.m.
Tickets can be purchased online at mecum.com/auctions. Admission is $30. Children who are 12 years old and younger can attend for free. Bidder registration is $100 and includes daily admission for the bidder and a guest.
Contact Sean Hemmersmeier at shemmersmeier@reviewjournal.com. Follow @seanhemmers34 on Twitter.