Exec sees diversity as tool to help businesses get foothold, thrive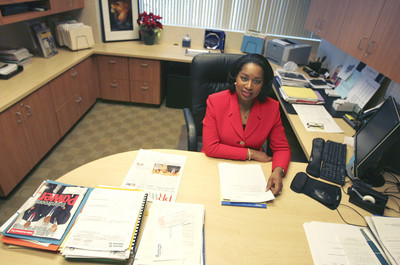 Debra Nelson was overseeing media relations for the University of Alabama System in the early 1990s when auto giant Mercedes-Benz set up a production plant in Tuscaloosa County. The German automaker lured her away from higher education to help the startup operation adjust to its new environment.
Nelson not only needed to help Mercedes-Benz adapt to an American system but also the lifestyle found in the South.
She set up the company's corporate philanthropy program, managed community affairs and handled government relations. She was also asked to serve as chairwoman of the plant's Minority Advisory Board.
"The board was charged to ensure there was inclusion in the hiring and business practices of the company," Nelson said. "That was my introduction to the work of diversity, only we didn't quite call it diversity."
Four years later, Mercedes-Benz asked her to move to New Jersey and launch the automaker's national diversity initiative. She was responsible for ensuring that diversity ideas were implemented throughout the corporation and introducing a mandatory national diversity education program.
"Frankly, diversity is an evolution of affirmative action," Nelson said. "But it is safe to say that it has evolved. For businesses, it's imperative that more and more American corporations adopt diversity policies. Diversity can have bottom-line results. Rarely today will you find a Fortune 500 company that has not embraced diversity in some form."
Nelson's work caught the eye of MGM Mirage. By 2005, she had moved to Auburn Hills, Mich., following the merger between Mercedes-Benz and DaimlerChrysler, and she held several positions related to diversity management and communications.
After a quick interview process, Nelson joined MGM Mirage as vice president of corporate diversity, communications and community affairs.
She went from an automobile manufacturer, at which she had set up corporate diversity programs from scratch, to a casino operations giant, which has nearly decade-old corporate diversity initiatives that observers consider to be a benchmark for the gaming industry.
"I think the challenge is always to convince an organization to not rest on our laurels," Nelson said. "The competition for customers is fierce. I believe diversity can be a distinguishing aspect in our business."
Question: What does the term diversity mean to you?
Answer: Diversity is a responsible response to changing demographics in our work force and our marketplace. Some would argue that diversity is to understand and value difference. It is that. But I think there is an ability for diversity to gain a strong foothold in business and to align it with strong business objectives.
Today, we like to say that diversity means 100 percent from 100 percent. It's about everybody. Nobody is excluded and it's a foundation for inclusion. Any organization that doesn't embrace this is doing so at its own peril.
Question: What are the keys for a successful diversity program?
Answer: There are probably three distinguishing factors. No. 1 is governance. Do you have support from the highest level of the company and is diversity embraced? (At MGM Mirage) not only is (company Chairman) Terry Lanni a champion of diversity, but there is a board committee dedicated to the work.
No. 2, is there a policy that drives diversity in the business into the business operations? One impact is on purchasing and the other can affect construction. The policies are integral in making the business case of diversity. No. 3 is training. (MGM Mirage has) been able to successfully fuel a culture change and that's an amazing occurrence.
Question: MGM Mirage is growing internationally. Where do the company's diversity initiatives fit into the global picture?
Answer: Think globally and act locally is the best advice. We have to be sensitive to whatever the cultural norms are in the region in which we operate. Diversity might have a different connotation in the Middle East or China. This is why I say diversity takes on another iteration because now we're talking about values. Values of the corporation and the customer experience, to a great degree, should be similar where ever you are in the world.
Question: Did a career in diversity relations ever enter your thoughts before you joined Mercedes-Benz?
Answer: I have not had a linear career, which has actually served me well because of the diversity of my experiences. What I've done in different industries and different companies have all come to bear. I think we are the sum of our experiences, and I like to think it serves this company as well.
Question: How did you set up diversity initiatives for Mercedes-Benz?
Answer: Mike Jackson (now the chairman and chief executive officer of AutoNation) hired me. We did things like training the entire work force, we identified some of our minority dealers and we expanded business opportunities. We hired an advertising agency to reach a multicultural consumer, which was unusual at that time.
It was an exciting time to be at the forefront for cultural change. Mercedes-Benz had long-standing cultural norms and values and we were able to introduce something that was totally foreign. But we created a business case that people could understand and buy into.
Question: Is the gaming industry as a whole embracing diversity?
Answer: I am encouraged by some of the things that are happening at the industry level, particularly with the American Gaming Association. The association has looked at the strategic sourcing aspect, which provides a focus on how we bring diversity in the business operations. I think an organization should consider what works best for its business. More and more, our industry is looking at diversity as a competitive distinguishing business feature.
Question: What has surprised you about Las Vegas and the casino industry?
Answer: When I came out for an interview, I saw the back-of-the-house experience at Bellagio. I got an opportunity to see people where they work and how they work with each other. It was so different from working with machines and steel. People took great pride in what they do.
I thought living and working in Las Vegas would be interesting, but it wasn't on my radar. Now, when I come back from a trip and look out the window, it feels like home.
Contact reporter Howard Stutz at hstutz@reviewjournal.com or (702) 477-3871.
VITAL STATISTICS Name: Debra Nelson. Position: Vice President of Corporate Diversity, Communications and Community Affairs, MGM Mirage. Family: Single with lots of nieces and nephews. Education: Bachelor of Arts in Communications from the University of Alabama. Work history: 1980-94: Journalism career in radio and television in Alabama and director of media relations for the University of Alabama System; 1994-98: Held positions in communications and diversity relations with Mercedes-Benz U.S. International and Mercedes-Benz-USA; 1998-2005: Held positions related to diversity management and communications for DaimlerChrysler; 2005-present: vice president of the corporate diversity, communications and community affairs for MGM Mirage. Hobbies: Travel, fiction writing, gardening. Favorite book: "The Measure of a Man," by Sidney Poitier. Hometown: Birmingham, Ala. In Las Vegas since: 2005. Quotable: "Diversity can have bottom-line results. Rarely today will you find a Fortune 500 company that has not embraced diversity in some form." MGM Mirage Corporate Diversity is at 3260 Industrial Road and can be reached at 702-650-7400.