Executive snapshot: Randy Lavigne
December 22, 2014 - 12:10 am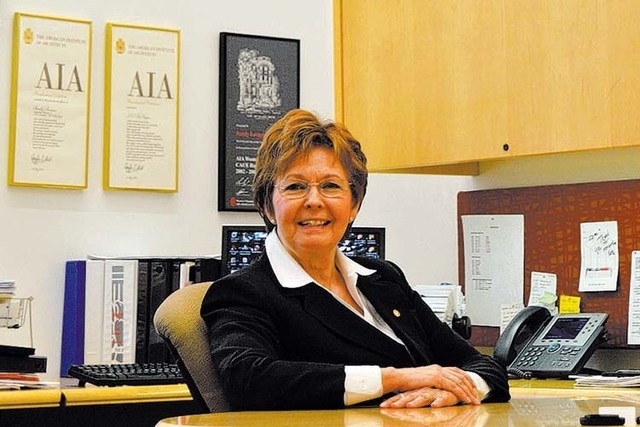 Randy Lavigne, the executive director of the American Institute of Architects' Las Vegas chapter is originally from Nashville, Tenn. With a background in marketing, she caught the attention of architects in Las Vegas while she was on vacation. She was asked to become AIA's part-time executive director and took the job with plans to eventually return to Nashville. That was 20 years ago, and she said she's still enjoying Las Vegas and her position as executive director.
Q. How does the American Institute of Architects work on legislative issues?
We are a professional organization for architects and design professionals. Part of what we do is monitor legislative issues and things that go on in the community that will impact how the community functions and how architects practice.
We have a lobbyist that works up in Carson City and over the years we have built really good relationships with all of our federal representatives as well. So if there is an issue that impacts architects' practice, we can take the proper action. For instance, right now we are looking at (the fact that in) most public contracts there is a portion that deals with what is called the duty to defend that puts an unfair responsibility on the architect to pay defense costs no matter the cause of any legal action; but the architect can't even get liability insurance that covers this. So we're looking to say, "Let's make this reasonable, let's trim this back so that the full duty to defend doesn't fall on the architect alone…"
The architect has liability for what he builds, and he carries that always, but to defend against anything that goes wrong with the client or any other person involved? That should not be the architects' responsibility.
Q. What is it that is special about Las Vegas architecture versus other cities?
The first word that comes up is unique because we are a unique city. We operate on a different system. We're a huge hospitality town and that does make a difference in how we function. The most recognized architecture here is entertainment-oriented.
But when you get out away from the Strip, we are a normal, absolutely American city with all the same kinds of needs as others — fire departments, churches, and hospitals and all of those things that have to be conceived and built to serve the public.
Las Vegas is unique in our basic economy and our basic functionality. I like that and I think the rest of the country doesn't fully understand that. The image that is projected of our city is that we're totally just a fun town but there's a lot that goes behind that and when you boil it down, we're very much an American city with all the same needs and concerns as anywhere else in this country.
Q. What are the primary legislative concerns to the AIA?
Most architecture firms are small businesses, particularly here in Nevada, so we're particularly concerned about all legislation that impacts small businesses. There's an issue with lien rights. The way the law is written now, if an architect isn't paid for services they have no recourse until after construction is commenced. However, the architect has already provided full services.
Before you get to the construction phase, the architect has already invested his intellectual property and everything necessary for that project. If he's not being paid, then he has to wait until construction starts and that could be two, three, four, five years or never. One of the issues is that we have to adjust that lien law so that architects have the right to protect themselves and collect for the services they have rendered.
Q. What are your thoughts on the growth, economics and stability in the industry?
I'm very encouraged this year by what has happened. We just came through probably the roughest recession that our industry has been through in many years. It has happened before; back in the '80s and before that as well. But this last recession — 2008, 2009, 2010 — the architectural community was down to 73 percent unemployed. It was devastated.
We are now on the way back up. A lot of the firms have changed the kinds of services they offer and their practices to accommodate that and we're back on our way. A lot of our firms have expanded to other areas and now they have projects all across the country and internationally. I'm very optimistic.