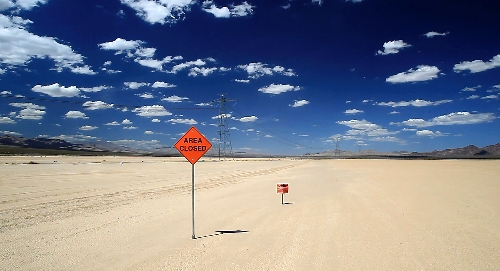 The gloomiest assessment of the proposed Ivanpah Valley airport 32 miles south of Las Vegas comes from Lary Glen Anderson , longtime resident of nearby Goodsprings and owner and operator of K-Ghost radio, where you can hear all the hits at 101.3-FM — if you're no more than five miles from the old mining town just up the road from Jean.
"It'll never happen, not in 15 years, not in my lifetime," Anderson said on a weekday afternoon at the Pioneer Saloon, which is next to the Goodsprings General Store. "They've been talking about it for years."
It's been more than a decade since Clark County Aviation Director Randy Walker first floated the idea of a new airport in Ivanpah Valley to take the load off McCarran International Airport, which was fast approaching its 53 million-passenger capacity.
The new airport on 6,000 acres of desolate federal land just off Interstate 15 between Jean and Primm would ensure long-term commercial air service for 35 million travelers per year – vital to Las Vegas' resort economy and a rapidly growing metropolitan area.
At an estimated $7 billion, Ivanpah would follow Dallas-Fort Worth International and Denver International as just the third major airport built in the United States in a half-century. Construction was to start this year, with the first flights landing in 2017. Revenues there and from McCarran would pay for it.
While still in the works — the county just last month moved to protect its land from encroachment — the project has been shelved indefinitely due to the recession and the resulting decline in McCarran's passenger count.
But some say Ivanpah airport construction should proceed precisely because of the recession. They see a new airport as a way to attract new industry and help diversify Las Vegas' resort-dependent economy.
PASSENGERS, AND MORE
AIan Schlottmann, a professor of regional economics at the University of Nevada, Las Vegas, sees Ivanpah as more than an alternative for tourists headed to the Strip. He said it could also become a major cargo hub for Southern Nevada and much of the West.
"We are in a great position as a potential distribution hub," said Schlottmann, who included a strategic analysis of freight movement through Southern Nevada in a 2008 report on industrial land constraints in the Las Vegas Valley.
Geography puts the Ivanpah project at the center of that hub — an international airport with 15,000-foot and 12,000-foot runways long enough for the biggest long-range aircraft, few constraints from nearby land use, immediate access to I-15 on one side and the Union Pacific Railroad's main line on the other.
Plus the site is less than 15 miles from the state line — close enough to serve the vast Southern California market while offering Nevada's more business-friendly tax and environmental laws.
"The Ivanpah airport was seen as a large potential tract that could be developed for industrial use," Schlottmann said. "This is still true, but it is going to take a return to growth to be feasible."
Clark County's Aviation Department was careful to focus on passenger movement in Ivanpah planning, said Rod Martin, vice president for industrial developer Majestic Realty in Las Vegas.
"I think the airport and Randy (Walker) certainly recognized industrial as a compatible use, but there was no effort by the county on that," Martin said.
Walker said Ivanpah was never considered as a cargo airport, even though the county's 2006 Project Definition and Justification describes it as adjacent to I-15 and the rail line, "which enhance logistics, intermodal transportation and cargo opportunities."
The county also forecast 1,976 all-cargo flights in 2017, growing to 2,600 by 2025. Its plan includes two cargo warehouses totaling 288,000 square feet and room for 10 jumbo-size freighters to belly up at a time.
But Walker said his focus is on passenger traffic and expanding existing facilities to meet visitor demand.
"Conventions and tourism are the real driver of our economy, so when you're talking about economic development, diversification could be part of economic development, but what we were talking about is we didn't want the airport to be an impediment to the (resort) economy," Walker said. "Once the airport … if it was built and there's demand for other services, until then, those questions aren't able to be answered yet."
growth on the wing?
Air cargo isn't much of a factor at McCarran. Last year, 97,575 tons of cargo started or ended its air travel there, up slightly from 96,605 tons in 2009. Federal Express was responsible for more than half of the tonnage. Domestic and international freight accounted for approximately 93,000 tons, followed by mail (4,100 tons) and express shipping (327 tons).
By comparison, Los Angeles International Airport — the 13th-busiest cargo airport in the world — handled more than 1.85 million tons in 2010, with more than half of it on international flights. Asia-Pacific is Los Angeles' top regional trading partner with 582,283 tons annually valued at $45.2 billion.
Walker doesn't expect to see much growth in cargo at McCarran any time soon. The airport has 210,000 square feet of cargo shipping facilities, and nearly 25 percent of it, or 50,000 square feet, is still available for lease, he said.
Nor does he see much need for more cargo development at Ivanpah.
"We're not going to sit down and study something that we're not sure of," he said. "What's happened that would drive demand any more than this? The only reason people will build warehouses around the airport is if there's a sea change of huge demand for cargo at the airport."
Some experts in economic development say that sea change is happening.
Air cargo not only facilitates trade, it creates trade and helps drive a nation's business competitiveness and economic advancement, said John Kasarda, an expert on international trade and director of Kenan Institute of Private Enterprise at the University of North Carolina.
"Airports will shape business location and urban development in the 21st century as much as highways did in the 20th century, railroads in the 19th century and seaports in the 18th century," Kasarda said.
Over the last 30 years, growth in trade has substantially outperformed gross domestic product while growth in air freight has substantially outperformed trade, Kasarda notes. Air freight increased 81 percent between 1992 and 2002, more than 300 percent in the prior 20 years and 1,395 percent over 30 years.
Air freight is also critical for industries with global reach, Kasarda said.
"To gain competitive advantage through speedy global supply chain connectivity that air cargo provides, high-tech manufacturers and other time-critical shippers are locating at sites around or accessible to major airports," Kasarda wrote in a 2004 study.
Using airports to attract new industry, rather than simply moving people or cargo to and from the host city, is a well-established business model.
Tiny Victorville, Calif., about 90 miles northeast of Los Angeles, turned the former George Air Force Base into the Southern California Logistics Airport, aiming to shift air cargo volume away from Los Angeles International Airport. By some accounts, bypassing crowded LAX and landing in Victorville saves shippers two days on transit time.
Because of the transportation hub, the Dr Pepper Snapple Group recently opened a $120 million West Coast bottling and distribution center at the airport employing 200 people.
Similarly, a cargo hub established at the sleepy Rickenbacker International Airport, a former Air National Guard base near Columbus, Ohio, was credited with directly creating 3,900 jobs and $320 million in economic output through conversion to a cargo hub, according to a presentation by Wilbur Smith Associates at the 2006 Airports Council International air cargo symposium.
Even in recession, air cargo continues to grow. According to a 2010 analysis by the Boeing Co., world air cargo traffic will expand at an average annual rate of 5.9 percent for the next two decades.
The air freighter fleet will expand by more than two-thirds, from 1,755 airplanes in 2009 to 2,967 airplanes in 2029, Boeing forecasts.
inland ports
Nevada lawmakers earlier this year approved legislation aimed at establishing "inland ports" around the state. The concept is modeled on a public-private partnership building one of the nation's premier logistics and distribution centers near the Dallas-Fort Worth Airport and AllianceTexas.
The Dallas project takes advantage of the region's superior transportation infrastructure, which includes five interstate highways and two railroads. While a small segment of the Dallas cargo market, the availability of air cargo service is a competitive advantage for an inland logistics location, a 2009 report by Kansas City, Mo.-based transportation consulting firm TranSystems said. The Dallas inland port is credited with having an economic impact of more than $2 billion a year over the last 20 years.
Nevada's new law allows local port authorities to work with local governments and offer incentives to private entities looking to set up shop in the port. It encourages fast-track processes for environmental reviews, permits, easements, franchises and lease of right-of-ways.
The new state Commission on Economic Development will work out the details, but to qualify as an inland port, an area must have an airport with a runway of at least 5,500 feet plus access to an interstate highway and rail lines.
Ivanpah would have all of that, but it isn't on the short list of inland ports now in the making.
"I believe in the future you'll see movement in working toward establishing an inland port," said Assemblywoman Marilyn Kirkpatrick, D-North Las Vegas, and a key proponent of Nevada Trades.
Ivanpah could be an inland port, but it's years away, she said. Environmental studies have already been completed for other sites in Clark and Elko counties, putting them ahead of Ivanpah.
"Ivanpah is set up strictly for an airport. It could contribute to cargo, but it's still too far down the road (until development)," Kirkpatrick said. "For one, we have a lot of industrial corridors that are vacant. As far as an airport, I'm not sure. Maybe cargo could be a huge component. I don't know what their plans are."
For an inland port to be located in Southern Nevada within the next two decades, it will have to be associated with a new airport, said UNLV's Schlottmann.
Inland port distribution centers aren't as glamorous as a hip new restaurant or casino remodeling, but they provide a foundation for retailers, manufacturers and the local economy, Schlottmann said.
"They are similar to the foundation of a house, not overly exciting like a sparkling kitchen, but you have to have them," he said. "If you don't, then everything has to be shipped in from outside your community."
Higher shipping costs act as a drag on economic growth, resulting in a decrease in employment and per-capita income.
"In simple terms, if it costs more to move stuff, your regional economy will not grow as fast," Schlottmann said.
John Ramous, regional manager for Harsch Investment Properties, lobbied the Legislature to provide infrastructure and logistics for inland ports. He said Ivanpah's location makes sense for an inland port, but it's not currently on the economic development radar.
"The original thought was every major airport has a major logistics center in close proximity," Ramous said. "From an industrial standpoint, it makes a lot of sense to be next to an airport. The bill looked at Ivanpah, but when's it going to happen? Twenty years? We can't wait that long."
HOLDING PATTERN
If McCarran had continued the 3.8 percent annual growth rate it experienced for two decades, it would have reached capacity in 2017 — just when Walker's plan called for opening Ivanpah.
The county paid $21 million for the 6,000-acre Ivanpah site in 2002, and the Bureau of Land Management also set aside 17,000 surrounding acres for compatible development.
McCarran's passenger traffic peaked at 47.7 million in 2007, then fell below 40 million in 2010 as airlines cut flights. Traffic is starting to build again, but at its current growth rate of 2 percent to 3 percent, McCarran won't reach capacity for at least a decade, maybe 15 years.
"We won't need to look at a new airport until when and if we see megaresorts pop up like they did in the past," Walker said. "Obviously, people right now are worried about the recession and getting back to normal."
That doesn't mean that Walker agrees with the analysis offered by Lary Glen Anderson, the Goodsprings radio mogul.
"We've got to get out of this recession and see what Las Vegas is like going forward," Walker said. "Bottom line is nobody has a crystal ball. Nobody knows what the need will be."
While Ivanpah is still officially on the back burner, the Clark County Commission last month retained Kaplan Kirsch and Rockwell, a Denver law firm that specializes in airport and land use issues, to do strategic planning, coordination and implementation for the project, including the eventual preparation of an Environmental Impact Study and obtaining local, state and federal permits.
Some air and water quality studies have been completed, but the environmental impact study is on hold, Walker said. If the county turned up the heat now, he said, the earliest the airport could open is 2019.
Contact reporter Hubble Smith at hsmith@reviewjournal.com or 702-383-0491.