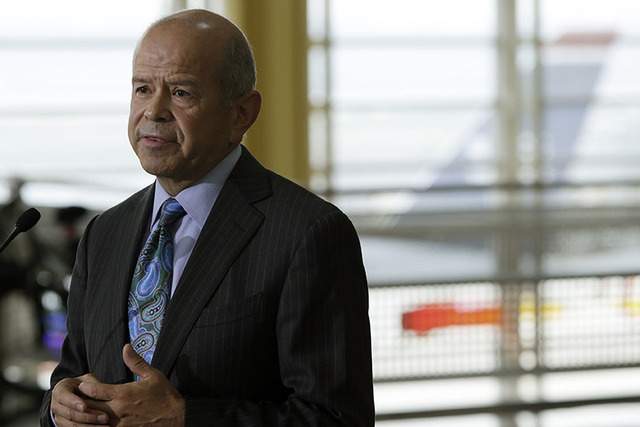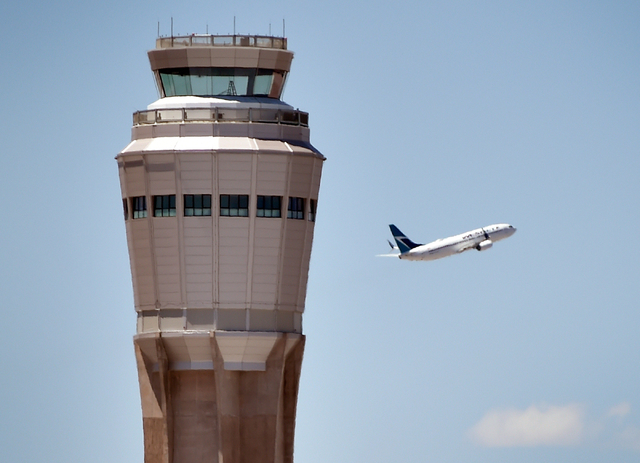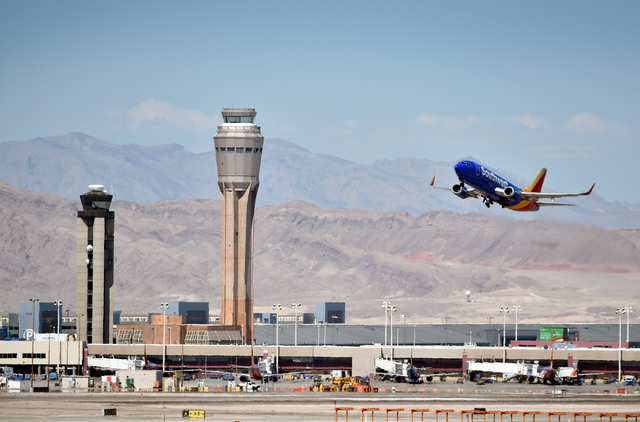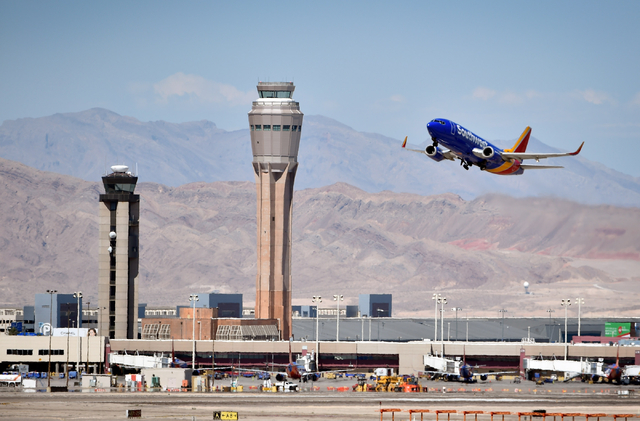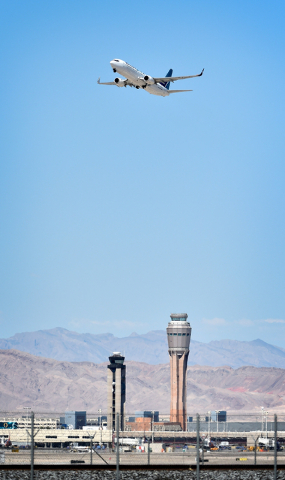 The construction error that probably cost millions of dollars to fix on the new Federal Aviation Administration tower at McCarran International Airport has been corrected, and local representatives of the agency that oversees the nation's airspace will start moving equipment into it this summer.
FAA Administrator Michael Huerta said air traffic controllers can't wait to move into the $99 million, 352-foot facility, which was expected to be operational this year.
Huerta, the keynote speaker at Rep. Dina Titus' inaugural Titus Aviation Symposium at the National Atomic Testing Museum on Monday, discussed moving into the tower, the seemingly slow pace of developing regulations for unmanned aerial systems and the oversight of Allegiant Air in an exclusive interview with the Review-Journal.
"There was coating that was sprayed in all the duct work, and what we were seeing was that it was delaminating once they turned on the air-conditioning system," Huerta said.
"It is now fully remediated; all the duct work has been replaced, so the FAA will receive the tower this summer from the contractor. That starts a yearlong process where we'll get all the equipment in and get the controllers trained. So we're targeting next summer as when we actually transfer operations to the new tower."
Workers on the job site say a chemical coating to prevent the spread of toxic fungus was improperly applied in January 2014.
Workers familiar with the construction project say the coating was supposed to be placed within walls, ducts and subfloors to curb the spread of a potentially toxic fungus that can cause flulike symptoms.
Instead of applying the coating to dry surfaces, it was placed in flexible ducts that had been lubricated for installation. The chemical substance never adhered to the oily surfaces, and when workers tested the air conditioning and heating system, flakes of the substance were blown from ducts into rooms.
Huerta said the entire duct system was removed and replaced, but officials with the FAA said they aren't expecting to bear any of that expense because it was a construction error and the proper installation was listed in specifications. That could change when the contractor, Chicago-based Walsh Construction and Archer Western Contractors, submits its bill. If there's a dispute, litigation could result.
Huerta said the tower, nearly twice as tall as the existing facility, also has room for new equipment that could be installed if a next-generation air traffic control system using satellite-based navigation is deployed.
The taller tower will assist controllers who have lost the line of sight in some directions because of growth on and around the airport.
Huerta is optimistic that Congress will reauthorize FAA funding by a Sept. 30 deadline, and some aviation industry officials believe consideration could come before lawmakers' July Fourth recess.
Reauthorization is a key issue for Nevada as one of six states that are test sites for unmanned aerial systems. State officials have been critical of the FAA's slow pace for drafting regulations for unmanned systems, commonly called "drones."
"We're working in a whole lot of different fronts," Huerta said in the interview. "The rule-making process, which is one of the largest efforts we have, is, by its very design, intended to be slow and deliberative. What you want to do is get a lot of perspectives to the table and hear what concerns are and come up with ways to adjudicate them."
As one of six states testing unmanned vehicles, Nevada has the advantage of having a large number of military and former military personnel well-versed in drone technology. They often work faster than some of their civilian counterparts.
"I will tell you that for every proponent who wants us to go faster, there is someone who is concerned that we are going too fast," Huerta said. "We have to find the right balance for safe integration and at the same time allow this technology to come into more widespread use. So that's why we've chosen the approach we have chosen. It's kind of a staged approach."
Late last year, Nevada became the first state to be certified to issue certificates of airworthiness to companies wanting to test fly vehicles. And the FAA has embarked on a plan to issue exemptions to operators that have proved the airworthiness of their aircraft. In exchange, the FAA gathers data from those companies to learn more to draft regulations and speed the process.
Huerta also discussed the increased oversight of Allegiant Air, the Las Vegas-based air carrier that has been threatened with a strike by pilots represented by the Teamsters union. The FAA routinely steps up oversight of companies undergoing labor issues, extreme growth and mergers.
"Our regulatory structure is designed not only to look at the day-to-day operations but to consider the larger context in which the airline is operating," Huerta said. "The airline has had some internal challenges with respect to its workforce with the strike threat. We're always very vigilant in looking at anything that might create any kind of an environment that might raise questions about safety within the aviation system. We've been working very closely with Allegiant in ensuring that they remain focused on operating a very safe operation."
Huerta said he has met with the leadership of Allegiant, and "they've made it very clear that their commitment to safety is unwavering. They want to keep that dialogue open, and I think with the courts having resolved the strike threat issue I think that's got everybody focused on keeping the operation efficient and how do they grow the airline."
Contact reporter Richard N. Velotta at rvelotta@reviewjournal.com or 702-477-3893. Find @RickVelotta on Twitter.