Facing budget shortfalls, school district, university scramble to adjust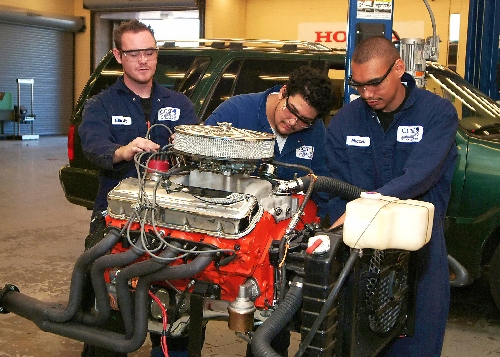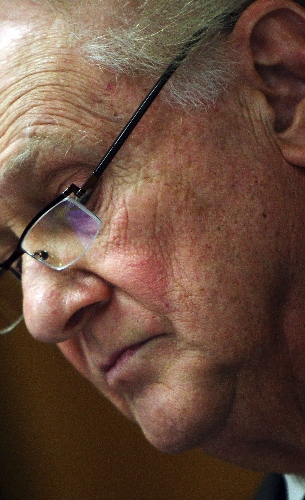 The education system in Nevada has been a mess by many standards, consistently scoring at or near the bottom in national rankings. And that was before it became another casualty of the recession.
Education funding and diversification of the state's economy — the only real way to avoid in the future the kind of tumult that's roiling public budgets today — are tied together and need fixing, local leaders say. When the state's largest business advocacy group, the Las Vegas Chamber of Commerce, starts pouring money into studies about the quality of local education, it means businesspeople are worried.
Local school board meetings are starting to look like prize fights with their attendant crowds.
On May 19, the Clark County School Board of Trustees voted to pass a $2.1 billion budget for the 2010-11 school year. A $145 million shortfall is projected. Cuts are becoming common.
Rallying calls for economic diversification are growing louder as the recession pummels the state's sacred cow — gambling. Nevertheless, some observers wonder how ever-dwindling K-12 and higher education funding will affect those efforts.
"We know (that) to grow as an economy, we need an educated work force," newly appointed North Las Vegas Chamber of Commerce President Mike Varney said. "But that's the tragedy of this economy. A lot of good programs — schools, mental health — are getting cut."
Varney is not sure whether "throwing money" at the K-12 educational system is the answer. But he said the North Las Vegas Chamber supports legislative funding of education at the same levels as in the previous biennium.
Local attorney John McMillan worries about the state's public schools. He has spent a decade working with the North Las Vegas Chamber Foundation and other educational outreach programs.
"Like most businesspeople, I find the fact that we are 50th in the states appalling," he said. "And the cuts certainly can't help."
In North Las Vegas, the chamber foundation works to help attract business support for "at-risk" elementary schools, which are schools with a high proportion of low-income students.
Former state Sen. Randolph Townsend says more state funding for education is necessary. He said the recent education cuts "have definitely hurt" Nevada's efforts to diversify the economy.
Townsend, who is now a member of the Nevada Gaming Commission, spent years in the Nevada Legislature advocating for practical training and educational programs for students. Higher taxes may be necessary to support schools and plant the seeds for future economic development, he said.
"It's the price you pay for a quality education system that produces goods and services at the highest level, which provides more tax revenue," he said.
The situation could have been worse for the school district. A deal was struck with the school support staff's union just before the May 19 school board budget meeting. The Education Support Employees Association voted to accept $10.1 million in concessions. Three other unions are expected to approve more than $15 million in additional combined concessions. But the school district still must fill a $125 million budget gap.
To help accomplish this, 540 teaching and 89 school administrative positions were eliminated. The more than $25 million in union concessions made it possible to avoid layoffs, but just barely. Displaced employees will be reassigned. Also, all year-round schools will revert to regular nine-month schedules, saving about $18 million more, school board President Terri Janison said.
Millions in federal stimulus dollars, Race to the Top grants and other federal funding will help the district make up the budget shortfall for now. Race to the Top offers $4 billion in grants to states committed to reforming their education systems.
Clark County School District Superintendent Walt Rulffes, who is set to step down, said he was "relieved" unions were willing to work with him.
But that relief may not last, Rulffes added, if property taxes come in lower than expected and take away the budget "cushion" the district is counting on.
Rulffes is waiting to see whether there's enough money for the district to "place all the displaced teachers." But he was hopeful after the budget meeting.
"I think we will be OK," he said.
Education budgets are strained beyond the local school district, though.
Before the February special session of the state Legislature, 24 percent of the University of Nevada, Las Vegas' budget was cut over a two-and-a-half-year period. Those cuts resulted in the unpaid leave and furloughs of 100 faculty members and 260 staff members. In addition, 1,000 class sections were cut.
The last special Legislative session saw another 6.9 percent in UNLV budget reductions. Gov. Jim Gibbons had proposed gutting higher education's budget with a 10 percent cut. Even with that modified rate of reduction, another $10.7 million will still be cut from the university's budget.
UNLV has been cutting programs and looking for ways to trim millions of dollars more. UNLV President Neal Smatresk notes his campus has been the hardest hit.
"UNLV has been cut more than any other higher-education institution in the country," he said. "You get what you pay for."
Municipal models of economic diversification boast a high number of college degrees available to students, Smatresk said.
"The higher the percentage of education degrees, the healthier the economy," Smatresk added. "Only 20 percent of our population has a higher-education degree.'
Townsend has been critical of UNLV's curriculum, calling for a re-evaluation of what he calls its "1950s paradigm."
"I think it is important that (UNLV's) colleges, other than business and engineering, contact the private sector and find out what skills they want from graduates," Townsend said.
Smatresk counters that lofty ambitions for economic growth and diversification sound good, but the state doesn't provide resources to help achieve those goals.
"You can't be the 50th-worst in state support and tell us we need a better system," he said.
Building constructive relationships with businesspeople and businesses will help schools, Townsend predicted.
"It gives you guidance on what to teach, but it also gives you access to educational donors," he noted. "I think the people at the (UNLV) business school, engineering school and Boyd Law School have done a great job of that."
The district seems to have the Las Vegas Chamber of Commerce's support. Rulffes noted new chamber President Matthew Crosson's positive attitude.
"The new (Las Vegas) Chamber of Commerce (president) has got it right," Rulffes said. "He talks about the need to come together and place a high value on education. We fund it properly and hold it accountable."
Rulffes plans to meet with Crosson. Meanwhile, Janison, the school board's president, has the ear of former Las Vegas Chamber Chairman Steve Hill, who has led numerous chamber education initiatives.
Janison welcomed the warming of relations between the school district and the chamber.
"We want to work to improve the education system in Southern Nevada," she said. "We need more money for education, and economic development brings in more money.'
Crosson will call upon his past experience with Long Island Works Consortium in Long Island, N.Y., in his new job.
Around 100,000 jobs evaporated in defense industry-dependent Long Island in the early 1990s. Improvements in work-force training helped to return jobs to the area.
Crosson was president of the Long Island Association before coming to Las Vegas this spring.
"Having a quality education system is absolutely essential for economic diversification," he said.
Some of Crosson's ideas involve tailoring core subjects, such as mathematics, around an expected growth area. Health care might be one such area, he added.
John Challenger, president of Chicago outplacement firm Challenger, Gray & Christmas, has forecast health care as an avenue for future job growth nationally and statewide.
Some observers measure the relationship between a good education and a prosperous economy in degrees. Nevada Commission on Economic Development Executive Director Mike Skaggs said school-system strength is a variable for some businesses contemplating a move to Nevada.
"The big thing is profitability," Skaggs said. "And everything else is part of it."
A software company may be interested in the type of graduates UNLV produces, he said, while a manufacturing firm will likely place more importance on programs at the College of Southern Nevada.
Sustaining the education system will be harder as the economy slides. State Assemblyman Richard "Tick" Segerblom, D-Las Vegas, predicts a corporate income tax may be necessary.
"It's tough," Segerblom said. "But if companies don't like it, they can move to Utah."
Contact reporter Valerie Miller
at vmiller@lvbusinesspress.com or 702-387-5286.