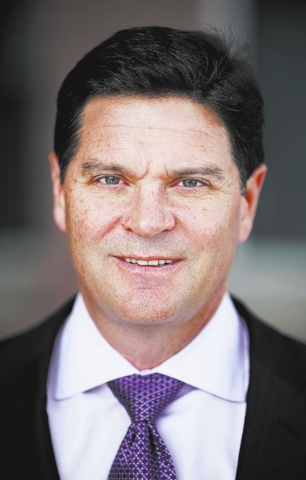 The field of medicine is in Dr. Robert McBeath's blood.
McBeath's grandfather became one of Henderson's first pharmacists in 1946, and his father, Jo Kent McBeath, practiced family medicine in the Las Vegas Valley for nearly half a century. McBeath's fascination with the sciences combined with family influences to seal the deal.
So McBeath, who was born in Virginia while his dad was in training there, headed to the University of Nevada, Reno for undergraduate and medical school. He opened Urology Specialists of Nevada in Las Vegas in 1996 as a sole practitioner. McBeath built the practice into a group of 13 providers and 75 employees. Along the way, he struck a deal with Health Plan of Nevada to serve as the exclusive urology provider for the insurer's Southwest Medical Associates practice.
McBeath still practices urology one day a week, but a year ago, Health Plan of Nevada parent UnitedHealthcare named him CEO of Southwest Medical Associates. He now manages the practice's 265 physicians and nine local health centers, three convenient-care clinics and surgery center.
Question: What drew you to urology?
Answer: When you're a medical student, you start off really not knowing what kind of doctor you're going to be. I initially thought I was going to be in internal medicine or family practice, but I've always liked doing things with my hands. I'm very mechanically inclined. As I got into the surgical fields (in school), I became intrigued by them. Urologists specialize from both a medical and a surgical standpoint. And it was a single-organ system. I could be an expert at one organ system and do both medicine and surgery. That fit all of what I liked.
Question: Who were your professional role models?
Answer: The biggest role model in terms of work ethic came from my father. I was exposed to many of his colleagues and friends through the years, and got a lot of input from the medical field in that way. I actually trained with some of his colleagues during medical school.
Question: Why did you want your own practice?
Answer: We don't have a broad number of residency programs here locally, so I had to leave the state to get my urologic training. But I always knew I wanted to come back and practice in Las Vegas. This is where my family and friends are. I wanted to make a contribution here.
Question: Now, you're leading UnitedHealthcare's medical practice. Why take that direction?
Answer: Urology Specialists has had an exclusive-provider contract with Health Plan of Nevada since the mid-1990s, and I've worked closely with Health Plan administrators and the physicians and executive leadership team at Southwest Medical Associates for 15 years. When I was approached by the Southwest Medical Associates leadership to consider a physician-CEO position, I thought it was a good opportunity for me to move into what I considered a larger role. Rather than managing a single specialty group, I would manage the oldest and one of the largest multispecialty groups in the city.
I considered it a great challenge and also an enormous opportunity to have an additional impact on care in this community. Southwest Medical Associates proactively manages patients' health care with a strong emphasis on wellness and disease prevention. I believe this is the way medicine has to go in order to face the challenges coming down the road, including the shortage of physicians in our community.
Question: How has health insurance reform affected you and your practice?
Answer: We're in our infancy as far as the actual impact of the Affordable Care Act. In broad terms, we anticipate a significantly larger number of people who will have insurance and will be accessing the system. So our goal has been to try to maximize that access.
That means proactively managing patients, or identifying people with specific conditions or diseases, and reaching out to them with health education. It also means following up with them, and increasing access so their physicians can prevent problems. We make sure patients remain compliant (with treatments) by screening their lab tests, and we reach out to them before they get sick. We believe that will be the model going into the future, and we're striving every day to improve and perfect it.
We've also been leaders in innovation and technology. Southwest Medical Associates instituted its first electronic medical records in 2004. We have a fairly large footprint across the valley, but wherever our patients access us, the provider has immediate access to the patient's entire medical record. We think these improvements will drive efficiencies and quality of care, as well as better outcomes for patients.
We also introduced on Jan. 1 a large-scale telemedicine program. You can log on through your smartphone, (tablet) or computer and talk face-to-face with a provider who can assess a problem and determine whether you should go to your doctor, an urgent-care center or the emergency room.
Question: What's Southern Nevada's most pressing health-industry issue, and how do we solve it?
Answer: I believe our greatest challenge is the lack of providers across all disciplines, but especially among physicians. While I'm an alumnus of the University of Nevada School of Medicine in Reno, I see great utility in having a medical school in Southern Nevada. I believe it would go a long way toward addressing manpower issues, and it would hopefully have a significant positive economic impact on our community.
Question: We would need more residencies, too. How would a medical school affect the number of residencies?
Answer: A medical school would be incredibly important. A residency program is started and run by medical academicians, or physicians and surgeons who are academically oriented and inclined. Part of that academic inclination is your ability to do research. All of those pieces are integral to a medical school and research complex. To grow your residency programs and attract good medical academicians who share their programs and teach residents, you need a strong foundation with a medical school.
Contact reporter Jennifer Robison at jrobison@reviewjournal.com. Follow @J_Robison1 on Twitter.