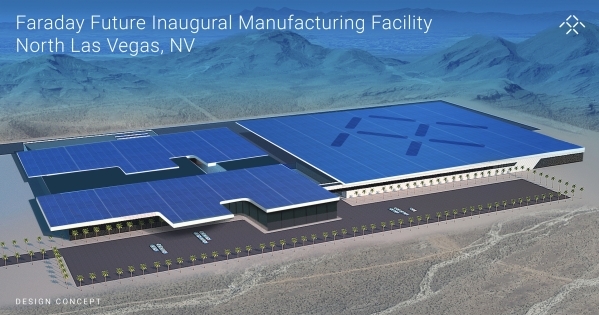 Secretary of State Barbara Cegavske can't wait to get an up-close look at the place where Southern Nevada's economic diversification efforts will kick into high gear.
"I am so excited about this project because my heart has always been with us training people to work with with their hands," Cegavske said of Faraday Future, the electric car manufacturing company that will build a $1 billion, 3-million-square-foot plant at the Apex industrial park.
"We have so many students that college is not their route and they actually want to do something with their hands," she said.
The birth of a new Nevada industry took another step toward reality Friday when the Governor's Office of Economic Development board of directors voted unanimously to approve the package developed by the Nevada Legislature in its December special session.
Work crews quietly began clearing the 900-acre factory location Thursday and later in the spring, Faraday is expected to have a groundbreaking at the site on the southwest corner of U.S. Highway 93 and Grand Valley Parkway.
"Is there any possibility for a field trip?" said Cegavske, a board member. "I would really like to go out there."
"You'll probably get an invitation to the groundbreaking," Gov. Brian Sandoval said.
And when everyone started looking at each other, wondering if they had missed the news of a groundbreaking, Sandoval added, "I guess Faraday can take that as a strong hint."
There were few surprises as Economic Development Director Steve Hill and Faraday's senior manager of environmental health and safety and training, Cathy Steinmetz, walked the board through the complex $215.9 million incentive package Nevada developed to beat out 287 other sites that were vying for the plant.
The incentive package includes $177.9 million in sales, property and business tax abatements and $38 million in transferable tax credits through a jobs training program. Hill noted that the state would bond for more than $103 million in infrastructure improvement projects that not only would help Faraday, but any other company that locates in the industrial park that is about 15 miles northeast of Las Vegas along Interstate 15.
Faraday presented board members a map showing the single-story plant's body shop, paint shop, power-train facility and vehicle assembly area as well are warehousing and three large parking lots.
The company vowed to move fast and so far, it's living up to that plan.
"Faraday is moving so quickly that we're having to work to keep up with them," Hill said.
The plant will be built over the next year and at peak employment, 3,000 construction and installation workers will be on the job.
When Faraday reaches its full production capabilities in several years, it will provide 4,500 jobs on site with an average wage of more than $22 an hour and 9,000 indirect community jobs in support of the factory. Experts are estimating the plant will have an $85 billion economic impact on the community over 20 years.
The incentives, which Hill said were developed to protect taxpayers and will be paid out only after Faraday hits certain performance standards, will result in a $405 economic impact per abatement dollar and tax revenue of $3.55 per abated dollar.
Faraday Future is projected to increase manufacturing employment in the county by more than 20 percent and add 4 percent to the county's gross regional product.
Faraday's cars should also boost Nevada's product exports with 95 percent of the market expected to be outside the state.
In addition, the company has pledged to contribute $1 million a year for six years to K-12 education in the state beginning with the 2018-19 school year.
Contact reporter Richard N. Velotta at rvelotta@reviewjournal.com or 702-477-3893. Find him on Twitter: @RickVelotta.