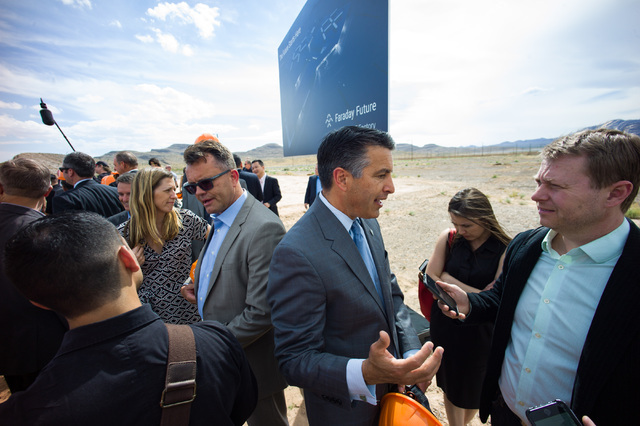 They don't tend to set deadlines for themselves, but Faraday Future is behind schedule to start moving dirt on its $1 billion factory site in North Las Vegas.
In May, a spokeswoman for the electric car maker said that grading would begin in late June for the new facility sitting on 900 acres within the Apex Industrial Park. The company also announced that it had selected engineering company AECOM as a construction partner.
As of Tuesday, Faraday had not yet submitted the necessary paperwork for a grading permit to the North Las Vegas Public Works Department, city officials confirmed. They declined to comment further.
"We are finalizing the last few remaining items to fully mobilize with our partners, AECOM," Faraday Future spokesman Ezekiel Wheeler wrote in an email. "This will ensure we maintain the momentum needed to execute a project of this size while still doing it right."
State lawmakers held a special session last year to approve $215 million in tax incentives to lure Faraday to Nevada, but the company has not provided a definite date for it it expected to start producing vehicles at the 3 million-square-foot factory.
The facility is expected to house 4,500 full-time employees, at least half of whom must be Nevada residents, as part of an agreement reached with the city.
Public records show that Robin Prop Holdco, a company related to Faraday, agreed in May to place $6.6 million into an escrow account to reimburse the Southern Nevada Water Authority for water infrastructure design plans at Apex.
Last month, the North Las Vegas City Council approved a separate deal that will allow 30 employee from Faraday to work inside a 2,885-square-foot office at City Hall, under a $64,047 yearlong lease.
Contact Art Marroquin at amarroquin@reviewjournal.com or 702-383-0336. Find @AMarroquin_LV on Twitter