Faraday Future has yet to make a mark
Updated April 7, 2017 - 2:20 pm
Which companies are most likely to win the race to commercialize autonomous driving technology?
A new study by Navigant Research asserts it will be traditional auto manufacturers and not tech companies or startups such as Faraday Future.
In fact, Navigant's report, which was released this week, doesn't include Faraday as a contender.
"Aside from the CES demo, we haven't seen much in terms of what their technology can actually do," said Sam Abuelsamid, an author of Navigant's study. "It wasn't enough to go on tomake a judgment."
That was the case for other startups as well, he said.
For Faraday to be get on the map, Abuelsamid said the company needs to present "more detailed demonstrations" of its autonomous technology.
"What we saw in Vegas at CES was a car navigating around the parking lot. And seeing a car park itself is pretty much what we saw Valeo do in 2014," he said. "For their autonomouscapability, we don't know if it's just smoke and mirrors or if it is really fully functional."
A Faraday Future spokesman — who Faraday asked not be identified by name — said the company is "working diligently" to build its autonomous driving capabilities.
"The advancement of autonomous functions requires significant responsibility," a spokesman said via email. "Our engineers are working toward integrating four essential autonomousdriving technologies, including radar, ultra-sonic sensors, high-definition cameras, plus … the addition of 3-D 360-degree high-definition LiDAR, a technology that we view as a critical component of future autonomous functionality. These systems work in unison to provide environmental data to the vehicle and operator when engaged in certain self-driving features."
The spokesman said the company is confident it will be included in future studies "once our data and technologies are made available to outside sources."
The Faraday spokesman said the company does not consider the development of autonomous driving technology as "a race of traditional manufacturers vs. the tech industry."
Increased competition in the space leads to faster development and better technology for everyone, he said.
"Companies like Bosch and Delphi fit into a separate category of suppliers who are well accomplished in autonomous driving, and are working both traditional manufacturers and techcompanies to push technology as a whole, forward. Autonomous tech will continue to evolve," the spokesman said.
Navigant sells its in-depth surveys of energy and transportation markets to suppliers, policymakers and other industry stakeholders.
Contact Nicole Raz at nraz@reviewjournal.com or 702-380-4512. Follow @JournalistNikki on Twitter.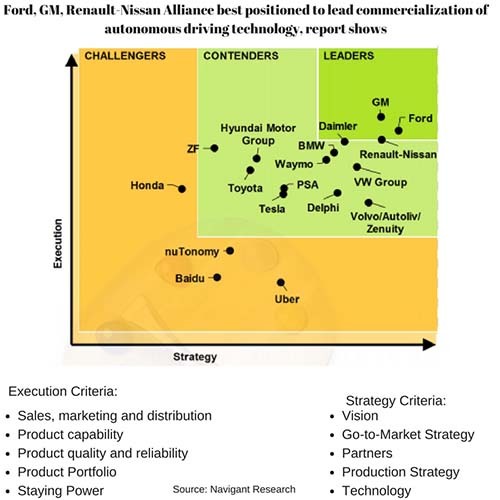 Faraday Future in North Las Vegas
In December 2015, Nevada lawmakers approved $215.9 million in tax incentives for Faraday Future.
When Faraday broke ground on its 3 million-square-foot manufacturing facility in April 2016, company executives said the goal was to start building cars as early as 2017.
A Faraday Future spokesman say the company is on track to build cars in North Las Vegas by 2018.