Faraday moving to month-to-month lease in North Las Vegas
Updated June 10, 2017 - 5:51 pm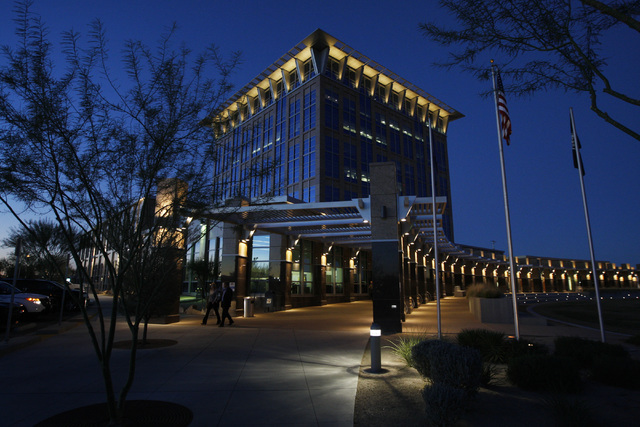 Faraday Future's 12-month lease inside North Las Vegas City Hall expires Thursday.
The company has been paying $5,337 per month (including all utilities except for telephone and internet service) to rent 2,885 square feet on the third floor from the city since last June.
A spokesman for Faraday said it will continue leasing office space from the city on a month-to-month basis with the same rent "to facilitate local operations."
The company has plans to manufacture electric autonomous vehicles next year out of a roughly 900-acre campus at Apex Industrial Park, but there has not yet been any vertical construction on the site. The company does have staff on-site working out of trailers. A Faraday spokesman said that staff is "managing the launch of vertical construction."
The company is seeking to raise $1 billion, part of which would be used to spur construction of the Apex facility.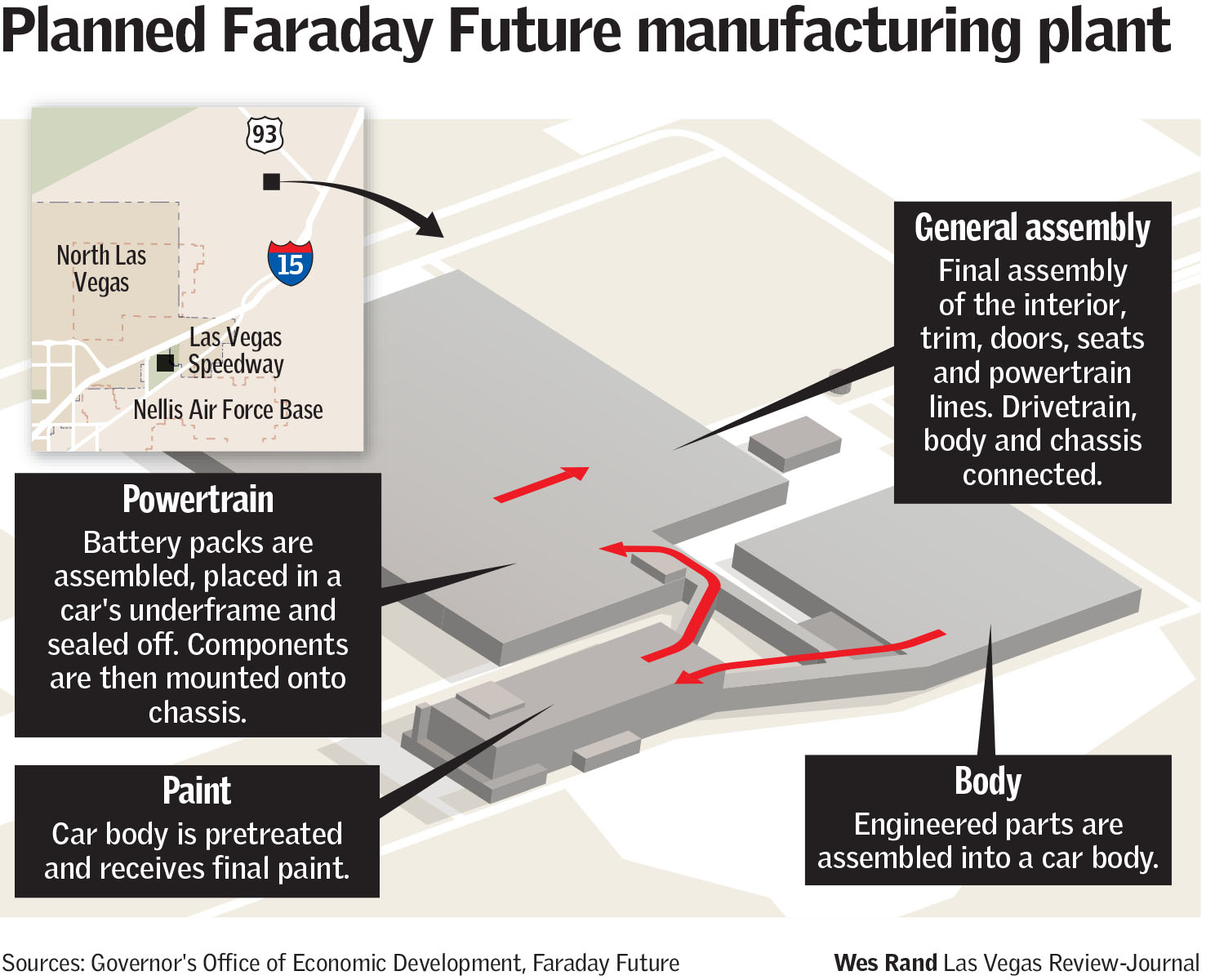 Working out of City Hall
Twenty-five Faraday Future employees work out of the leased space inside North Las Vegas City Hall, a Faraday spokesman said, adding that a number of them split their time between Las Vegas and Los Angeles.
"This team is responsible for all infrastructure and process-related engineering that will be required to manufacture FF 91 (Faraday's flagship autonomous electric vehicle) at the Apex project site," the Faraday spokesman said.
Plant Director Andrew De Haan, Senior Launch Manager Michael Lemprele and Senior Manager of Nevada Government Relations Detrick Sanford are a few of Faraday's employees working out of North Las Vegas City Hall.
"Their suite is filled," said Gina Gavan, director of business development at the city of North Las Vegas. "There are lots of bodies in there, and they have lots of people that come from L.A. weekly in and out."
North Las Vegas spokeswoman Delen Goldberg said the city leases space to a variety of tenants and Faraday is not uncommon in transitioning from a yearly to a month-to-month lease.
According to plan, official says
The company's leased space includes a reception area, two offices, a conference room, an open space and shared use of common spaces that include hallways, bathrooms, break rooms and a health center.
"Faraday Future will eventually move our staff from North Las Vegas City Hall to on-site offices at the Apex project site," a Faraday spokesman said, adding that he "cannot reveal a final timeline at this point" for when that will be.
Gavan told the Las Vegas Review-Journal that everything is going according to plan.
"We went into this 12-month lease thinking that they would be where they are right now — that they would be moving onto their site on Apex," Gavan said, adding that it makes "more sense for Faraday to be on site" and the company is "already renting trailers that are out there."
Contact Nicole Raz at nraz@reviewjournal.com or 702-380-4512. Follow @JournalistNikki on Twitter.
Changing plans
■ December 2015: Nevada lawmakers approve $215 million in tax incentives for Faraday Future to build a plant to produce autonomous electric vehicles in North Las Vegas.
■ April 2016: Faraday breaks ground on its 3 million-square-foot manufacturing facility with the goal of building cars in 2017.
■ December 2016: Grading work completed, all other construction subsequently stopped. Production goal moved to 2018.
■ Currently: Faraday representatives say the company is focused on constructing a 650,000-square-foot manufacturing facility. Production goal still 2018. The 3 million-square-foot manufacturing facility will still happen, they say, just not right away.
The company acknowledged it is running low on funds last month but said "the commitment to Nevada is 100 percent there."