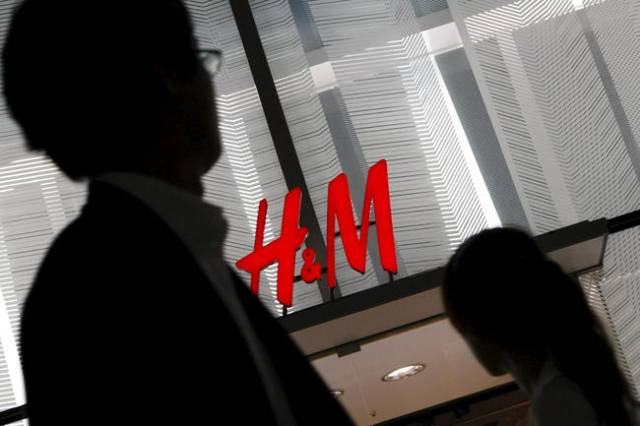 Downtown Summerlin has given Tivoli Village a black eye in the fight for retailers to serve the Las Vegas Valley's affluent west side.
Global fashion retailer H&M has abandoned its long-rumored plan to open a 26,000-square-foot store at Tivoli Village, announcing Tuesday that it would instead build out a 20,000-square-foot location at Downtown Summerlin. The store is scheduled to open in spring.
An H&M spokeswoman didn't comment on the fate of the Tivoli Village store, saying only that the Swedish retailer "always looks to open in the best locations where we can meet the needs of our customer base and provide them with even more access to our great fashions in a sustainable way."
But Matt Bear, a vice president specializing in retail for commercial real estate brokerage CBRE Las Vegas, said H&M's Downtown Summerlin store kills any chance Tivoli Village had to sign the brand.
"They won't do both centers. They're too close," Bear said. "Downtown Summerlin and Tivoli Village compete for the overall shopping dollars in the area, but at the end of the day, I don't know that they'll have tenant mixes that resemble each other at all."
The 785,000-square-foot Tivoli Village at Rampart Boulevard and Alta Drive has struggled since its 2006 groundbreaking with construction delays and, more recently, with the 2014 opening of the 1.6 million-square-foot Downtown Summerlin less than five miles away, near Charleston Boulevard and the 215 Beltway.
The centers are distinct. In its completed first phase, Tivoli Village has a more intimate feel, with old-school European architecture, winding cobblestone streets and larger-than-average concentrations of office and restaurant space. Downtown Summerlin went with a straightforward, sleek urban center in a traditional city-block grid layout.
For many big retailers, Downtown Summerlin's design just feels more familiar.
"Even if we hadn't had a downturn, Tivoli Village was always going to be complicated. It has multiple stories, underground parking and a mix of uses in a confined space," said Bear, who's placed clients at Downtown Summerlin but wasn't involved in the H&M deal. "Once Downtown Summerlin started taking shape, it was always going to be the safer option for tenants. The worst thing a retailer can do is execute a deal and the project doesn't happen, or it doesn't happen as originally conceived. Retailers are opening fewer stores, and they want the stores they have to be successful."
Downtown Summerlin also has a larger mix of clothing retailers, including Gap, Banana Republic, Express and lululemon athletica.
"I like Tivoli Village, and I hope it's a spectacular success, but H&M has a certain profile of tenants they like to be around, and Downtown Summerlin simply had more of them," Bear said.
Losing H&M, which reportedly discussed leasing at Tivoli Village as far back as March 2014, raises the stakes on the center's other planned anchor tenant.
Tivoli Village executives announced in May that RH Gallery, a high-end concept by home-goods retailer Restoration Hardware, planned its biggest U.S. store yet at the center. The 70,000-square-foot, four-story location will look like a custom mansion, with garden terraces, wine bars and cafes.
Leasing officials said in May that the store would open in spring, but a spokeswoman said Tuesday that Tivoli Village's second phase, anchored by RH Gallery, would debut in late 2016. She added that the center has "a number of other contracts … in place or in negotiations."
For H&M, the Downtown Summerlin store is the 418th U.S. location and the fifth local outpost. It also has stores at Town Square, Galleria at Sunset and the Miracle Mile Shops at Planet Hollywood. Its local flagship inside the Forum Shops at Caesars Palace is the company's largest in the world, at 55,000 square feet.
The Summerlin H&M will feature collections for women and men, plus a separate "store within a store" section for accessories. It will also also carry H&M's children's collection, for newborns to 9-year-olds.
H&M opened its first U.S. store on New York's Fifth Avenue 15 years ago. It now has more than 3,700 stores in 61 countries, and focuses on fashions that are both affordable and trendy.
Contact Jennifer Robison at jrobison@reviewjournal.com. Find @_JRobison on Twitter.