Fazoli's closes only Las Vegas restaurant
February 17, 2016 - 2:38 pm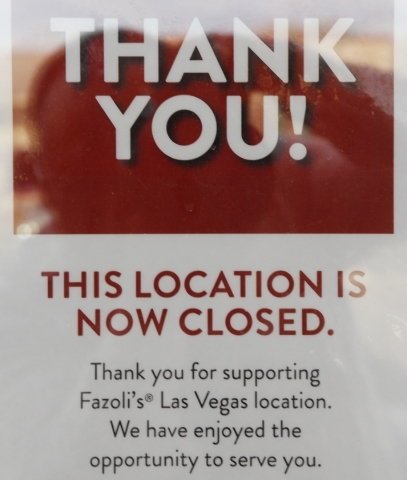 There'll be no more free breadsticks on North Town Center Drive.
Italian fast-food franchise Fazoli's has quietly closed its lone Las Vegas eatery. The restaurant, behind the 7-Eleven at Town Center and Covington Cross in Summerlin, shut Feb. 8, 15 years to the day after its 2001 debut.
The closure defies broader market trends, as big, national chains including Chick-fil-A and Cracker Barrel prepare market launches for late 2016 and early 2017.
"Las Vegas is definitely a growth market," said Darren Tristano, president of Chicago-based restaurant consultant Technomic.
So why did operators shutter Fazoli's?
Company spokeswoman Janet Ritter deferred to the franchisee, Las Vegas-based Glencoe Management, and Glencoe Management didn't return phone calls. The company's website said it owns 21 local Burger Kings, including one at 1280 Town Center Drive, next to the former Fazoli's.
But Ritter said Fazoli's, a Kentucky chain with 217 U.S. locations mostly in the Midwest and South, "would like to have a presence in Las Vegas, and we are seeking franchisees to open units in the Las Vegas area."
The Fazoli's closure capped a market foray that never really picked up steam.
Ritter said she had no information on number or dates of operation of prior local stores, but at least two other Fazoli's franchises — one on Ft. Apache Road near Rhodes Ranch and another on Eastern Avenue in Silverado Ranch — opened after 2001 and closed years ago.
The 28-year-old company had as many as 300 U.S. restaurants before it began pruning locations in the recession. Each restaurant typically employs 30 to 40 people, Ritter said.
Competition has hurt Fazoli's, Tristano said.
The U.S. market is saturated with chains, including Panera Bread and Noodles & Co., that serve pasta and pizza. Plus, Fazoli's straddles a blurry line between fast food and the more upscale fast-casual segment, which includes operators such as Chipotle and Au Bon Pain.
"That's not a terrible place to be. The problem is, you're lumped in to some extent with fast food because of the drive-thru and the price points, but the quality is not at the level of a fast-casual restaurant," Tristano said. "That's not to say it's not good quality, but there are so many concepts with customized, prepared-to-order food."
It didn't help that Fazoli's had just a handful of local stores. A franchise needs 20 to 25 locations in a big market to build loyalty and brand awareness, Tristano said.
Still, Fazoli's seems to have righted its ship: The company said in December that same-store sales were up in 65 of the prior 68 months, including a 3.1 percent jump year over year in November. It opened 10 new franchises in 2014 and 2015.
And restaurant operators continue to salivate over the Southern Nevada market, Tristano said.
"Las Vegas has the demographics and growth that many chain brands are looking for," he said. "Not all of the markets in the United States are growing, but you're seeing housing development and population growth there, and that's a big deal. Chains tend to be prioritizing growth markets."
Contact Jennifer Robison at jrobison@reviewjournal.com. Find @_JRobison on Twitter.