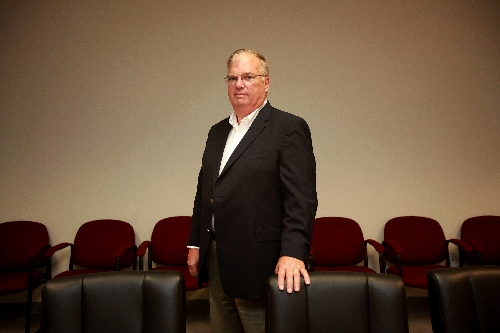 Shopping centers around Las Vegas are riddled with vacancies left by former retailers. Community banks made loans to some of those closed retailers.
Community banks also made loans to shopping center and office building owners, who now are struggling to pay off loans because their rental income has dropped because of vacancies.
Those two things help explain why Southern Nevada's independent bankers are piling up losses while the recession drags on.
Southern Nevada community banks continued in a tailspin during the second quarter as losses continued to accumulate. Many saw their capital or net worth cushions grow smaller.
"It's tough out there," said William Uffelman, chief executive officer of the Nevada Bankers Association.
Uffelman attributes banks' financial grief to dropping commercial real estate values and the growing number of businesses that cannot stay current on loans that are, and aren't, secured by real estate.
When borrowers fall behind on payments on commercial real estate or when the loans come up for renewal, banks are required to get appraisals that reflect lower real estate values, Bank of George Chairman Edward Nigro said.
Then, banks must set aside reserves for potential losses, eating into profits. Borrowers often are asked to pay down loans to get refinancing, and many are unable to do that, he said.
"It's kind of a vicious cycle," Nigro said. "Community banks have felt the brunt of it because they have been the front-line lender in this (commercial real estate) category."
Independent banks also are hurt, because business loan demand has fallen. Nigro said Bank of George has attracted new clients and loans from banks that regulators closed and sold to other banks, he said.
Bank of George was the only Southern Nevada community bank with a second-quarter profit, but the profit was not enough to totally offset losses in the first quarter.
Fewer loans became delinquent at Bank of George during the second quarter and management cut costs, Chief Executive Officer Diane Fearon said.
Nonperforming assets represented 9.2 percent of total assets at the bank, down from 10.8 percent at the end of the first quarter, data compiled by research firm SNL Financial show.
The bank boosted its equity capital to $10.5 million with the addition of $2 million in new common stock as of June 30. It has another $900,000 committed to buying new shares, which will increase capital more by month's end. Its own directors have agreed to buy $1.1 million of the new stock. The bank hopes to boost the total to $7 million by the end of September.
Meadows Bank, another new institution once untouched by problem assets, reported a loss for the second quarter in a row.
Red ink gushed from Bank of Nevada, which lost $10.7 million, compared with $3 million in the first quarter, SNL Financial reported. Nevada State Bank, a subsidiary of Zions Bancorporation and the state's biggest community bank, slowed the bleeding to $19.1 million from $28.3 million in the first quarter.
Service1st Bank reported a $2.2 million net loss for the second quarter, up from $1.8 million in the first quarter.
With three exceptions, however, all the banks exceeded the 10 percent risk-based capital level needed to be considered well capitalized.
Bank of Las Vegas reported its risk-based capital, a measure of net worth, was 4.1 percent.
Nevada Commerce Bank's risk-based capital stood at 6.6 percent, while 1st Commerce Bank was 6.93 percent.
Contact reporter John G. Edwards at jedwards@reviewjournal.com or 702-383-0420.