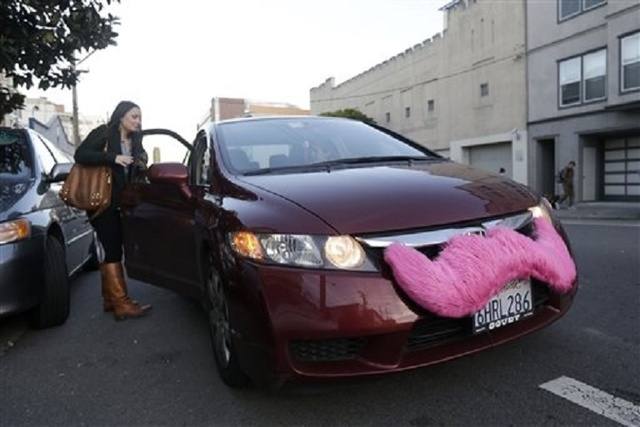 When people get together to talk about politics or religion, passionate debates and strong points of view are going to emerge.
Similarly, you'll get a boatload of opinions on either side of the issue when the conversation turns to Uber.
In Southern Nevada, the voices are getting louder.
Uber is coming.
For those unfamiliar, Uber is a San Francisco-based technology company that brings people who need rides together with people who can provide rides.
That may sound a little like a taxi company — the consumer calls the company, the company shows up with a car and off you go.
But Uber doesn't look at itself as a transportation company. It's the people who own the cars that are doing the transporting. All Uber is doing, or so they say, is arranging to bring the two parties together and provide a simple means for the driver to be paid by the rider.
Transportation regulators all over the world have joined in the debate over whether Uber is or isn't a transportation company. Some view Uber and its various competitors — Lyft, Sidecar, Haxi and others — as an innovative new wave in public transportation that defies some of the traditional rules. Others see them as a danger to consumers that must be blocked from entering the market.
In Clark County, the latter perception is the prevailing sentiment.
In some major markets with entrenched taxi interests — think New York, Chicago, San Francisco — creative regulators have found ways to open the door to Uber, viewing the company as a way to keep transportation costs down through competition. In others, the regulators see Uber and its drivers as risks because they can't monitor the drivers and their records, inspect their vehicles and retain proof they're insured.
Uber operates in more than 200 cities in 45 countries. Las Vegas is one of the largest cities without an Uber presence.
The first indication that Uber was coming occurred this year when ads for drivers started to appear on Craigslist. Representatives of the company have made frequent visits to Las Vegas making contact with various officials about how it could enter the market.
How the privately-held company could do that is unclear. Company officials are playing their strategy close to the vest.
Local taxi companies counterpunched by warning their drivers that if they were caught freelancing for Uber that their days driving a cab were over.
To enter the Las Vegas market, Uber could attempt the strategy locally-based Integrity Vehicle Solutions employed with its Ride Genie app. It works a lot like the Uber app, except Integrity, a company formerly under the Frias Transportation Management umbrella, went to the Nevada Transportation Authority to be regulated by the state.
Now, several companies that operate limousines have a separate tariff for use of the Ride Genie app.
Last month, a rival company, Carmel Car Service, was before the Transportation Authority seeking permission to use a similar app. Uber could do the same thing and operate UberBlack — a high-end Uber service using sport-utility vehicles and limos.
The development of UberX, the service that would most closely approximate taxi service, would be a more complicated undertaking.
In theory, Uber could apply for a certificate of public convenience and necessity through the Nevada Taxicab Authority.
It isn't likely Uber would win certification because one of the steps it would be required to take would be to prove that existing certificate holders don't "meet the needs of the territory for which the certificate is sought," which means rival taxi companies would provide testimony that they're meeting the needs of the riding public and a new entrant to the market would be detrimental.
Don't look for much sympathy from the Taxicab Authority board. Although the board's mission is to provide options for the riding public, at least one board member is on a crusade to keep Uber out of Las Vegas.
There's also the matter of how taxi rates don't fit within the Uber business model. Taxicab regulations require cabs to have meters to measure distance and dwell time. Uber's model is built around price estimates by the trip with rates that vary from city to city. Critics also point out that Uber practices "surge pricing," so if you need a ride during a busy time of day, it's going to cost more.
The bottom line for Uber is that the company isn't equipped to use meters and it probably wouldn't be profitable if it had to use them.
How could this stalemate be broken? Uber fans love the service and want to see it here. Several friends in the transportation industry, including cab company executives, have tried Uber in other cities and said they actually liked it.
It seems there may be one other way to open the door to Uber and the wheels are already in motion to try it.
Uber needs to find a lobbyist or lobbyists to convince legislators to work with Uber to modify statutes by redefining the regulatory structure to enable it to operate. That would be a monumental challenge considering how entrenched existing taxi and limousine companies are in the political scene.
Uber isn't ready to spill its political strategy to the media, but sources within the industry say those conversations already have begun.
It's going to be an interesting debate if Uber has enough soldiers in the field to make it a fair fight.
The pro-Uber side will question how Las Vegas can consider itself the center of innovative technology if it can't even objectively consider a possible solution to some of the city's transportation woes with a ride-sharing app.
The Las Vegas audience is getting younger and this app-happy generation wants Uber. Why can't it have it?
Meanwhile, the other side includes organizations like the Taxicab, Limousine & Paratransit Association, which has a well-organized campaign called "Who's Driving You?" that asks the tough questions about who is that person behind the wheel of the Uber vehicle.
Has he had a dozen moving violations in the past year? Is he insured? Is he a drug user or alcohol abuser?
The same questions, of course, can be asked of taxi and limousine drivers, but the chances are much better that drivers are going to get screened and problems caught by regulators.
There's no doubt Uber is coming. When it will get here and what it will look like when it arrives is the question.