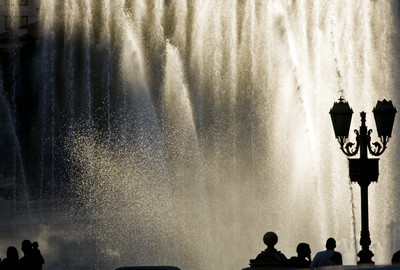 Wall Street is viewing today's quarterly earnings announcement by Strip casino giant MGM Mirage as the most critical report in the company's history.
Analysts have speculated about MGM Mirage's future since the casino operator said March 3 that it was facing default on $7 billion in loans, which could filter down and put all of MGM Mirage's $13.5 billion in debt into default.
The company, which operates 10 Strip hotel-casinos and is building the $9.1 billion CityCenter, could be forced to file for bankruptcy to reorganize its debt.
The earnings release, covering company results for the last three months of 2008, comes as The Wall Street Journal reported over the weekend that MGM Mirage could sell pieces of the company, including Bellagio and the MGM Grand Detroit, to shore up its sagging finances.
"This is easily the most important (earnings release) in its history because management will be communicating its survival strategy," Deutsche Bank gaming analyst Bill Lerner said Monday. "Perhaps, the company will announce something beyond strategy that will quell concerns. Anything to improve the balance sheet is critical."
In a filing with the Securities and Exchange Commission this month, MGM Mirage said the recession and a drop in consumer spending have damaged earnings. The company is also seeking $1.2 billion in financing needed to complete CityCenter, which is scheduled to open later this year.
Last week, Lerner released a report to investors that he billed as a possible road map for MGM Mirage to crawl out of the "abyss."
Lerner said MGM Mirage could take several steps that would allow the company to avoid a bankruptcy filing, such as repurchasing discounted debt in the open market and trying a bond exchange. He said the company's most strategically compelling move would be to exchange casinos for discounted debt in a three-way deal with bondholders and a potential buyer.
"From the perspective of MGM Mirage, it could avoid shopping some assets unfavorably in a tough financing and valuation environment," Lerner said.
MGM Mirage has already sold Treasure Island for $775 million to former New Frontier owner Phil Ruffin. The Nevada Gaming Commission will consider the purchase Thursday and the deal could close March 31.
In January, the Review-Journal learned that MGM Mirage had tried to negotiate a sale of The Mirage to Penn National Gaming, but talks fell apart over pricing. Sources told the Detroit News Sunday that MGM Mirage put the MGM Grand Detroit on the market. The casino opened in October 2007 at a cost of $800 million.
Lerner suggested MGM Mirage could sell assets that are not providing revenue now, such as vacant Strip land or a component of CityCenter. The company said last month it was changing the scope and delaying completion of the Harmon, one of CityCenter's nongaming hotels, until 2010.
MGM Mirage owns CityCenter in a 50-50 partnership with Dubai World, the investment arm of the Persian Gulf state.
Shares of MGM Mirage, which traded at just less than $65 a share a year ago, closed at $3.23 Monday on the New York Stock Exchange, down 30 cents, or 8.5 percent.
Contact reporter Howard Stutz at hstutz@reviewjournal.com or 702-477-3871.