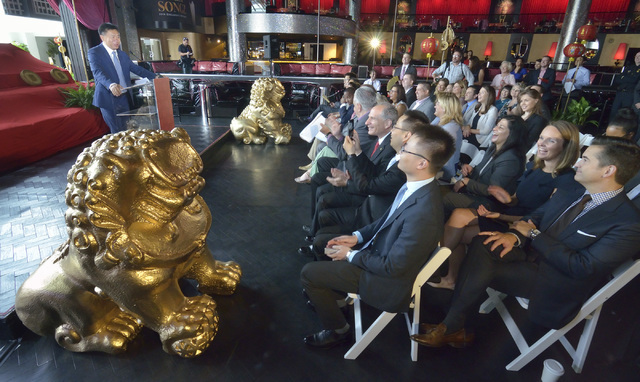 State and local officials have worked for nearly two decades to get nonstop flights between Las Vegas and China.
Those efforts paid off Thursday when Hainan Airlines — China's largest privately owned commercial air carrier — filed an application with the U.S. Department of Transportation to begin flights between McCarran International Airport and Beijing Capital International Airport in December, the airline announced.
Hainan Airline's service to Beijing is the second nonstop trans-Pacific route connecting Las Vegas with Asia. Korean Air flies four times a week between McCarran and Seoul, South Korea.
Hainan will fly the Beijing route three times a week on 213-seat twin-engine Boeing 787 Dreamliner jets, the second international carrier to use the newest addition to the Boeing fleet in service to Las Vegas. Norwegian Air also flies the 787, lauded by many as one of the most comfortable jets in the sky, on its international routes.
Hainan Vice President Hou Wei, who has worked on establishing the Las Vegas route for two years, said Las Vegas has become a top tourist destination for Chinese travelers because of the vibrancy, excitement and culture of the city.
"Las Vegas' investment in hotels, shops and attractions that are geared toward Chinese travelers ensure that Chinese visitors will continue to come to Las Vegas and support this economy," Hou said.
New reciprocal 10-year tourist visas and "China ready" programs have helped resorts to develop amenities geared to Chinese visitors. Highlighting the increased cultural exchange, the announcement Thursday at the Cromwell featured a video of dragon dancing filmed by the Las Vegas Lohan School of Shaolin.
The three-times-a-week schedule means "tremendous growth" for the Las Vegas economy, said Rossi Ralenkotter, president and CEO of the Las Vegas Convention and Visitors Authority. Chinese tourists are among the fastest-growing and largest-spending groups of international travelers to Las Vegas.
"Right now we get about 170,000 Chinese visitors a year, which is over $200 million in economic impact," Ralenkotter said. A convenient nonstop travel opportunity to Las Vegas means visitors begin their stay in Vegas, and spend more money here.
"International visitors stay longer. Many of them — when they come to the United States — they'll spend ten, 12, 15 days," Ralenkotter said, adding that the direct flight also provides an opportunity for Vegas to compete directly for the Chinese market.
The millions of dollars that are dropped in the city will translate to an economic boost.
Clark County Commissioner Steve Sisolak said the boost in tourism from China will create jobs in Southern Nevada.
"It keeps heads in beds," he said. "The money circulates over and over again. Ultimately it gets into our education system, our parks, our police force, all those sorts of things that make it a better community for all of us."
Clark County Director of Aviation Rosemary Vassiliadis said Vegas can expect a "tremendous" increase in visitation with the new nonstop flight.
"We know how high the demand has been. It's the most populous country in the world and, Las Vegas being the No. 1 destination in the world, it's just a perfect fit," she said.
The new route is part of Hainan's large-scale expansion of flights to and from North America. The airline already flies routes between Beijing and Seattle; Boston; San Jose, California; Chicago's O'Hare International Airport; Calgary, Alberta; and Toronto, Ontario. It also has flights between Los Angeles International and Changsha, and Seattle and Boston to Shanghai.
"Hainan's award-winning service and elite experience complement the dynamism and vibrancy of Las Vegas," Hou said. "This is a further reflection of our long-term commitment to our customers in China and the U.S."
There were indications earlier this year that Hainan's announcement was coming.
In April, the Civil Aviation Administration of China approved Hainan's' request to fly three round trips a week between Beijing and Las Vegas beginning in September. The airline is then required to take the request to the U.S. Department of Transportation for approval. That's the step that was announced Thursday.
When an airline files an application, the department establishes public comment periods of either 15 or 21 days. The Department of Transportation then weighs several factors in determining whether the application is in the public interest.
The timing of an approval is driven by whether there are responses filed to the application or if the application involves any bilateral agreements between the affected countries. For example, when Hainan filed for authority to serve Chicago's O'Hare International Airport from Beijing in June 2013, there were no objections filed and the application was approved one month later.
Flights between Las Vegas and Beijing will begin Dec. 2 once the Department of Transportation approves the route, which is expected to be a formality.
Hainan will fly Mondays, Wednesdays and Fridays, leaving McCarran at 12:30 p.m., arriving in Beijing at 5:30 p.m., the next day. Return flights will leave Capital Airport at 2:20 p.m., and arrive in Las Vegas at 10:30 a.m., the same day because the flight crosses the international dateline.
The eastbound flight takes about 12 hours and the westbound flight 13 hours. The airline's business class seats feature lie-flat beds.
Contact Richard N. Velotta at rvelotta@reviewjournal.com or 702-477-3893. Find him on Twitter: @RickVelotta. Contact Nicole Raz at nraz@reviewjournal.com or 702-380-4512. Find @JournalistNikki on Twitter.