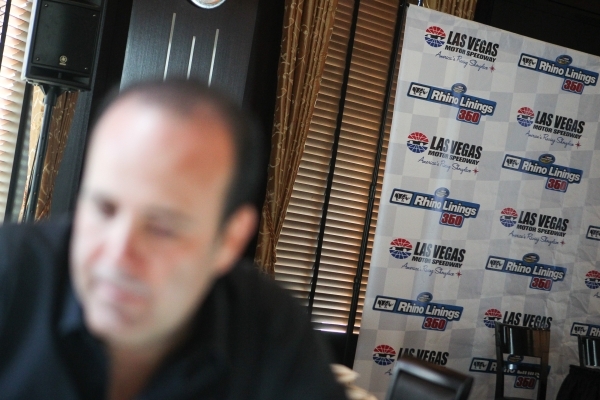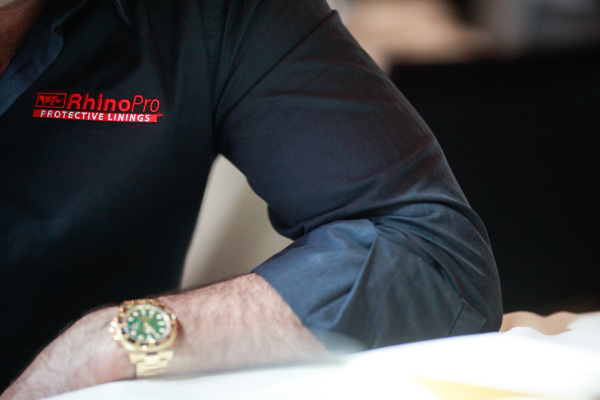 For years, NASCAR has been trying to diversify its ranks, looking for its racers, sponsors and fans to come from more diverse backgrounds.
Juan Carlos Martinez is the Mexican-born president of RhinoPro CS, a company focusing on spray-on bed linings for pickup. Martinez's company bought the title sponsorship to the Rhino Linings 350, a NASCAR Camping World Truck Series race at Las Vegas Motor Speedway on Saturday at 7 p.m. Martinez is in the second year of a two-year deal valued in the mid-six figures and is negotiating with speedway officials for another two years.
If you're at the speedway, look for the RhinoPro Mobile vans that are outfitted with compressor and generator equipment at the Neon Garage. Martinez also has sponsorship deals with Professional Bull Riding and fishing, hunting and camping organizations — sports organizations with a pickup truck demographic. The Review-Journal caught up with Martinez on Friday to discuss NASCAR's diversity efforts and his opinions about Donald Trump's immigration views.
Question: Why is it important that NASCAR have diversified racers, team owners, sponsors and fans?
Answer: What we do for NASCAR is to expand the NASCAR brand into markets they don't have exposure and the demographic reach. I'm a race car driver myself, and a lot of people are into NASCAR because of the sponsors.
Question: As a Mexican-born sponsor, what kind of perspective do you bring to NASCAR?
Answer: I provide a reach to a demographic that is weak. It's low. Latinos are generally more interested in automotive restyling.
Question: How well has NASCAR done at diversifying its ranks?
Answer: Really well. NASCAR has a division in Mexico. Being an American company, we can always contribute to NASCAR by expanding its reach in Mexico to a fan base that is pretty weak.
Question: What is the business value of being a title sponsor to a NASCAR truck race?
Answer: Really, it's about awareness, credibility and the power of the brand (of NASCAR). I don't know if I would have sponsored a race had it not been for Las Vegas Motor Speedway. It's a truck race and fans come here to specifically see the trucks. So, the bed lining is the perfect match to the truck race.
Question: What was your reaction when you heard Donald Trump's thoughts on Mexican immigration?
Answer: I don't know why he is focusing on the Mexicans. I don't know if he is calling everyone south of the border Mexicans. His level of ignorance is because we are a direct neighbor (of the U.S.). He will have to fight to overcome what he said because the Latino population is definitely growing in the United States.
Question: How do you plan to activate your sponsorship at the speedway?
Answer: RhinoPro has a mobile division, and we have licensing and turnkey business opportunities based on territory rights. We will have a van rigged with a compressor and generator at the Neon Garage (for people interested in) buying licenses to operate a RhinoPro mobile operation.
Contact reporter Alan Snel at asnel@reviewjournal.com Find him on Twitter: @BicycleManSnel