Flagging economy forces several restaurants in valley to close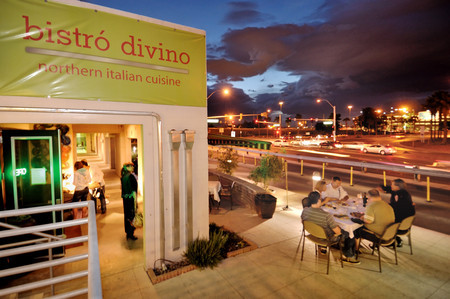 A keyboard player offered sultry songs as people sauntered in and out to pay their last respects. It was not a person's death that brought mourners together. No, it was the very public closing of a business.
Two-year-old Bistro Divino was saying goodbye, its owners calling it quits after being wracked by the downturn. The "passing" marked the latest restaurant failure in Southern Nevada, where an already tricky business is much harder these days, even for longtime restaurateurs.
Bistro Divino had been the Las Vegas Grill for four years before Rebecca Prephan and her partners bought it in 2007.
The unexpected illness and death of the Grill's owner had caused the restaurant to change hands. Prephan, who comes from a restaurant family and managed eateries for others in the past, thought the Bistro could become "a staple of Las Vegas."
For a while it did. The location, right near the Charleston underpass, offered a little bar and tables inside along with patio dining. Bistro Divino was the only restaurant in the West Charleston Boulevard center, known as the Holsum Lofts. Prephan even brought in a chef to fine-tune her menu.
When the recession hit, loyal customers continued to frequent the bistro but watched every penny. The owner lowered her prices and offered specials to keep customers coming back. But Prephan's overhead wasn't getting any cheaper. Finally, the tough decision was made to close.
"We had bodies in the restaurant, but they were spending less," she recalled.
Business advisers and advocates say a major cause of restaurant failures is the lack of business experience on the part of management. But Prephan has 13 years of experience. She says she didn't expect the economic crisis to hit as hard as it did. The downturn prevented Bistro Divino from gaining solid financial footing.
"For a business, it takes a while to settle in, and my plethora of experience sustained us for a while," Prephan recalled.
HOW BAD IS IT?
Bistro Divino closed in a very public way, sending out an announcement. But many others have had quieter send-offs, or none at all. That makes the exact number of restaurant closures difficult to determine, said Katherine Jacobi, president and CEO of the Nevada Restaurant Association. She estimates about 5,200 restaurants are now open statewide, with a quarter of those being members. That number could drop.
"My gut feeling is there were more closings in the last six months than the six months prior," Jacobi said.
Her association typically learns of store closings after members' dues lapse or health permits become inactive.
The Southern Nevada Health District's annual renewal deadline is July 1. However, because the health district offers a grace period for permit holders, the exact number of closures in the last six months won't be known for a while, district spokeswoman Stephanie Bethel said. As of July 1, 2008, there were 14,283 active permittees in Southern Nevada. That number grew to 15,061 before the current renewal period.
The Clark County Business License Division recorded 1,602 active or pending restaurant licensees as of July 10. Fifty-eight restaurant licensees went out of business in unincorporated Clark County from March 10, 2008, to March 10 this year. Those figures don't include licenses issued by cities.
Jacobi noted the market has worsened since most of those permits were issued.
"Closings have picked up in the last six months, and the reasons for the closures were varied," the Nevada Restaurant Association CEO said.
"Our restaurants run on about a 4 to 6 percent profit margin," Jacobi said. "With increased minimum wage, modified business tax and (health) permit (cost) increase, some restaurants can absorb it and other restaurants — with squeezed profits and limited foot traffic — they close."
Nevada's minimum wage for those employees without qualified health care benefits rose to $7.55 per hour July 1. The Nevada Legislature passed an increase in the MBT — or payroll tax — on payrolls exceeding $250,000, and deducting health insurance. The tax jumped from 0.65 percent to 1.17 percent. Meanwhile, health permit fees were scheduled to increase by 4.2 percent over the next year, Jacobi said.
Local restaurateurs and other small-business owners sometimes turn to the U.S. Small Business Administration Nevada District Office for help — and they often come in too late, said Dennis Wengert, the SBA's Nevada deputy director.
"I had one call, referred to me on a Friday, where the owner said he would have to close by Monday morning if he didn't get help," Wengert recalled.
In this recession, if a contingency plan isn't put in place right away when the company runs into trouble, often nothing can be done later. And restaurants, in particular, are struggling small businesses.
"The whole thing about an industry like that is that there are no barriers to entry," Wengert said. "So, it is difficult to start a software company, but with a restaurant it is just getting the resources together."
Increasingly, the SBA deputy district director tells failing entrepreneurs to let the business go and save their credit in hopes of starting over later.
Ed Brown, the SBA's Nevada chief of finance, said the closures are emotionally taxing on all involved. "I feel like I am a psychiatrist. In my more than 14 years with the SBA, this is first time I've gone home with headaches."
PROFITS FALL, BUT NOT RENTS
Although Bistro Divino's Prephan declined to discuss her lease terms, the tiny La Gorditas at 2605 S. Decatur Blvd. seems destined to share a similar fate. The Mexican chain restaurant, at the corner of West Sahara Avenue and Decatur, is set to close by early September. Like Bistro Divino, the La Gorditas quick-serve restaurant had about a two-year life span, but could never quite establish itself in the market before the economy took a turn for the worse.
The Decatur location is losing money, Las Gorditas office manager Angelica Gonzalez said. Sales dropped 50 percent from a year ago and, sometimes, the store would make as little as $100 a day in sales. A good day might be $300, she said.
Owners had offered the sales figures to document the decline for the landlord, but unlike some of Las Gorditas other landlords, the property manager of the Decatur shopping center didn't offer rent concessions — or at least as far as Gonzalez could tell.
"I write the checks, and the rent is the same amount, so I think I would know," she said.
If the landlord had discounted the rent, La Gorditas might have chosen to keep the Decatur store open, Gonzalez said. Instead, now it will likely join other shuttered restaurants littering the corner of Sahara and Decatur. Among those are a Red Robin and a Chili's.
One of that intersection's few surviving restaurants is the locally owned Hash House.
NEW RESTAURANTS OPEN
Not all the news is bad for the local restaurant industry. Most landlords are realizing that they have to work with tenants on rent concession, Wengert said. In some instances, the rent cuts are enough to allow the business to stay open.
Roland Sansone, owner of Sansone Development has offered rent concessions to many of his struggling tenants, with varying degrees of success. At his Park Place center at Serene Drive and Eastern Avenue, Steele's, Wild Wings and Le Golosita restaurants closed in spite of having the option of price breaks on their leases. Le Golosita closed for sit-down Italian dining but still offers limited catering.
Park Place has a 90 percent occupancy rate, and Sansone attributes that to loyalty to his tenants.
"It's the right thing to do to give a concession to a long-term tenant. Even without a business plan (from them), we'll give a break for 12 months and see what happens," he said.
Casinos seem to have provided some restaurants a haven. The 12-year-old Fellini's Italian restaurant location on West Charleston moved to the Suncoast and became Salvatore's last August. Another Fellini's is open in the Stratosphere.
After Salvatore owner Bob Harry took the offer from Boyd Gaming Corp., his buyers for the West Charleston store all dropped out.
"It was a godsend," he said of the timely move. "It's much bigger, and we do a lot better."
Tinoco's also moved this spring from its West Charleston location, adjacent to the Arts Factory, into the Vegas Club casino downtown. Rob Paymon took over the vacated Tinoco's spot and opened his third Paymon's Mediterranean Cafe. "Instead of a conventional lease, we pay a percentage," he explained, "If Paymon's makes money, the landlord makes money."
The newly opened Ciao Ciao Apizza Angelato restaurant is making more money than owner Gerald Shlesinger expected, he said. Since July 2, people have flowed into the pizza and gelato dine-in place at 4460 S. Durango Drive near Spanish Trail. He averages 200 to 300 pizzas a day.
Shlesinger, who also owns the Della Spiga Cafe at the Forum Shops at Caesars, said he offers reasonable prices, a great atmosphere and great pizza. A good location, near wealthier areas, doesn't hurt.
"I think there is always room for a top-quality place that is affordable," he said.
Contact reporter Valerie Miller at vmiller@lvbusinesspress.com or 702-387-5286.