Flying high: Virgin America, JetBlue top airline quality study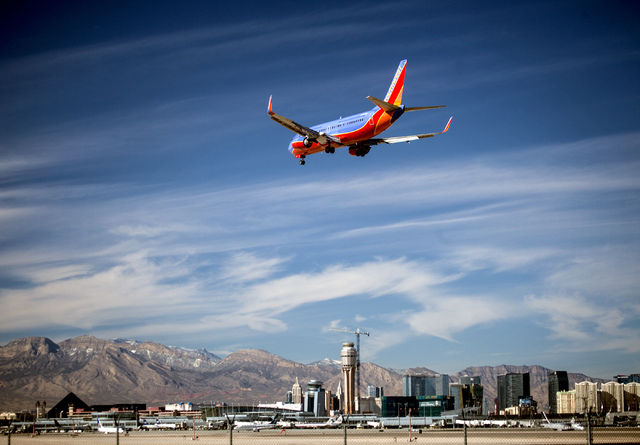 Two airlines with a small presence at McCarran International Airport repeated as top U.S. air carriers in an airline quality study released Monday by two aviation professors.
Virgin America and JetBlue, two growing airlines that appeal to their customers with technology and unorthodox policies, scored highest among 15 carriers in the 24th Airline Quality Rating report.
The rankings were derived from a formula developed by the two professors measuring on-time performance, the number of lost bags the airlines had, the number of denied boardings resulting from oversold flights and the number of customer complaints filed.
The report said U.S. airlines had fewer customer complaints and denied boardings in 2013 than a year earlier, but more lost luggage and late flights.
Brent Bowen, a professor and dean of the College of Aviation at Embry-Riddle Aeronautical University, Prescott, Ariz., and Dean Headley, an associate professor of marketing at the W. Frank Barton School of Business at Wichita State University, listed the best and worst scores in the four categories in their report.
Virgin America and JetBlue each have 2 percent of the available seats flying into the Las Vegas market. From McCarran, Virgin America has routes to its San Francisco base and Los Angeles while JetBlue flies to Long Beach, Calif., and Boston. Both serve New York's John F. Kennedy International Airport, JetBlue's base of operations.
American Eagle, a commuter subsidiary of American Airlines that doesn't have any Las Vegas routes, was last in the rankings.
Southwest Airlines, McCarran's dominant carrier, was eighth while Delta Air Lines, No. 2 at McCarran, was fourth. Las Vegas-based Allegiant Air was not among the 15 air carriers studied.
Data released by the authors of the report say the top airlines in the four study areas repeated their performances in 2013 from 2012 with Hawaiian Airlines having the best on-time performance, JetBlue having the fewest passengers denied boarding, Virgin America having the fewest mishandled bags and Southwest Airlines having the fewest customer complaints.
Hawaiian has consistently had the best on-time performance over the years because most of its flights operate in ideal climate conditions. JetBlue is high atop the denied boardings list because unlike most carriers, it doesn't oversell its flights.
The percentage of flights arriving on time in 2013 slipped from 81.8 percent in 2012 to 78.4 percent in 2012. There were 3.21 mishandled bags per 1,000 in 2013 compared with 3.07 per 1,000 in 2012.
The report also said there were 1.13 consumer complaints per 100,000 passengers in 2013 compared with 1.43 per 100,000 in 2012. There were 0.89 customers denied boarding per 10,000 passengers in 2013 compared with 0.97 per 10,000 in 2012.
While the Airline Quality Report has been published annually for 24 years, not all aviation analysts buy into it.
Mike Boyd, who heads Boyd Group International, a Colorado-based aviation consultant, said the report's source data — from the U.S. Department of Transportation's Bureau of Transportation Statistics — is flawed.
Boyd said on-time data for some carriers is inaccurate because routes are flown by other operators, particularly on commuter flights. He said consumer complaint numbers aren't verified for accuracy.
"One set of 10 letters generated due to a single delay at a small carrier like Frontier can jack the stats into the sky for a given month," Boyd said.
Contact reporter Richard N. Velotta at rvelotta@reviewjournal.com or 702-477-3893. Follow him on Twitter @RickVelotta.