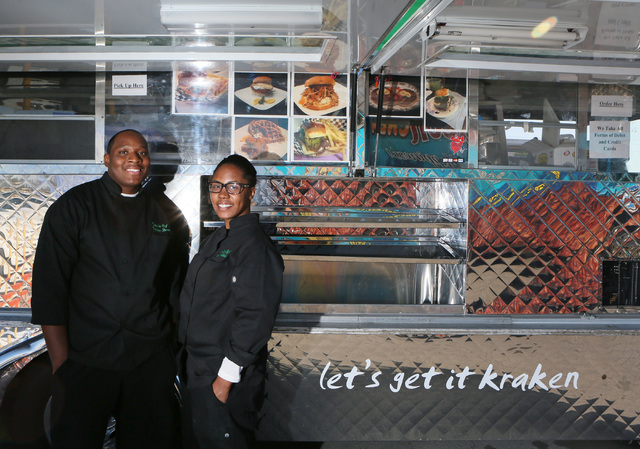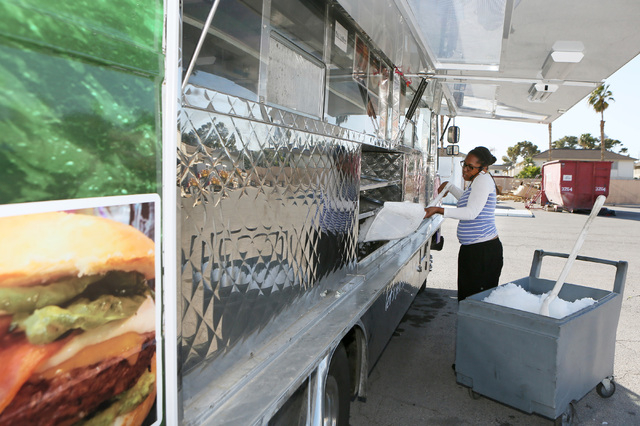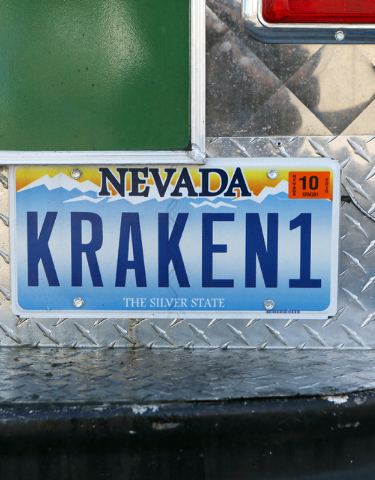 The Kraken Café wants the shatter the stereotype of the Las Vegas food truck.
The name conveys restaurant food, and the chefs are trained at the International Culinary School at the Art Institute of Las Vegas and Le Cordon Bleu College of Culinary Arts in Las Vegas. Instead of the traditional food-truck staple of hamburgers and hot dogs, customers find bison burgers, salmon croquette burgers and shrimp toast Benedict.
The startup business has just been named one of 102 national winners and the lone Las Vegas recipient of the American Small Business Championship handed out by SCORE, the national nonprofit business mentoring organization, said Raj Tumbler, a mentor with SCORE Las Vegas.
Kraken Café receives a $1,000 gift card from Sam's Club, an all-expense paid trip to a one-day mentoring session and mentoring for a year to help grow the business, Tumbler said.
Kraken's owner is Kayla Webster, 23, a graduate of The Art Institute of Las Vegas in September. She has partnered with Le Cordon Bleu's Elijahwan Bonner.
"I'm excited, and it's great because we put in a lot of hours and work to get people to know about our concept," Webster said. "It feels nice to know that there's going to be further help to make our business better in the long run."
Webster, a self-described military brat born in Hawaii, said she had the concept to start a food truck for a couple of years. She wanted to open a restaurant, but a food truck would be a start and a definitely a safer concept that requires as little as a $70,000 investment.
Webster, however, didn't want the traditional food truck but one that brought better cuisine to the public.
Webster said she went with an upscale menu because people like the concept of higher-end food without paying upscale prices. The most expensive items on the menu, the bison burger and umami burger are $14, she said. That would cost more than $20 on the Strip and wouldn't come with fries.
"The reason we brought fine dining to food truck industry is that it makes it better and people become more curious," Webster said. "People are surprised. When you think of food trucks, some food is subpar, some is decent and some is above par. A lot of people hold to the ideal of the roach coach."
Starting in October, the truck has appeared at the opening of Downtown Summerlin, public festivals, and First Friday in downtown Las Vegas. It has also showed up at sporting events in parks and made regular stops at business parks, apartment complexes and breweries. It caters parties, too.
Webster said the industry is huge in the Las Vegas Valley and growing. At some events last fall, there were more than 60 food trucks and trailers, and in the last couple of months, about more 30 people have gotten into the business, she said. It shows the growing popularity and willingness of the public to sample the cuisine, she said.
"It's been eye-opening," Webster said. "The thing I can say about Las Vegas is that with the growth having expanded, it has helped people's mentality to try things and be more open minded instead of just thinking because it's a hot dog truck that it's your typical hot dog. They put their own relishes on there and make a whole lot of homemade sauces and that's what keeps people intrigued when they see the extra pluses."
Webster said she and her partner prepare the food at a commissary but the food truck has a refrigerator, freezer and full kitchen that allows preparation on it as well. Chicken waffles and chicken strips are two of the more popular items, but what sets it apart is the food is done with style, Webster said.
The umami burger, for example, the signature burger is dressed with port wine reduction, dijonnaise, fried egg, braised short rib, beef skirt steak, an Angus beef patty, spring mix, cheese and tomato.
"People are always surprised at what they get and the big portions," Webster said. "They're getting what they paid for. We have artisan buns and it's like a full-course meal."
Webster said she wants to keep the food truck even when she someday launches a restaurant. The word Kraken loosely translates to octopus in German, and Webster used the name because of her love for octopuses and the team concept of many tentacles and a multitude of options and skills. The restaurant would be a café but with an expanded menu from what they currently serve and be fine dining without the high prices.
Webster said it was simply too costly and risky to start with a restaurant venture at first.
"A truck is less costly than opening a restaurant in Las Vegas and it's a lower risk," Webster said. "If the truck does not work out, I can still sell it and get three quarters of money back. You can't get that with a restaurant."
Tumbler said the contest was open to startups and existing businesses, including those with longevity in operation. Finalists were determined by the public, which voted on Facebook whether a company deserved to be in the finals. National board members from SCORE picked the winners after reviewing their business and how they would benefit from mentoring and the $1,000 gift card, he said.
"We love it when the Las Vegas chapter is out there and getting attention," Tumbler said. "It's exciting for us. We are one of the leading chapters in the nation and have received a lot of recognition."