Football at the speedway? Tennessee yes, Las Vegas not likely
October 14, 2013 - 4:11 pm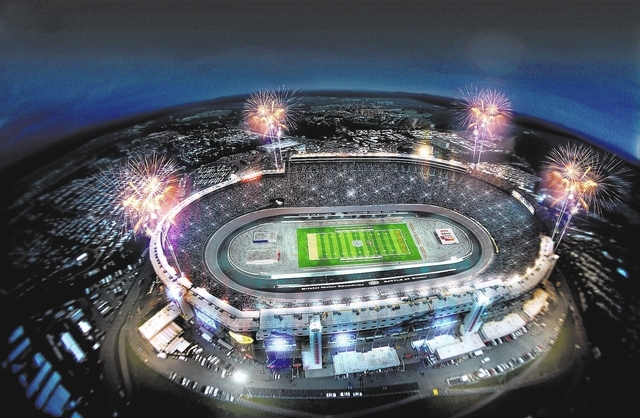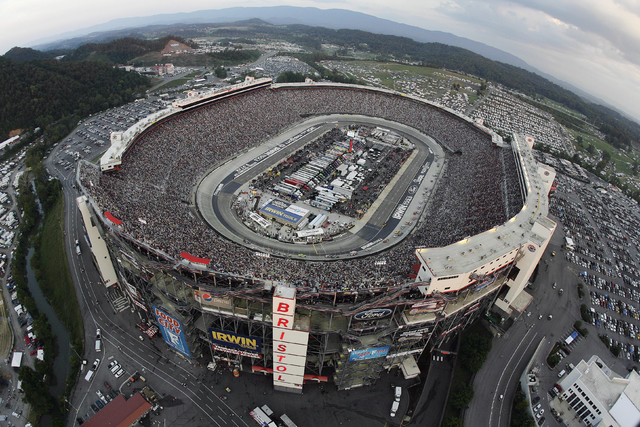 A sister race track of the Las Vegas Motor Speedway plans to host a college football game in Bristol, Tenn., in 2016, but don't expect any gridiron matches at the Las Vegas car track any time soon.
The Bristol Motor Speedway is scheduled to stage a game between Tennessee and Virginia Tech on Sept. 10, 2016, when the biggest crowd ever to watch a college or professional football game is expected to descend on the track with a capacity of 158,000. The college football attendance record is 115,109 set last month when Michigan and Notre Dame played at Michigan Stadium in Ann Arbor, Mich.
Officials at the Las Vegas Motor Speedway, with a capacity of 123,000, have discussed the idea of staging a college football game but, "It just hasn't materialized," said Jeff Motley, a spokesman for the Las Vegas facility.
The reason is the logistical challenge of staging a game at the Las Vegas Motor Speedway, said Motley, who is a Virginia Tech alum.
The Bristol speedway is a half-mile track with seating all around the race course, which makes it ideal to watch a game that would be held in the infield of the track. The Bristol speedway is also about halfway between the two universities, which makes for a good location for the two teams to play each other. The Bristol facility also has 196 suites.
The Las Vegas speedway is a mile-and-a-half track with the majority of seats on one side of the track, Motley said.
"It's not as conducive to football as the Bristol speedway," Motley said. "We've talked about it, but our facility doesn't lend itself to a football game."
Pat Christenson, president of Las Vegas Events, an organization that recruits, promotes and stages events, said attracting a big-time college football game at the Las Vegas speedway is "enticing" and "something to look into further."
Bristol Motor Speedway and Las Vegas Motor Speedway are owned by Speedway Motorsports Inc., which owns six other NASCAR tracks. Speedway Motorsports has watched ticket sales drop annually for five years, so the company would likely welcome a windfall of revenue from one of its properties.
A contributor to the Seeking Alpha business news website wrote that he expects more colleges to enlist racetracks as venues for football games.
"More attendees and fans equals more ticket and concession revenue splits between the stadium and the school. The likelihood of an event like this being on national television also increases the money that comes back the way of the university," wrote Chris Katje, a Grand Rapids, Mich., investor who blogs at Katje's Stock World.
"As one of several companies that owns racetracks, Speedway Motorsports is a direct beneficiary of the potential shift to college football games at speedways," Katje wrote.
Shares of Speedway Motorsports gained 58 cents, or 3.02 percent, to close Monday at $19.79.
Alan Snel can be contacted at asnel@reviewjournal.com or 702-387-5273. Follow @BicycleManSnel on Twitter