Forever 21 opens new bi-level store in Fashion Show mall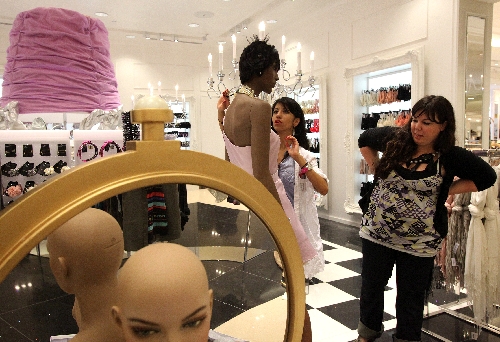 A California-based apparel business is opening its flagship Las Vegas store at Fashion Show mall today, taking 126,000 square feet of retail space that was leased but never occupied by Lord & Taylor when the Strip shopping mall expanded in 2002.
It will be the largest store in Nevada for Forever 21, a brand retailer that specializes in lifestyle clothing and accessories targeted toward the text-messaging generation of consumers.
Forever 21, which was established in 1984, has 480 stores nationwide, including stores at the Meadows, Boulevard and Galleria at Sunset malls in the Las Vegas Valley. The company in June opened a tri-level, 90,000-square-foot store in New York's Times Square.
The Fashion Show store will create 650 full- and part-time jobs in Las Vegas, which is facing record-high 14.5 percent unemployment.
Forever 21 Executive Vice President Larry Meyer said he feels good about a couple of factors in opening the new store, foremost of which is being in the Fashion Show mall.
"It's where everyone shops," Meyer said from company headquarters in Los Angeles. "They shop at Meadows and Boulevard, but ultimately, if you want selection, you go to Nordstrom or Neiman (Marcus). The Fashion Show has a unique mix of both high-end and midrange retailers."
Forever 21 is expanding during a time of cautious consumer spending. June retail sales, the National Retail Federation reports, decreased 0.5 percent seasonally adjusted over May and increased 3.3 percent unadjusted year over year.
"We think our concept of high fashion and great value is even more important to an environment that's sluggish," Meyer said. "We want to help people be fashionable."
Fashion Show's bi-level Forever 21 store, near Bally and Kenneth Cole, introduces a new concept and overall direction for the brand, Meyer said.
The company has spent "many millions" of dollars remodeling the space and bringing it up to code, he said. The expanded store will have 36 cash registers and 132 fitting rooms.
Bill Dunbar of Dunbar Commercial in Las Vegas said Forever 21 is a good example of a retailer that has capital and is trying to take advantage of the market. The retailer took space that had already undergone some tenant improvement work by Lord & Taylor, he said.
"I think Forever 21 is a great retailer that will add to the Fashion Show mix and bring in a younger customer that fits very well with the tourist population," Dunbar said. "They'll be a nice crossover for GGP (General Growth Properties) and overall have a nice positive effect."
General Growth acquired Fashion Show mall from Rouse Co. in 2005. Anchors include Neiman Marcus, Saks Fifth Avenue, Macy's, Dillard's, Bloomingdale's Home and Nordstrom.
Forever 21 brands include Heritage 1981, a lifestyle brand for women; 21Men, a line of fresh, fast fashion for men; Twelve by Twelve, a couturelike aspiration line; Faith 21, an extended-sizes line; Love 21, a contemporary women's line; HTG81, a children's line; and Love and Beauty, a cosmetics collection.
"Sometimes we get viewed as just a teen business," Meyer said. "Only 20 percent of our customers are under 18. Thirty-five (percent) to 40 percent are over 24. In these department stores, we get more customers who enjoy new apparel and enjoy having money left over after they have a new ensemble."
Forever 21's business model works by keeping stores exciting with the hottest and most current fashion trends brought in daily, he said.
"We embarked on this department store vision three years ago when we purchased some Mervyn's stores and expanded our accessories, shoes and kids' line," Meyer said.
Contact reporter Hubble Smith at hsmith@reviewjournal.com or 702-383-0491.