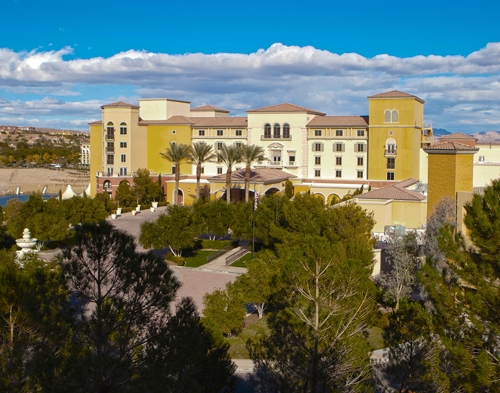 Dolce Hotels and Resorts today will begin filling 125 jobs at the former Ritz-Carlton hotel at Lake Las Vegas .
Former employees of the Ritz-Carlton who wish to return to the 349-room nongaming hotel, which closed in May, will be given preferential treatment in the hiring process.
"The short answer is yes, but we're also looking for the best possible employees available," said Steven Bello, acting general manager for the property, which is expected to reopen early next year under a new name.
Dolce, an international boutique lodging operator with 27 properties in North America and Europe, is accepting job applications on its website, www.dolce.com. Bello said the hotel will hire workers for food and beverage positions, hotel operations, finance, marketing, human resources, facilities and security.
When it closed, the Ritz-Carlton laid off 350 workers.
"We'll hire our (initial employees) and build from that flexibility," Bello said.
Dolce leased the site in September from Village Hospitality LLC. The only remodeling planned is for the lobby, which is being viewed as an interactive gathering area for hotel guests, with a restaurant, a light snack area and a technology center.
"The Ritz left us a very attractive property. It's in great shape," Bello said. "The hotel is not in need of a remodel and our owners are being very generous in allowing us to upgrade the lobby and dining areas."
Dolce is majority owned by Broadreach Capital Partners and has corporate headquarters in Montvale, N.J., and Paris. The company has hotels and resorts in 12 states and five countries, employing more than 4,000 workers.
Bello views the hotel as more contemporary than the Ritz-Carlton and he hopes the property will become a necessary part of the 3,600-acre Lake Las Vegas community in Henderson. Lake Las Vegas includes 1,700 homes and condominiums and the MonteLago Village retail and restaurant development.
The property opened as a Ritz-Carlton in February 2003 with 32,000 square feet of meeting and banquet space and a 30,000-square-foot spa and fitness center.
Lake Las Vegas filed for bankruptcy in July 2008 and emerged in July; two of the development's three championship 18-hole golf courses have closed and the Casino MonteLago, the community's only gaming establishment, closed in March.
Dolce's entrance was welcomed by the 493-room Loews Lake Las Vegas and the Aston MonteLago Village Resort, which manages almost 350 condominium units within MonteLago Village that are available for rent when not being used by their owners.
The Jack Nicklaus-designed SouthShore Golf Club continues to operate as a semiprivate facility.
"Our primary objectives are to be a great community partner and help revitalize the charming Lake Las Vegas community," Bello said. "Hiring 125 people is a big step in the right direction."
Contact reporter Howard Stutz at hstutz@reviewjournal.com or 702-477-3871.