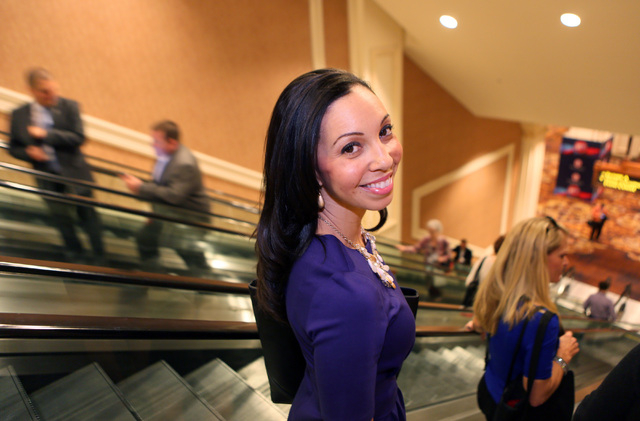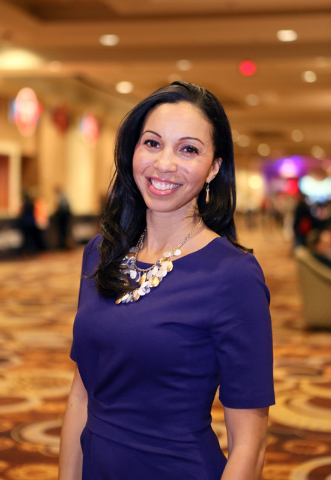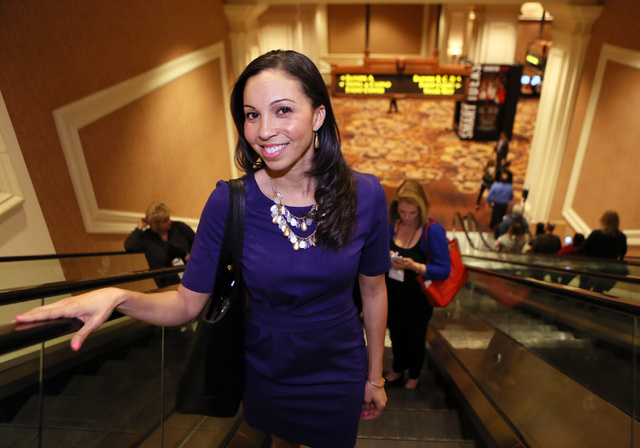 Growing up in Southern California, Chekesha Van Putten chased the Hollywood dream, appearing in the 1999 Academy Awards Best Picture "American Beauty" and dancing as a Los Angeles Laker girl.
Now a Las Vegan, she's chasing an entrepreneurial dream.
Van Putten, who has used her acting skills and outgoing personality to be a spokesmodel at a number of trade shows, founded and is CEO of Trade Show Casting.
The tech startup is designed to match models and actors to companies wanting representatives at trade shows.
She still keeps her hand in the trade herself, working January's Consumer Electronics Show and last week's National Association of Broadcasters event.
Question: How did you get into this business?
Answer: I moved to Las Vegas about five years ago, signed up with an agency and they started sending me on trade show event assignments. I quickly realized that my skills and background as an actress translated well to this industry.
Question: So before this, you were an actress?
Answer: Yes, in California. I pretty much had been doing it my whole life since I was 15. I'm a member of the Screen Actors Guild and have been in several movies and commercials, "American Beauty," the first two "Austin Powers" films and have worked in Pepsi and Taco Bell commercial campaigns. Currently, I have one running for the State of Nevada.
Question: How does that translate well into trade shows?
Answer: In Vegas, there are a lot of jobs for professional spokesmodels. These jobs require not only to be attractive, but to speak professionally and have a personality that engages customers and show attendees to visit a booth. Having a background in acting was great because I was able to memorize a lot of material quickly and engage audiences as I perform.
Question: What have been some of the trade shows you've worked on the local convention calendar?
Answer: I've been lucky to be able to work with some of the biggest shows in the country and in the world. I've been at the Consumer Electronics Show with LG Electronics, the Interbike show with Gatorade, the National Association of Broadcasters with Deluxe. Just about every major show that's out there, I've attended.
Question: What was your career highlight?
Answer: There have actually been a lot of them. It was really exciting to work the Consumer Electronics Show and working that has resulted in my coming full circle to a show called Cinemacon. Having worked in the television and film industry, I ended up working with a company called Dolby and getting a behind-the-scenes look at the industry and learning what theater owners have to do.
Question: On average, how many contracts do you have in an average month?
Answer: There are two or three shows that happen per week that I could be involved with. Some months are busier than others. The fall and spring seasons are the busiest of them. When it gets hot in Vegas in the late summer, it slows down a little. But there's a rolling calendar and since I've been here, I've been in contact with companies that call me back when they're in a show in town. But now, I'm more involved in Trade Show Casting, my new company.
Question: How did that come about?
Answer: I launched TradeShowCasting.com, my first entrepreneurial venture. It's an online job platform connecting models and talent with companies and agencies hiring nationwide. So we help companies find trade-show and event talent directly and we help talent find jobs directly. I like to say we're the Match.com company of the trade show and event industry.
Question: So you generate revenue from both job-seekers and job providers?
Answer: It's a premium business model, which means you get basic features for free with access to premium functionality at a subscription fee. So its free for models and talent to build a profile and apply for jobs, but if they want to add photographs and be featured on the site, there's a subscription fee for that. For companies, it's free to post jobs, but if they want to message or communicate with talent, they have to upgrade as well.
Question: Do you have a list of steady customers and clients?
Answer: Yes, we have hundreds of members who have signed up and they sign up on a daily basis. We have a number of companies as clients like Gatorade.
Question: Are there some trade shows that are more conducive to using your company's services?
Answer: It's pretty broad. Automotive shows, technology shows, fashion and beauty. Food and beverage. MAGIC (Men's Apparel Guild in California) is huge for us. Any of the big shows.
Question: Do your models and actors work as independent contractors or are they actually employees of the company?
Answer: They're freelance independent contractors. They can be actors, magicians, musicians or specialty acts.
Question: What else must your contractors have?
Answer: It's really important for them to have professional photographs that represent their work. A lot of the jobs are picked through picture submission. It's also important to have a résumé showing relevant work experience. Any marketing or sales experience helps because they're interactive with people.
Question: Are there minimum standards for posting information?
Answer: We have pretty strict parameters. We require professional photographs and professional experience. That means you can't sign up and just post a selfie picture. There are hundreds of thousands of people who do this kind of work nationwide. It's an industry that really hasn't been recognized as professional, but it is.
Question: What's an average day for a contractor?
Answer: It's pretty much a 9-to-5 day. You have to pretty much know your way around the various convention halls in the city. You show up early to the convention center and get some training at the booth about what they want you to talk about. When the show starts, you're immediately engaging with hundreds or thousands of customers and clients. You could be doing anything from demonstrating a product to handing out literature or doing full-blown presentations for a company. They often have promotional giveaways. It all depends on what the client has going on. In some cases, they may need someone who can make a lengthy presentation without cue cards. On the other side of the spectrum, a company may want a "booth babe." They just want somebody who's attractive to stand at a booth.
Question: How is the pay?
Answer: It ranges from about $200 a day for booth assistants handing out literature, greeting customers and scanning badges to skilled presenters who can make $750 to $1,200 a day.
Question: What's your take on growth of the meetings and trade show industry in the years ahead?
Answer: It's growing at a rate of about 2.9 percent annually, which is consistent with gross domestic product annual growth. I'm really excited about that and one of the reasons why I had the confidence to start TradeShowCasting.com because trade shows are a multibillion-dollar industry.
Contact reporter Richard N. Velotta at rvelotta@reviewjournal.com or 702-477-3893. Find @RickVelotta on Twitter.
Name: Chekesha Van Putten
Title: Founder and CEO of Trade Show Casting
Quotable: "I like to say we're the Match.com company of the trade show and event industry."