Former UNLV basketball player still flying high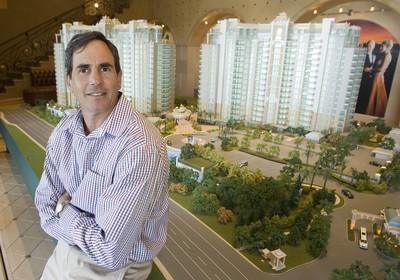 Greg Goorjian was one of California high school basketball's all-time top scorers when UNLV coach Jerry Tarkanian recruited him to play for the Rebels.
Goorjian is still scoring these days — not baskets, but million-dollar sales at One Queensridge Place, a 219-unit luxury condo high-rise project in the Queensridge development of Peccole Ranch.
Goorjian, vice president of sales and marketing for One Queensridge Place, made the transition from hoops to real estate after graduating from University of Nevada, Las Vegas, in 1983 with a business administration degree. His emphasis was on finance and real estate.
For eight years he was married to Leann Peccole, youngest daughter of Las Vegas real estate magnate William Peccole. That helped launch his career, admittedly. But it's the knowledge of the Las Vegas real estate market he gained as an executive assistant at Peccole Nevada that gives Goorjian the ability to put the $800-a-square-foot starting prices at Queensridge towers into perspective.
"There's very few ways for the valley to grow because of land constraints," he said. "You've got the Air Force base to the east, Indian land to the north, Red Rock to the west. You really learn that land is a valuable commodity in Southern Nevada."
Goorjian manages all marketing of the $ 300 million One Queensridge Place project, including positioning, pricing and sales. The 20-acre site is approved for two more towers and nearly 400 condo units.
Question: How much of your success do you owe to basketball?
Answer: Everything. It brought me here. It forged my first relationships with people who were very successful. When I first moved to town, I was staying next door to (former Gov.) Kenny Guinn.
Question: Tarkanian was forced out as basketball coach at UNLV, but many Las Vegans remain loyal to him to this day. Are you one of them?
Answer: The No. 1 guy I thank for being here is Jerry Tarkanian, because he recruited me and brought me to town and through him you get to know who's who in Vegas. His son Danny was right behind me and went to Bishop Gorman (High School). I met all the families — the Higginses, the Fertittas, the Herbsts — they all had boys playing at Gorman. You know, it's a small town.
Question: Why did you stay in Las Vegas after your playing days at UNLV?
Answer: I had an opportunity to be involved with the Peccole family in the planning and development of 3,000 acres of land. I had the opportunity to be involved with Canyon Gate (Country Club) and Peccole Ranch.
Question: What did you learn from working at Peccole Nevada?
Answer: Getting involved with community development, you learn there aren't a lot of land owners with large parcels that have the ability to control the surrounding environment and have an impact on the valley and our quality of life. I guess having a hand in community development taught me some things about the bigger picture of the federal government owning much of the land here.
Question: You're working with Executive Home Builders and Chief Executive Officer Johan Lowie, who built mansions at Queensridge and is now doing One Queensridge Place. What makes these guys special?
Answer: They brought a product that was phenomenal, the way they finished the homes. They used stone. They used iron and glass, things we see in high-rises that fit the old world. Here comes Johan from Israel with the DeHarts to put this product in the neighborhood, which is Mr. Peccole's dream, not to have stucco everywhere. You see the same thing from here to Palm Springs. You can't tell the difference between a Taco Bell, a gas station and a single-family home.
Question: Your wife is an interior designer with Executive Home Builders. What's it like working with her?
Answer: It provides for great talk at home about the buyers because we both know them intimately. It's a pleasure to work with my wife. It's been interesting and exciting to see her in action and to see her grow in her position and become very astute at what she does.
Question: What kind of changes are in store for Las Vegas?
Answer: Water issues. Vegas doesn't need yards and Vegas doesn't need swimming pools. We're living in the desert. Look at Lake Mead. Look at the gray line.
Question: Meadows basketball team won the state title and you were named coach of the year. How much of that transfers to the business world?
Answer: I think coaching skills relate to employment. Recruitment and retention and keeping them motivated. You measure their strengths and weaknesses and evaluate them.
Question: What have you learned about the high-rise industry from working on One Queensridge?
Answer: The biggest thing I learned is it's very much like a horizontal community but it's vertical. You have so many houses within the community with certain amenities. We have 404 total units in Queensridge that's on probably 200 acres. Here we have 219 homes on 20 acres and there's more total square feet, I'd say, in One Queensridge Place than in Queensridge.
The biggest difference is how you get the project financed and how you get the project built. Just owning the land without debt isn't good enough. Nice financial statements … still not good enough. You've got to have reservations convert to sales and you've got to be smart enough to sell it two years from when it's built, so you don't sell it for less than you build it for.
I think vertical residential living in the West is new to the contractor community, new to the development community and even new to the lending community. You do learn that it's not stopping. This form of residential living is here to stay.
VITAL STATISTICSName: Greg Goorjian. Age: 47 Position: Vice president of marketing and sales, One Queensridge Place. Family: Wife, Patricia; sons, Gavin, Camden and Colin. Education: Crescenta Valley (Calif.) High School, 1978; University of Nevada, Las Vegas, Bachelor of Science in business administration, 1983. Work history: Executive assistant at Peccole Nevada Corp., 1983-88; marketing and sales at Nevada Title Co., 1988-93; vice president of marketing and sales at Peccole Nevada, 1994-2003; vice president of marketing and sales at One Queensridge Place, 2003 to present. Hobbies: Basketball, body surfing, exercise. Favorite book: "Pyramid of Success," by John Wooden. Hometown: La Crescenta, Calif. In Las Vegas since: 1981. Quotable: "I think vertical residential living in the West is new to the contractor community, new to the development community and even new to the lending community." One Queensridge Place is at 9755 W. Charleston Blvd. and can be reached at 656-5955.