From gaming to law, attorney helps shape LV history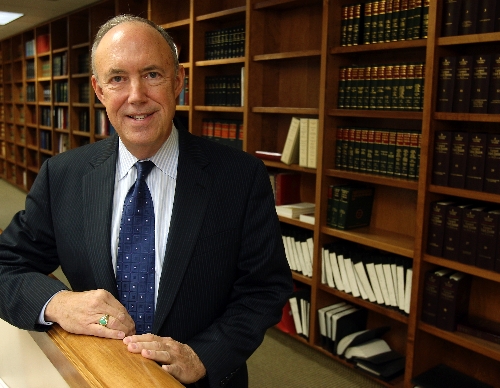 Attorney Jeffrey Silver takes a historical perspective when forecasting the future of Las Vegas.
That's understandable because he not only witnessed the recent history of Las Vegas, he was part of it.
Silver's family moved to Las Vegas from Southern California when his father got a job as adviser to the developer of the Stardust.
A couple of decades later in 1975, Silver was appointed to the Gaming Control Board and prepared the case against licensing Frank "Lefty" Rosenthal to run gaming at the Stardust.
Silver then worked as a casino executive for several years but ultimately returned to law practice, where clients have included Dubai World, the Riviera, Stephen Siegel of Siegel Suites, American Coin and the Tuscany.
Question: What led to the denial of a gaming license for Rosenthal at the Stardust?
Answer: A former FBI agent met with me, and I mentioned Rosenthal. The former FBI agent said he investigated Lefty for bookmaking in South Florida. The former agent gave me transcripts with Lefty taking the Fifth Amendment repeatedly before a Senate subcommittee.
At the control board hearing, Lefty is there with his attorneys (now Las Vegas Mayor) Oscar Goodman, Harry Claiborne (who later was impeached as a federal judge), and (current Nevada Senate Minority Leader) Bill Raggio of Reno.
I questioned Lefty for about eight hours. He didn't really have any answers to the questions.
Question: The board recommended that the Nevada Gaming Commission deny Rosenthal's request for a gaming license.
Answer: (Now Senate Majority Leader) Harry Reid was the chairman of the gaming commission. Reid had heard all the evidence (at the board meeting). So he just asked Mr. Rosenthal and his attorneys if they had anything to add, and the answer was no.
They said fine. Motion denied.
The movie "Casino," which Frank Rosenthal was a technical adviser to, made (the commission meeting) look like a kangaroo hearing that didn't give him a fair opportunity to make his case. He had eight hours to make his case about four days earlier.
Question: What happened next?
Answer: They tried to move (Rosenthal) to food and beverage director and entertainment director (at the Stardust) to be in place to control the money that was skimmed there. Every time he turned around we found a way to stop it. There were wire taps that said we ought to kill this guy, meaning me. I worked very closely with the FBI in trying to weed out the criminal element.
Question: You became president of the Riviera in 1983. How did that happen?
Answer: The Riviera had filed for bankruptcy, and Meshulam Riklis hired me as president of the Riviera.
I turned around the hotel. There was obviously a lot of money going out the back door. I stopped the bleeding. I terminated a lot of people who didn't belong.
I got into some disagreements with Mr. Riklis as to how the money should be spent. I resigned and took a position as senior vice president of marketing at Caesars Palace in 1984.
Question: You decided to return to practicing law. Why?
Answer: I met with my friend Gerald Gordon. We sat down at the executive section of the coffee shop at Caesars Palace.
He said, "Why would you give up all of this?"
I said, "Well, watch this. I picked up the salt shaker and looked at it as if the bottom of it was bugged, had a wiretap in it."
You could see all around the room people, all of the other executives, checking their salt shakers.
I said, "That's why."
Question: How has Gordon Silver done in the years since you joined the firm in 1984?
Answer: We've grown in a rather measured and steady manner. We have an office in Phoenix. We're opening an office in Washington, D.C. We're the pre-eminent firm in insolvency in Nevada and we will soon be pre-eminent in the entire West.
We're going to make an effort to become a political force as well as a legal force in the region.
Question: Can the Strip recover from the current recession anytime soon?
Answer: Las Vegas needs to reinvent itself. (At older properties), bring back the old Vegas even to the extent of bringing back the slot machines that dispensed coins, that had a reasonable price on their buffet, that had people in the casino who knew your name.
(The mobsters that formerly owned casinos) were bad people, but they knew how to take care of their customers.
Of course, once the U.S. economy turns around, what's the first thing people will want to do? They want to go and have a good time. Let's go to Vegas.
You are going to see a new, unrivaled demand for our facilities and services in the next couple of years.
Contact reporter John G. Edwards at jedwards@reviewjournal.com or
702-383-0420.
VITAL STATISTICS
Name: Jeffrey Silver.
Position: Chairman of administrative, gaming and government affairs department and attorney, Gordon Silver law firm.
Family: Between marriages; daughter, Meredith.
Education: Graduate of Las Vegas High School; Bachelor of Science in business administration, Northwestern University; inactive certified public accountant; juris doctorate, University of San Diego.
Work history: Accountant; assistant district attorney, Clark County; member, Gaming Control Board; chief operating officer, Landmark Hotel; president, Riviera; senior vice president of marketing, Caesars Palace; shareholder, Gordon Silver.
Hobbies: Travel, bicycling.
Favorite movie: "My Cousin Vinny" (1992).
Hometown: Las Vegas.
In Las Vegas since: 1955.
Gordon Silver law firm is at 3960 Howard Hughes Parkway, ninth floor, and can be reached at 796-5555.