Fuller planes help power Southwest Airlines to record quarterly earnings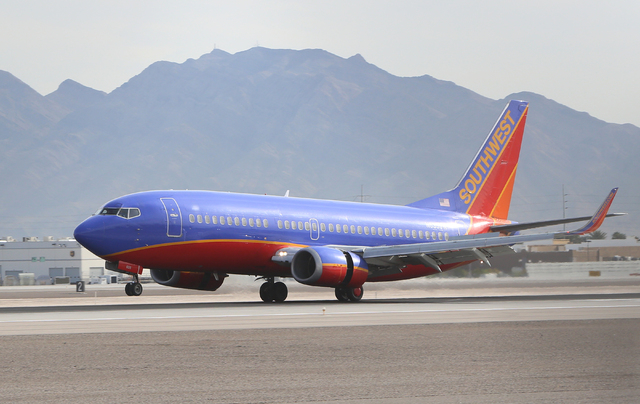 If it seemed your Southwest Airlines flight was a little fuller than normal so far this year, you were probably right.
The Dallas-based company, the busiest commercial passenger operator at McCarran International Airport, reported record first-quarter earnings Thursday, including the highest first-quarter load factor of 80.5 percent.
"Load factors" are the percentage of paying customers filling seats and airlines typically fly with percentages in the 70s.
A combination of fuller planes, maturing new markets and lower fuel costs propelled the company's results and prompted CEO Gary Kelly to remark that it was Southwest's best start in 20 years.
Southwest, which has an average 210 daily flights in and out of Las Vegas to 61 domestic destinations, reported earnings of $511 million, 79 cents per share, on revenue of $4.83 billion, all records, for the quarter that ended March 31. Southwest has about 41 percent of the Las Vegas market.
That compares with net income of $453 million, 66 cents a share, on revenue of $4.14 billion in the first quarter of 2015. Southwest also benefited from having an extra day of operations this year due to Leap Year.
Excluding special items, Southwest reported earnings of 88 cents per diluted share. Wall Street had projected earnings of 84 cents and revenue of $4.81 billion for the quarter.
"Our investment grade balance sheet, liquidity and cash flow remain strong," Kelly said in statement accompanying the release of the earnings report. "We generated record first-quarter free cash flow of $1.2 billion and returned $596 million to shareholders through the combination of dividends and share buybacks during first quarter 2016. Next month, we expect to complete the repurchase of the remaining $200 million under our existing $1.5 billion share repurchase authorization."
Over the last 12 months of operations, Southwest's return on invested capital was 33.4 percent and the airline's employees will benefit with a record first-quarter profit-sharing accrual of $155 million.
The performance prompted Southwest to announce that it is accelerating the retirement of its Boeing 737-300 fleet to next year. In January, the company said it would retire those 110 aircraft by 2018 after the airline begins taking delivery of the new Boeing 737 MAX 8 jets that will have enhanced interiors.
The change will result in Southwest reducing its capacity growth to 2 percent, down from the planned 5 percent to 6 percent in 2017. Southwest has orders for 170 of the MAX 8 and 30 737 MAX 7 jets and will be the launch customer for both new aircraft type variations.
Shares of Southwest Airlines gained 70 cents, or 1.49 percent, to close at $47.75. Some 9.87 million shares were traded, roughly 70 percent higher than normal volume, according to Google finance.
Contact Richard N. Velotta at rvelotta@reviewjournal.com or 702-477-3893. Find him on Twitter: @RickVelotta