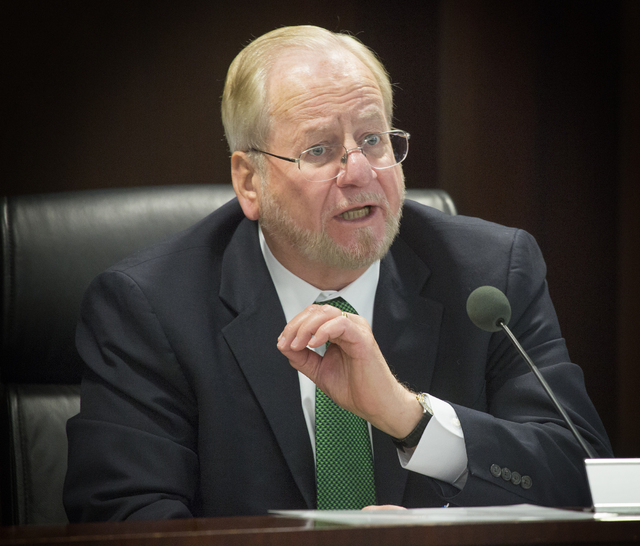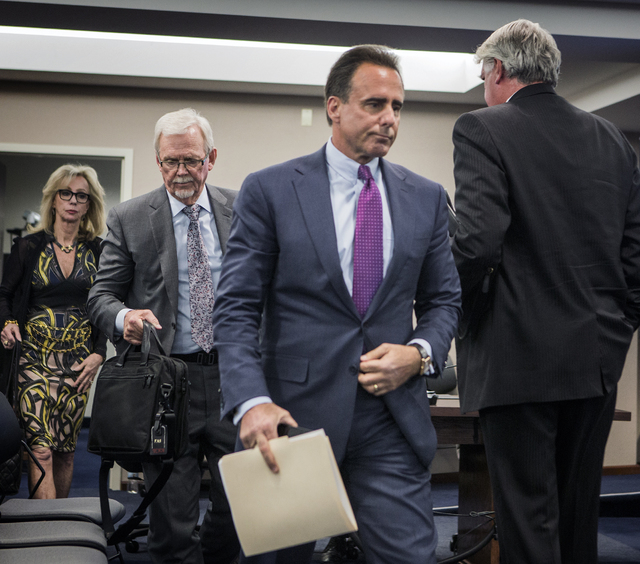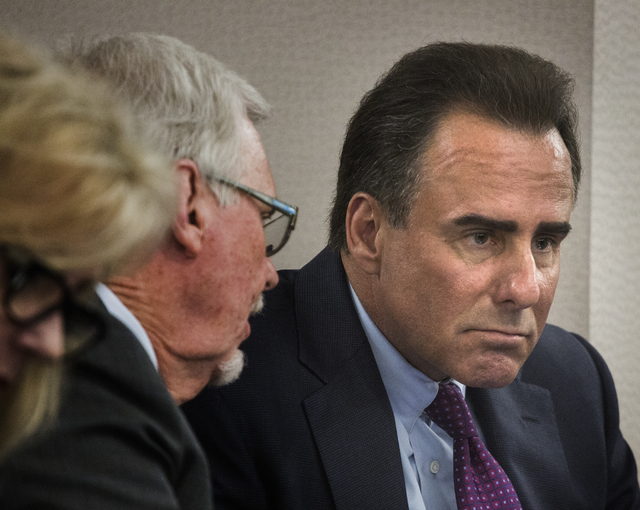 The Nevada Gaming Commission unanimously approved the licensing of Caesars Entertainment President and CEO Mark Frissora on Thursday despite two new issues raised since the state Gaming Control Board's favorable suitability hearing for him earlier this month.
Frissora, the former top executive for Hertz Global Holdings, spent more than an hour taking questions from commissioners about his departure from that company as well as two new concerns.
Commissioners questioned Frissora about two issues: a U.S. Bankruptcy Court-ordered report issued Tuesday that said Caesars and its private equity backers could be on the hook for $5 billion in damages; and a matter raised in a public-comment period about problems that former company executives have experienced with their pension funds.
Thomas Gallagher, former president and CEO of Park Place Entertainment, which formerly owned Caesars Palace and other Las Vegas properties, said about 50 former executives with Park Place, Harrah's and Hilton Gaming, previous parent companies before Caesars Entertainment, have had difficulty receiving deferred compensation payments as a result of Caesars' bankruptcy restructuring.
Gallagher said he has tried unsuccessfully to communicate with Caesars and its subsidiaries about the problem and decided to bring the matter to the commission knowing that Frissora was up for licensing.
Frissora said since his arrival to Caesars in July, he has been focused on the company's operations and not the bankruptcy. He told the commission he would make sure those handling the bankruptcy would be in contact with people concerned with the deferred compensation issue.
"All of this occurred before I came on board," Frissora said. "I will do what I can to help, make some calls. I'm focused on employees and customer satisfaction."
Frissora said he has been working on refurbishing 4,800 Caesars Entertainment hotel rooms on the Strip and developing a four-year plan to develop property east of Bally's, Paris and Planet Hollywood, all Caesars properties.
Commissioners concurred that the bankruptcy issue was not a part of the suitability hearing and ultimately voted to approve the licensing.
Frissora was the second major casino company CEO to appear before the commission Thursday.
Earlier, the board gave the green light to MGM Resorts International to form a real estate investment trust that will serve as a landlord to eight properties and a new entertainment venue.
Following a hearing at which MGM Chairman, President and CEO Jim Murren explained the formation of MGM Growth Properties, a REIT that will be listed on the New York Stock Exchange in the weeks ahead, commissioners voted 4-0 for approval.
Murren said the structural move is designed to increase the value of the companies through real estate investments and tax advantages.
MGM Growth Properties will oversee Mandalay Bay, Luxor, Excalibur, New York-New York, the Monte Carlo, MGM Detroit, the Beau Rivage in Biloxi, Mississippi, the Gold Strike in Tunica, Mississippi, and the company's new outdoor venue, The Park, north of New York-New York.
Customers and employees won't see any difference in the day-to-day operations of MGM properties as a result of the new structure.
Murren gave the same presentation he made Wednesday to the state Gaming Control Board, which recommended approval of the REIT structure, which doesn't have to be licensed.
Contact Richard N. Velotta at rvelotta@reviewjournal.com or 702-477-3893. Find him on Twitter: @RickVelotta.
Related stories
MGM Resorts names 2 to lead company's planned REIT
MGM names board members for company's planned REIT
MGM Resorts 'very engaged' in REIT discussions