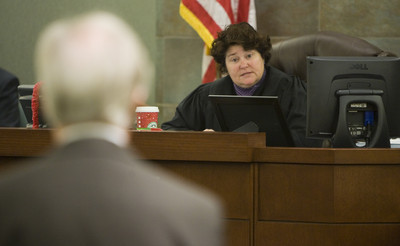 The number of businesses licensed to operate in Nevada more than tripled in 12 years, going from 85,000 in 1994 to 310,000 in 2006.
With business as brisk as it is in low-tax, high-growth Nevada, state jurists recognized as early as 1999 that a place was needed within the local judiciary to settle business disputes outside of a normal civil case setting. Separate rules governing which cases would be heard in this new environment were also necessary.
Besides, to keep the state as attractive as possible to outside industries looking to expand here, a docket dedicated to the quick resolution of business disputes made perfect sense.
On Oct. 2, 2006, the state Supreme Court ordered the Clark County District Court to appoint two judges from its current pool to handle business cases as required by rules written in 2000.
"The Supreme Court decided some time ago that we really ought to be more aggressive in handling business-type matters," said Judge Mark Denton, one of the business court's judges. "It's not bad to develop some expertise in the state in that area because it might very well be good for the economy. Nevada has always been considered a state with a good climate for business."
Business court dockets, established on the model of business courts in Delaware, Maryland, Pennsylvania and North Carolina, were first mandated by the 1999 state Legislature.
A couple of months after the 2006 Supreme Court order, Elizabeth Gonzalez, who was appointed to the bench in 2004, and Denton, a civil court judge since 1998, began handling business court cases for the 8th Judicial District Court.
Judge Brent Adams handles the case load for the 2nd Judicial District Court located in Reno.
Court members have held a series of meetings with members of the Nevada State Bar to raise the business court's profile, and the rules governing which cases the court hears are being refined. The state Supreme Court is expected to approve them later this year.
"We need to pay attention to those cases that truly need us," said Gonzalez, who is helping rewrite the rules. "We tried to narrow the definition a little bit of what comes into the business court."
Overall, though, the idea of a business court is to serve the business community.
"Our goal is to provide the judicial resources necessary to be able to continue the business while they continue to try and resolve the rest of the dispute," Eighth Judicial District Court Chief Judge Kathy Hardcastle said.
Gonzalez, speaking of business court cases in general, said: "The goal has been to find a way to have those concerns the businesses have addressed in an expeditious fashion. That was the concept behind establishing business courts in Nevada for quite some time, although they have not been as active as in the last year or so."
The new court docket is also helping free other courts and civil departments that previously were bogged down by business disputes. A full-time business court can also increase predictability — something important to businesses — by having the same judges handle similar cases and by establishing some written business case opinions in Nevada.
"Most of the disputes I see are between individuals that have been involved in a business together who no longer need to be involved in that business," Gonzalez said. "Basically, it is to disentangle members of a business who can't get along any more and let them go their separate ways."
Another advantage of a separate business docket is that the time required by a trial is cut.
A business trial case in 2006 took 21.4 months compared with 38.1 months for a regular civil trial case, Gonzalez said.
When state lawmakers, businesses and attorneys talk about the idea of a business court, the state of Delaware inevitably enters the discussion.
Nevada is second in commercial recordings per capita behind Delaware and a top 10 state in all filings.
A recurring theme arises from prospective businesses when discussing the reason Nevada is not first in commercial recordings: the lack of a separate court to handle business disputes and a strong history of case law.
"In the tussle between the two states for the businesses, one of the advantages Delaware has is a long history of very competent judges that do nothing but try business cases," said Paul Hejmanowski, managing partner at Lionel, Sawyer & Collins. "In order to raise our standing in that area, a dedicated business court makes sense."
Delaware, where approximately 60 percent of Fortune 500 companies are incorporated, has a long-standing equity court, called the Court of Chancery, modeled after the English common law system.
Harrah's Entertainment and MGM Mirage, the world's two largest gaming companies with their corporate offices in Las Vegas, are incorporated in Delaware.
MGM Mirage spokesman Alan Feldman said the 110 years of business law and the long-established practice is a strong lure to incorporate in Delaware, even with the business court dockets closer to the gaming giant's corporate offices.
"It's not just the court, it is also the laws that exist in the state in terms of business practice," Feldman said. "It is a predictable sense of what might happen, so it is less risky from a corporation's point of view."
Although Nevada does not charge a franchise tax, Delaware is able to charge corporations millions in franchise-tax dollars every year backed by the Chancery court.
Franchise-tax revenues for Delaware averaged $275 million per year in the 1990s, $113 million per year in the 1980s and $55 million per year in the 1970s, according to a September 2001 article in the Cornell Law Review.
"Delaware's ability to charge a premium for incorporation is tied to three facets of the product Delaware is selling: substantive law, a forum for litigating disputes, and administrative services," the article says.
But Nevada lawmakers are starting to talk about setting up a separate business court with appointed judges to capture more of the tax dollars and revenues going to other states.
"We need an institutional business court similar to what they have in Delaware," Nevada Secretary of State Ross Miller said. "It would probably be the single most important thing we could do in trying to attract additional commercial recordings revenue."
Having the Chancery Court alone generates $400 million per year in revenue for Delaware due to its higher filing costs, Miller said.
Although establishing a separate court would take a state constitutional amendment and funding from the state Legislature, many observers say the current system is a positive step.
"Everybody who participates would agree that we seem to be moving in the right direction and making some progress and positive strides with this thing," Hejmanowski said. "It is a more of a work in progress than a concluded system, but it is certainly getting better."
This story first appeared in the Business Press. Arnold M. Knightly writes for the Business Press' sister publication, the Las Vegas Review-Journal. He can be reached at aknightly@reviewjournal.com or 477-3893.
A SAMPLE CASE
One of the more publicized business court cases lately is Tamares Las Vegas Properties LLC v. El-Ad Group Ltd.
A hearing in the case was held Jan. 14. Clark County District Court Judge Elizabeth Gonzalez decided during the hearing not to enforce a preliminary injunction against Elad. In denying the motion, she said that the evidence before her "does not support a significant likelihood of success on the merits," a standard for granting such an injunction, an Elad-issued statement said.
"We are very pleased with the court's positive ruling," Elad Group President Miki Naftali said. "Our trademark rights in 'The Plaza' for hotels services date back more than 100 years and have been secured by incontestable federal trademark registrations for decades. We believe that these rights are superior to any claim that Tamares may seek to assert based on its later decision to drop the name 'Union Plaza' and adopt the name 'Plaza' alone," he said.
The case will still go to trial in July pending a settlement. Because the case has copyright implications, the money at stake could be staggering.
Tamares Las Vegas, owner of the Plaza hotel-casino downtown is a subsidiary of the Lichtenstein-based Tamares Group.
The New York-based Elad Group is the parent company of Elad IDB Las Vegas, a joint-venture partnership with plans to build a $5 billion project on the New Frontier site modeled after the Plaza Hotel in New York City, which it also owns.
Tamares claims it holds the Nevada copyright to the name; Elad says it holds the U.S. rights.
ARNOLD M. KNIGHTLY/REVIEW-JOURNAL
A CLOSER LOOK
On Tuesday six state lawmakers are scheduled to meet for the first time to discuss the role of the Legislature in establishing an independent court modeled on Delaware's Court of Chancery to handle business cases in Nevada.
State Sen. Bob Beers, R-Las Vegas, chairman of The Legislative Commission's Subcommittee to Study the Benefits, Cost and Feasibility of the Implementation of Courts of Chancery in Nevada, said such a court is necessary for large corporations to feel comfortable incorporating in the already business-friendly state.
"The reason why it's of interest as a matter of public policy is because those are the kinds of jobs we can all agree we'd like to see attracted to Nevada," Beers said. "High-paying jobs with good benefits. By establishing an environment where those companies want to be will lift the tide and raise all our boats."
The true economic impact of spending millions of dollars and amending the state constitution to establish a separate court with judges focusing only on business disputes is one of the topics Beers' committee will study.
If a bill is introduced in the 2009 session it would still be 2014 or 2015 before a separate court could be established and funded by the state Legislature.
MEMBERS OF THE CHANCERY COURT SUBCOMMITTEE
State Sen. Bob Beers, R-Las Vegas, chairman; state Sen. Terry Care, D-Las Vegas; state Sen. Barbara Cegavske, R-Las Vegas; Assemblyman John Carpenter, R-Elko; Assemblyman William Horne, D-Las Vegas; Assemblyman Tick Segerblom, D-Las Vegas.
ARNOLD M. KNIGHTLY/REVIEW-JOURNAL