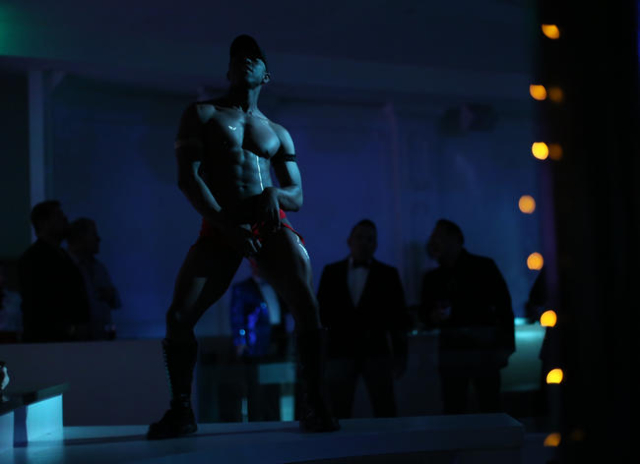 Hundreds of LGBT people from all over the world gathered at the Tropicana to claim their own space on the Strip for New Year's Eve 2016.
In its second year, Evolve Vegas NYE set out to be bigger than its inaugural event following a historic year for the lesbian, gay, bisexual and transgender communities.
This year's event, hosted again at Tropicana's Havana Nightclub, featured Edie (Christopher Kenney) from Cirque du Soleil's "Zumanity" as its master of ceremonies.
Other entertainers scheduled to appear included Trixie Mattel from season seven of the drag queen contest show "RuPaul's Drag Race"; Bravo TV's Scott Nevins; recording artist Z LaLa; and aerialist act the Las Vegas Sky Boys.
The party opened to the pool deck outside to give guests a good view of the fireworks display at midnight.
Last year the party — which drew about 1,100 guests from six continents — was voted among the top six New Year's Eve gatherings worldwide by gay travel magazine OutTraveler.
Mya Reyes, president of the Las Vegas Gay Visitors Bureau, was a diversity marketing expert at the Las Vegas Convention and Visitors Authority, and embraced some of that organization's strategies in developing Evolve — inviting the niche gay community market and foreign travelers.
"Most of our visitors are from out of market, and many are international," Reyes said. "We have guests from South America, Europe, Australia, Canada, Asia, even the Marshall Islands."
Reyes estimated that about 85 percent of visitors were drawn to the "certain allure" of the Strip. She said it is Evolve's mission to provide partygoers with a place of their own to cut loose.
Las Vegas locals Gary Payne, 65, and Abel Payne, 58, came to Evolve for the party's diversity. The couple of 38 years said last year's event was the best party they've ever been to.
"You can be yourself," Gary Payne said. "This is really the only gay event where all ages feel welcome."
Reyes said that feeling of acceptance is important at LGBT events.
"Though visitors to Las Vegas can certainly celebrate the new year in any of our fabulous nightclubs, it's always fun to party with guests who share similar interests, and our entertainment is specifically geared to LGBT-friendly customers," Reyes said, noting that not everyone at the party is LGBT.
It was a landmark year for the LGBT community, giving revelers plenty to celebrate. The U.S. Supreme Court made same-sex marriage a legal reality across the country, and earlier Thursday, Clark County celebrated issuing its 5,000th same-sex marriage license since October 2014. Ronald Bauman and Dumitru Alexeev, both of Phoenix, received the license and planned to marry in Las Vegas on Jan. 1.
"This is a wonderful milestone to celebrate as we ring in a new year," Clark County Clerk Lynn Goya said. "Las Vegas is the best place in the world to get married."
As of 3 p.m. Dec. 30, the county's Marriage License Bureau had issued 81,174 marriage licenses, compared to 80,738 in 2014.
Other LGBT venues across the valley were throwing New Year's Eve parties. Share Nightclub, on Industrial Road near Tropicana Avenue, expected more than 1,000 revelers. Last year, 1,900 people attended its event.
Throughout the night, Share planned pop-up performances with an open bar included in the admission price.
"For $45, you can basically drink up the whole bar," assistant manager Mat Rogers said.
Piranha Nightclub, at 4633 Paradise Road, in the popular "Fruit Loop" area near Paradise and Harmon Avenue, also had an open bar until midnight followed by a champagne toast.
Piranha featured another alumnus of "RuPaul's Drag Race": India Ferrah entertained crowds on Wednesday and Thursday nights.
— Contact Wesley Juhl at wjuhl@reviewjournal.com or 702-383-0381. Find him on Twitter: @WesJuhl