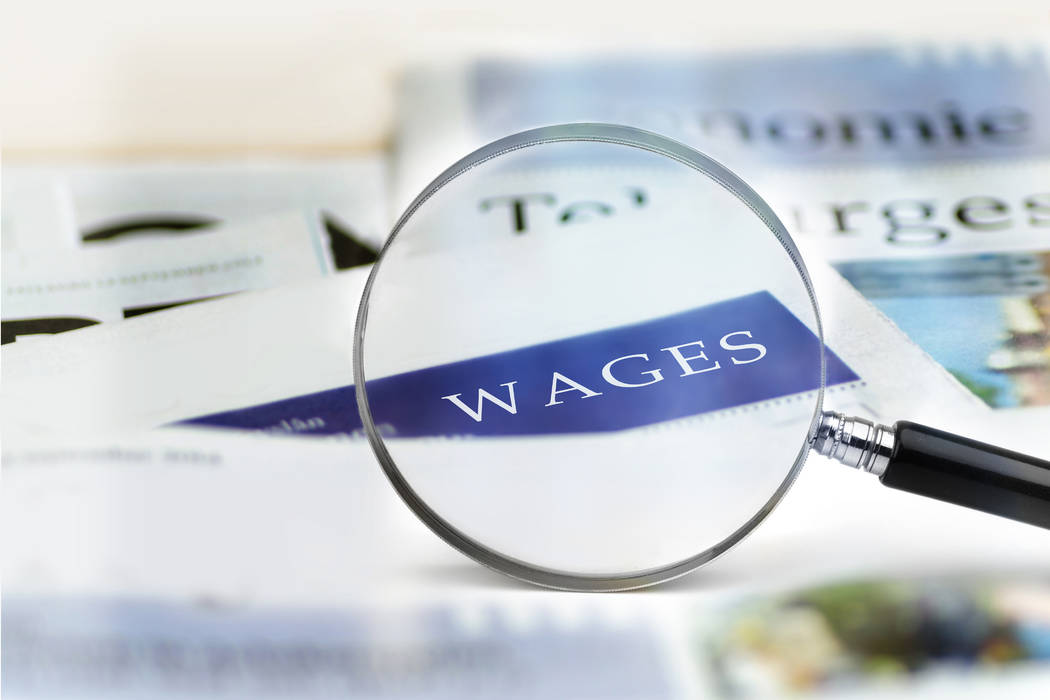 Eighty-four cents: That's how much an average woman in Nevada employed full-time makes for every dollar a man makes, according to a report released in recognition of Tuesday, Equal Pay Day.
Compared to a 36-cent national gap in 1980, "We're going in the right direction," said Jessica Green, a Las Vegas employment and professional negligence attorney with Lipson Neilson Cole Seltzer & Garin. But, she said, there's still a ways to go.
The report, conducted by the National Partnership for Women & Families, ranked Nevada as having the 11th smallest cents-on-the-dollar gap in the nation. Green, 33, says that isn't surprising.
"So many of our earners are in service-oriented jobs that come with a structured pay rate at the entry level," Green said. "It's when people have the ability to negotiate that it makes a difference. If you looked at middle and upper management in the service industry, you'd see discrepancies between men and women."
A 2015 Enterprise Policy Institute report found the pay gap is much narrower in low-level jobs than in higher-paying ones. In lower level, hourly jobs, the minimum wage helps to create a level playing field, along with capped weekly hours. On the other hand, women in higher-earning professions feel the pay gap much more.
Equal pay for equal work
The story behind the pay gap is messy. The phrase "equal pay for equal work" has certainly made the rounds, and for many people a "pay gap" implies gender discrimination — but there's more to the story.
Women make different career choices than men. Within high-paying professions, women tend to choose positions that pay less, according to the Enterprise Policy Institute report. For example, in the medical field women tend to choose lower-paying specializations, like pediatrics instead of orthopedic surgery. In the legal field women tend to work in lower-paid settings, such as nonprofits.
"In environments that are less inclusive, women are sometimes driven to specializations that are lower-paying because they're often times less demanding," Green said. "I have peers who have left private practice for government positions because the schedules are more conducive to raising families. Even for women without children, however, I think women are less likely to choose the highest paying positions — partly due to societal messages. What is acceptable as a man and labeled 'aggressive' is discouraged for a woman and labeled 'rude.' These messages stymie women's ability to obtain the higher level positions."
Also, within these higher-paying salaried jobs, women are less likely to "lean in" and ask for more cash in hand as frequently as men.
Green said her firm has a pay structure in place that does not emphasize negotiating skills.
"We are aware of the factors by which we're judged and there is little room for negotiation," Green said. "The factors are objective and results driven which means we are evaluated on our merits rather than our ability to negotiate higher salaries – something that men have excelled at historically."
The career cost of children
Having children also comes at a cost. translates into an opportunity cost for women.
"Historically, women earn less as they age or build their families," Green said. "My firm helps counteract that by maintaining a strong maternity leave policy that can be tailored to each person's needs. They also provide full pay for a substantial amount of that time, so women aren't forced to come back to work before they're ready to support their families."
The EPI report states that just 12 percent of private-sector employees had any access to paid family leave in 2014 while childcare is "more expensive than rent in 500 out of the 618 metropolitan and non-metropolitan areas across the country."
For many women, that's a compelling reason to reduce their working hours or to take time off.
A 2008 Harvard study found that an 18-month career break was associated with a 29 percent drop in earnings for Harvard-educated mid-career lawyers and doctorate degrees, and a 41 percent drop in earnings for MBAs.
As is, the pay gap is here to stay, Green said.
"We're seeing some promising advancement though. Women make up only 36 percent of the legal profession in America, but two of the seven Nevada Supreme Court justices are women and one of the three appellate court justices is a woman. And, though it is about 35 years late, Nevada just ratified the Equal Rights Amendment. So, there is a lot to be hopeful about," Green said.
Contact Nicole Raz at nraz@reviewjournal.com or 702-380-4512. Follow @JournalistNikki on Twitter.
A shrinking gap for women as a whole, but a growing gap for individuals
Although women starting their careers today are closer to pay parity than every before, chances are they won't keep it, data show.
Even though the pay gap continues to shrink for women as a whole, individual women can expect their pay gap to widen over the course of their career relative to their male peers.
Every group of women age 25-34 since 1980 has started their careers with a narrower gap than those before them. The Pew Research Center reported that women age 25-34 in 1990 started with a 17-cent gap, and women in 2000 started with a 13-cent gap; but within ten to 15 years of working, each group saw their pay gap widen to 21 cents by 2012.
Members of Congress recently reintroduced several bills that may help to address the gender pay pay gap
The Paycheck Fairness Act includes:
— Protection against retaliation for discussing salaries with colleagues;
— Prohibiting employers from screening job applicants based on their salary history or requiring salary history during the interview and hiring process;
— Requiring employers to prove that pay disparities exist for legitimate, job-related reasons;
The Healthy Families Act would set a national paid sick days standard, among other things.
The Family And Medical Insurance Leave (FAMILY) Act includes:
— Providing workers with up to 12 weeks of partial income when they take time for their own serious health conditions, including pregnancy and childbirth recovery
— Enabling workers to earn 66 percent of their monthly wages, up to a capped amount
— Ensuring that low- and middle-wage workers have a higher share of their wages replaced.