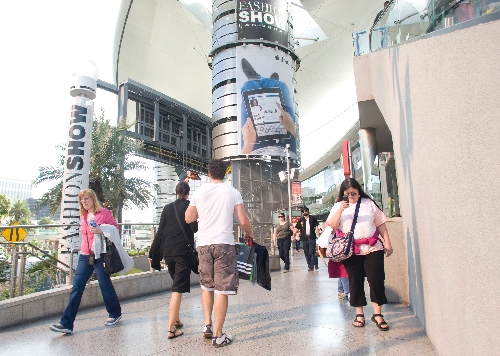 LOS ANGELES — General Growth Properties Inc. said Thursday a bankruptcy judge has approved its reorganization plan, clearing the way for the nation's second-largest shopping mall owner to emerge from Chapter 11 bankruptcy protection early next month.
U.S. Bankruptcy Court Judge Allan Gropper in New York confirmed the Chicago-based company's plan. General Growth expects to conclude its restructuring on Nov. 8, bringing to a close the largest real estate bankruptcy case in U.S. history.
"The confirmation of our plan is an important milestone as we lay the groundwork for a successful future for (General Growth)," said CEO Adam Metz. "We are now prepared to begin a new era for GGP on firm financial footing."
General Growth sought bankruptcy protection in April 2009 under the weight of nearly $28 billion in liabilities, much of it racked up during the real estate boom years as the company seized on cheap lending to bankroll acquisitions. The U.S. financial crisis pushed it over the edge, all but drying up companies' access to capital to refinance debts.
Now it will emerge with $6.8 billion in equity commitments and having restructured and extended $15 billion in debt. All creditors will be paid in full — a rare outcome in bankruptcy cases.
Shareholders will own stock in two separate companies — General Growth and a newly formed company called The Howard Hughes Corp., which will own General Growth's portfolio of planned communities and other real estate development opportunities.
The main change in the company's Las Vegas profile will involve the spinoff of the Howard Hughes Corp. as a publicly traded company. It will hold a collection of planned communities, most notably Summerlin, that had been overseen by the Rouse Co. until General Growth bought it in 2004.
Covering 22,500 acres, Summerlin still has 7,500 acres left for building, room to double the 39,500 homes in the community. In addition, the company will assume ownership of the Shops at Summerlin, a shopping center that now stands as a steel skeleton after General Growth halted construction before its slide into bankruptcy. General Growth financial statements filed on Oct. 15 listed the value at $46.3 million following a write-down of $176.1 million.
The Hughes properties had a listed value of $1.8 billion, with Summerlin accounting for two-thirds of it.
General Growth, which will also be a public company, will retain its status as the area's pre-eminent retail landlord with five shopping centers covering 4.8 million square feet. Besides the presence on the Strip with the Fashion Show mall, the Grand Canal Shoppes at The Venetian, and the Shoppes at Palazzo, it also owns the Boulevard and Meadows malls. The listed mortgages totaled $1.5 billion.
General Growth will exit bankruptcy with more than 185 regional malls in 43 states — a retail portfolio second only to Indianapolis-based Simon Property Group Inc., which failed in its bid to scoop up its rival this year.
Instead, General Growth aligned itself with an investor group comprised of Canadian property manager Brookfield Asset Management Inc., The Fairholme Fund, Pershing Square Capital Management, Blackstone and The Teacher Retirement System of Texas. The consortium agreed to provide the capital to finance General Growth's exit from bankruptcy and will help shape the restructured company's direction and leadership.
The company has already filed documents with the Securities and Exchange Commission to raise equity shortly after it exits bankruptcy protection.
Review-Journal writer Tim O'Reiley contributed to this report.