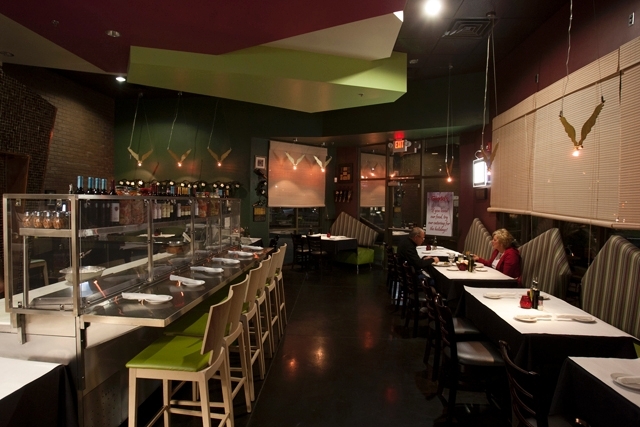 For the first time since opening three years ago, customers can take advantage of a full bar at Giada's.
The full-service bar opened at Henderson-based Giada's Italian Cucina in late May. To celebrate, owner Daniel Convertino enhanced his appetizer menu, which he aptly calls "appas not tapas." Convertino, in a statement, described his new appetizers as "a hearty portion of appetizer, not some wimpy foo foo dish."
• • •
Apparently, there was a run on stripper poles.
Topco Sales, the Chatsworth, Calif.-based manufacturer of the Private Dancer Pole Kit, sold so many of the pink-colored poles for home use that the item recently ran out of stock. A spokesman said the 40-year-old company sold "thousands" and couldn't keep up with the demand from retailers.
Never fear, though, if you've been looking for one and been recently disappointed. The kits are back in stock and shipping to distributors nationwide.
Included in the Private Dancer Pole Kit is an instructional dance DVD, black feather boa, black lace garter and play money.
• • •
Sadly, the bedbugs have left Las Vegas.
What was billed by a certain newspaper as the bedbug party of the year will not return to Sin City in 2013. No, Bed Bug Central's annual bedbug convention has left Las Vegas for Denver.
The decision to move comes along with the organization's new partnership with the National Pest Management Association. Moving forward, the two groups are co-hosting a new convention that has been titled the Global Bed Bug Summit, which aims to dive in deeper than the previous Bed Bug Summit did.
Vegas, though, will miss the business from the pest control pros. So long, bedbugs.
• • •
One Vegas business had a bit of an identity crisis before it even opened its doors.
A new strip club opened in what was once the space of the former Crazy Horse Too Gentlemen's Club on June 1, but not without a little soul searching. Originally, it was again to be named Crazy Horse Too, then that plan changed less than a week before the big opening day because of litigation brought against the new club by the owners of Crazy Horse 3 in the name of trademark infringement.
In response, the new joint was abruptly renamed Crazy Mike's Gentlemen's Club, in honor of the new owner, Mike Galam. Nick Pargaz, a consultant working with the new club said that name was only a working title to use while the crew was getting the place ready for its opening.
In a last-minute move, the name was yet again changed to what is now (hopefully) the permanent new name for the club that stood empty for the last seven years — The Horse.
"We're not going to change the name again," Pargaz said.
Do you have a news tip for Intel? Email lcarroll@reviewjournal.com. Be sure to include contact information.