Giant industrial project in works for North Las Vegas
Updated September 1, 2023 - 4:40 pm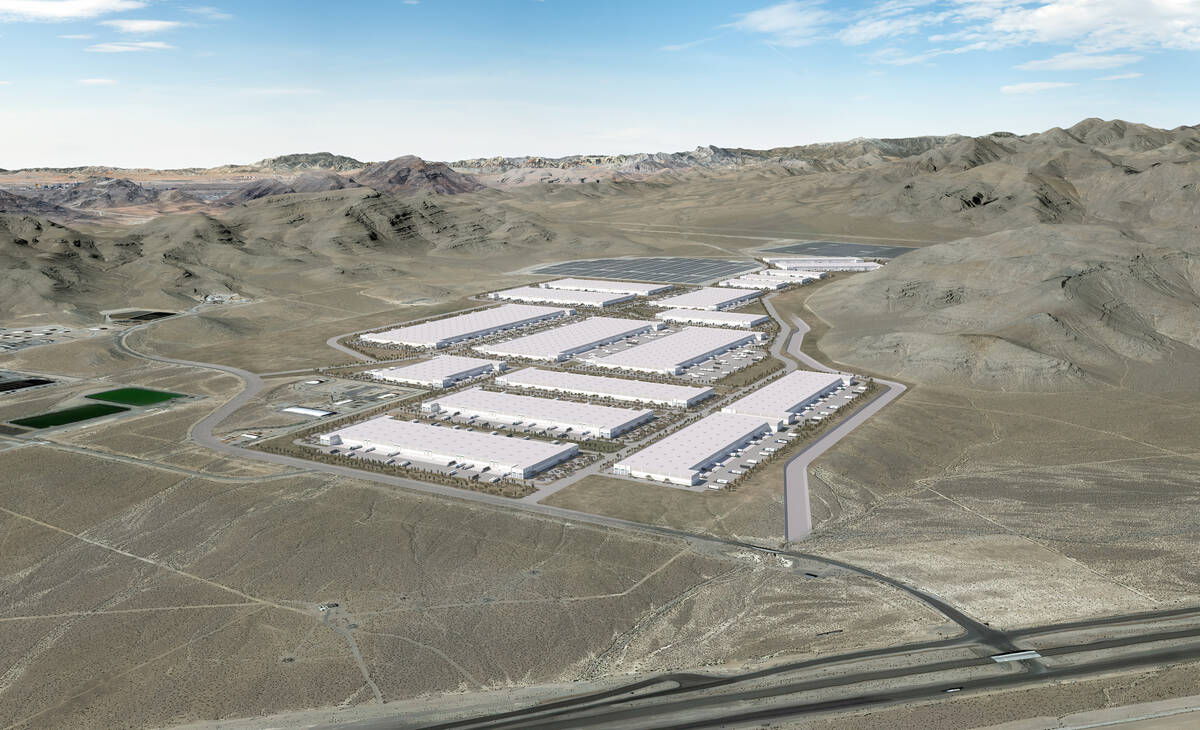 A San Francisco-based developer plans to build an 11 million-square-foot industrial project in North Las Vegas and foot the bill to bring utilities to the site.
Prologis purchased 879 acres at Apex Industrial Park earlier this week for an undisclosed price. The massive project will be spread over several buildings, with construction starting within 36 months, the developer said. No tenants have been lined up yet.
The site is located at Highway 93 and Grand Valley Parkway. Greg Tassi and Donna Alderson of Cushman & Wakefield brokered the deal.
The developer and brokers declined to release the sale price of the land. The deed hasn't been recorded yet in Clark County.
Mathias Hughes, investment officer for Prologis, said the company decided to buy the land as they see the potential of the area to become an industrial hub.
"Prologis has been operating in North Las Vegas for more than 30 years," he said. "Our Vegas Industrial Park project demonstrates our commitment to the market while also enabling us to maintain our development momentum in Southern Nevada."
Apex is finally kicking into high gear after decades of not seeing any consistent real estate development, with the city of North Las Vegas annexing the land starting in 2008 as a way to help itself out of a dire economic situation that saw the municipality carrying an extreme debt load.
Located off Interstate 15 at U.S. Highway 93, the 18,000-acre park has about 7,000 acres left for development and six large projects are currently underway at the park, encompassing 1,800 acres and 9.8 million square feet. The city also confirmed they are in talks with approximately 20 additional companies.
Prologis currently has two sites under construction in the North Las Vegas area.
Hughes said Prologis already has 96 percent of its 13.9 million square feet of Las Vegas Valley commercial real estate already leased.
"We continue to see strong demand for modern and well-located logistics facilities in the market. This industrial park will be best in class and its strategic location makes it ideal for a wide-range of companies with varying logistics needs."
Mattie Sorrentino, director for corporate communications for Prologis, said they hope to help bolster the local economy as well with the project.
"In addition to supporting the local economy with new jobs, the logistics facilities built within the park will achieve LEED Silver certification. The roofs will be solar ready and EV charging will be available, supporting Prologis' company-wide goal to reach net zero emissions across our value chain by 2040."
Contact Patrick Blennerhassett at pblennerhassett@reviewjournal.com.