Giant new IKEA expected to dominate, and boost, Las Vegas furniture market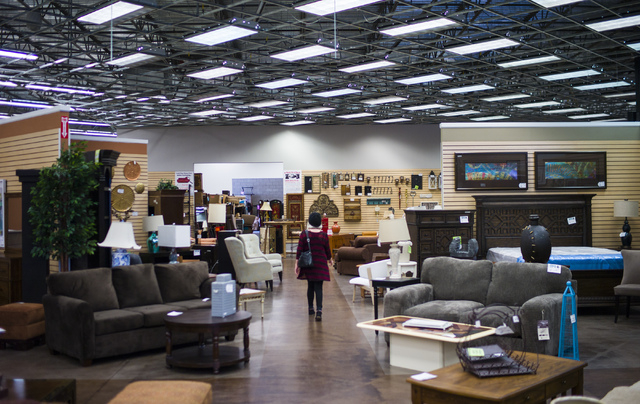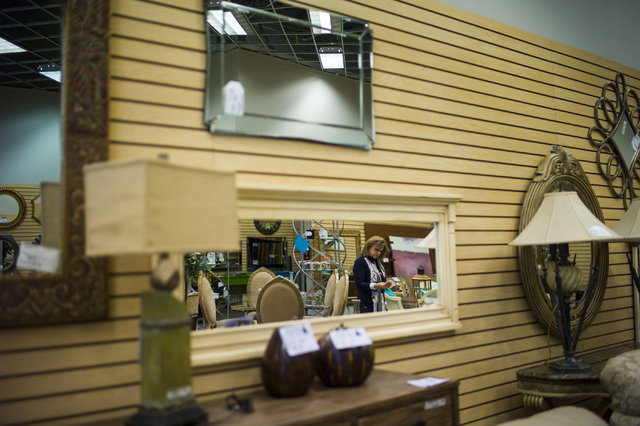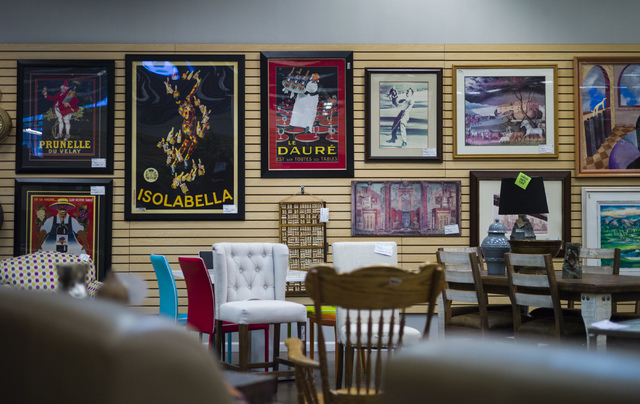 As CEO of Colleen's Classic Consignment, Kevin Aiken buys and sells furniture all day long.
So where does Aiken get his office furniture?
Why, from IKEA, of course.
"IKEA does space design extremely well, efficiently and inexpensively," said Aiken, who splits his time between Las Vegas and Minnesota, where IKEA has a store in Bloomington. "They have something for anyone who's furnishing a home and needs good space design, especially in nooks and crannies. That's sort of where they specialize."
That Aiken himself shops at IKEA could foreshadow how the Swedish furniture titan, which in 2015 had more than 101,000 catalog and Internet customers in Southern Nevada and will open a 351,000-square-foot store off the 215 Beltway at South Durango Drive on Wednesday, might affect business at Colleen's Consignment's four locations.
"They are absolutely category killers," said Aiken, the son of store founder Colleen Aiken. "Everyone is going to have to find their niche in the marketplace."
Aiken, at least, said Colleen's has its niche, and is ready to compete.
And even if there's fallout for some, IKEA's entry into the market could boost other furniture stores, retail industry observers added.
TINY WRENCHES, BIG FOOTPRINT
IKEA will have an outsized impact on the local market because, well, its location is so outsized.
It's the largest store ever built in Southern Nevada, dwarfing by 43 percent the current champion, a 245,000-square-foot Wal-Mart Supercenter at Tropicana Avenue and Fort Apache Road. It will contain 10,000 items and a 450-seat restaurant with floor-to-ceiling views of Red Rock Canyon. A recent tour showed a building that was more home-goods theme park than furniture store — a fantasyland for anyone looking to outfit a place from the welcome mat out front to the patio planters in back, with entire room remodels in between.
And that's what consumers want, said Matt Bear, a vice president specializing in retail and gaming with commercial real estate brokerage CBRE Las Vegas.
"If you don't create an experience, there's no reason for people to shop in your store anymore," Bear said. "That's what good retail does — it gets people to want to come and touch it."
Hundreds of millions of consumers worldwide have bought into the IKEA experience: The company's catalog is the world's most widely distributed free, annual publication, with more than 215 million copies circulated in 33 languages each year. The company's 328 stores in 28 countries in 2015 recorded more than 771 million visits. Its DIY furniture kits have made tiny Allen wrenches an urban icon.
"There seems to be quite a following for IKEA, and that's not unique to Las Vegas," said Brian Gordon, a principal in local economic research firm Applied Analysis. "Many people have been waiting for the opening of the new location, and it should spur a significant amount of interest and foot traffic."
Some of that foot traffic will come at the expense of other stores.
When IKEA entered Denver in 2011, it had "a really huge negative impact" on some big-box furniture stores there, said Aiken, recounting experiences of associates in that market.
Furniture retailers that suffer the most in Las Vegas will likely be midpriced stores with showrooms of 120,000 square feet to 200,000 square feet that "have a whole bunch of inventory based on items in stock that they think will do well — so if one dining room table sells well, they'll have 50 sitting in their warehouse," Aiken said.
Nonetheless, Aiken said he's eager to welcome IKEA.
In fact, Colleen's Classic Consignment has set foot directly in the path of the beast.
The company shuttered its store at Rainbow Boulevard and Cheyenne Avenue and reopened at Tropicana Avenue and the 215 Beltway, just two exits north of IKEA.
"They really factored into our decision to move," Aiken said.
Aiken's plan? To emphasize how Colleen's can supplement a shopping trip to IKEA. Where IKEA focuses on mass-produced, affordable furniture, Colleen's emphasizes "one-of-a-kind" pieces bought from individual consumers or picked up from showrooms at downtown's Las Vegas Market furniture trade center.
"You're not going to go to IKEA for that statement piece — a nice sofa or a really nice coffee table for the middle of your room," he said. "You'll go there to get a cabinet that fits in your closet and has a whole bunch of functions. But that's not who we are. We feel like we're a good complement to them, and we want to be in the middle of where people will be going to shop for furniture."
Colleen's Classic Consignment won't be the only furniture seller with that plan.
RISING TIDE LIFTS ALL
Like many industries, furniture retailers like to cluster, Bear said.
"Some of that is because the furniture business is so promotional. People buy furniture once every 10 years. If someone is predisposed to buy furniture, retailers want to have a shot at that customer," he said.
Already, IKEA is drawing not just local stores to its neighborhood, but the attention of furniture stores not yet in the market. At least one out-of-state retailer has contacted Bear in recent weeks, citing IKEA's looming opening as a driver of its interest in Southern Nevada.
"They have a segment — moderately priced modern furniture — that they don't think is being served in the market," he said.
Nor will that be the last company to look at pulling the trigger.
"Any time a new brand enters a market, it hits the radar of key competitors in that space," Gordon said. "My sense is that we will continue to see investments in that regard. Southern Nevada continues to expand, which is another reason that out-of-market companies are seeking it out."
Some major retailers have already sought out the region.
Crate & Barrel announced March 31 that it would open a store sometime in 2016 at Downtown Summerlin. And Tivoli Village said May 4 that its second phase, which includes Restoration Hardware's four-story, 70,000-square-foot RH Gallery concept, will debut in October.
Is there enough business for everyone?
Bear said he thinks so.
"It's a highly segmented market, and Las Vegas has been in a holding pattern for eight years," he said. "People are finally renovating their houses and switching out their furniture. So there's a furniture renaissance here. That would have happened without IKEA, but IKEA is going to be here to take advantage of it."
The company — which had eyed the Las Vegas market for a decade before finally moving in once the city hit 2 million people — also signals that Southern Nevada has bounced back from the lows of its Great Recession, and in the process become a big market that U.S. retailers everywhere are noticing, Gordon said.
No matter how many of those retailers eventually land here, Aiken said he thinks Colleen's can compete.
"We're equally fearful and not fearful of IKEA. Our strategy is a little bit of a gamble," he said. "But I'm an IKEA shopper myself, and in my experience, I think we have a really good grasp on the way these brands go together."
Contact Jennifer Robison at jrobison@reviewjournal.com. Follow @_JRobison on Twitter.
RELATED
Here's what IKEA is giving away on its opening day in Las Vegas
Pre-opening tour Las Vegas Ikea answers fans' questions: VIDEO
IKEA shows off Las Vegas store before next week's opening: VIDEO
Solar array atop IKEA's new Las Vegas store complete
18 things to look forward to when IKEA opens in 18 days
IKEA workers ready Las Vegas store for May opening: VIDEO