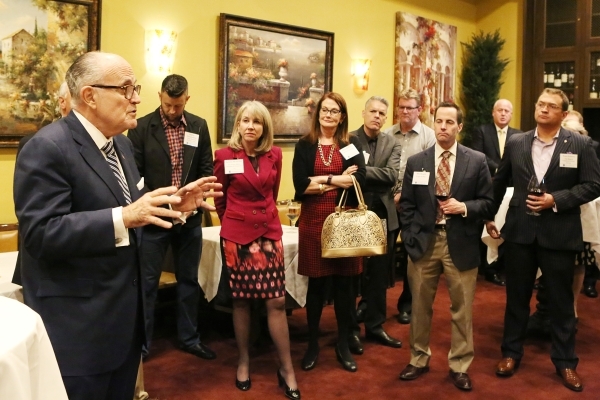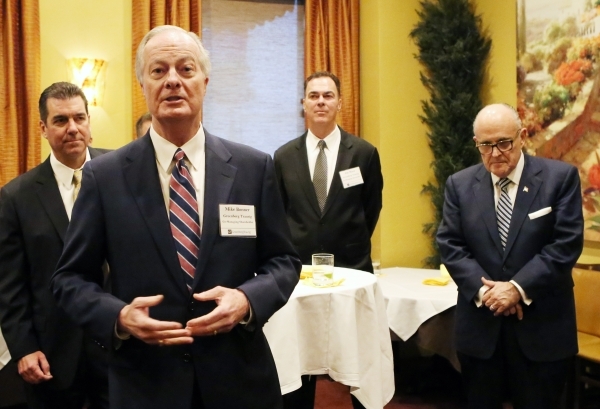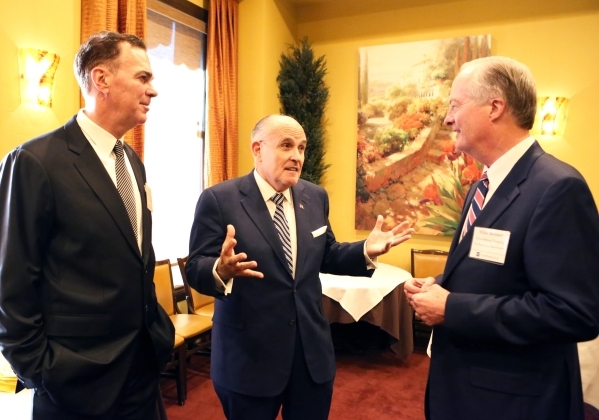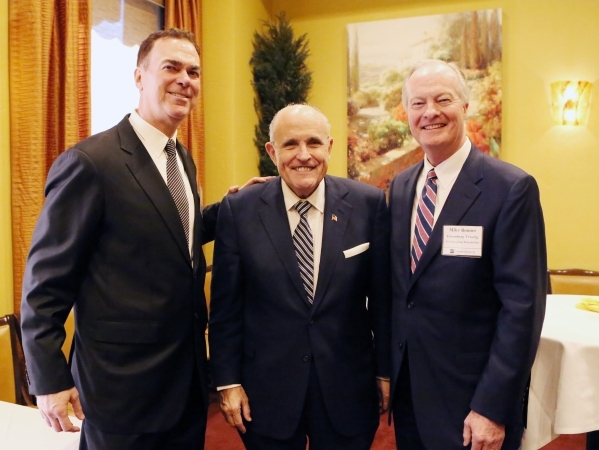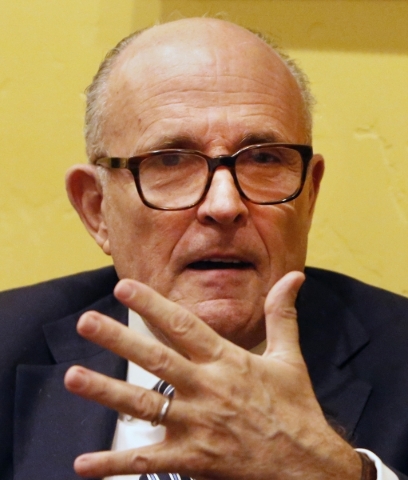 There's no doubt in former New York Mayor Rudolph Giuliani's mind that Las Vegas is a likely target of terrorists.
And now, in his new role as chair of the cybersecurity and crisis management practice of the 2,000-attorney international law firm Greenberg Traurig, which has an office in Las Vegas, he'll have the ability to help local clients be proactive in protecting themselves.
"I'll tell you something that I don't like to say because I hate self-fulfilling prophesy," Giuliani said in an interview during an introductory mixer attended by about 40 people Thursday evening.
"Nowadays, there have been enough warnings that you can say this. I came here back in 2003 and met with many of the casino owners and told them they should consider Las Vegas a target.
"I would say Las Vegas should consider itself a target for cybercrime and for cyberattacks," he said. "You have to realize that, from a commercial point of view, this is a wonderful place to hack. You get information about a lot of people, you get Social Security numbers, you get all of the things hackers like to get."
Even though Giuliani and his team of 40 associates will assist in countering cybercrime, he's also concerned about Las Vegas being an icon Islamic terrorists would like to exploit.
"From a national security point of view, this is a very big venue in the United States. They didn't attack New York and Washington for nothing. They attacked New York and Washington because those cities mean something to America. Las Vegas means something to America. It's not just another city. It's iconic. It's one of six or seven iconic American cities and that's what Islamic terrorists love to attack because it makes a bigger statement."
Giuliani, who was mayor of New York during the 9/11 attacks in 2001 and is credited with helping New Yorkers get through the pain of seeing the World Trade Center destroyed, said the city endured because of its dedication to preparation.
That's one of the things he'll focus on, not only in Las Vegas but in cities where Greenberg Traurig has a presence.
"There are several big initiatives that I have that could be achieved at a law firm with a worldwide presence," he said. "In my prior law firm, we did, but we had a very small platform. But what I want to do I want to do on a worldwide basis."
Giuliani also said he wanted to coach businessmen through regulatory snags.
"I want to help American companies deal with the burden of regulation," he said. "I've done that also. I've shown them how to organize themselves so that they can put themselves in the best position not to be prosecuted and not to be sued."
Giuliani, who was U.S. attorney for the Department of Justice's Southern District of New York as well as U.S. associate attorney general prior to serving as mayor, has worked both the defense and prosecutorial side of the law.
Introduced to invited Greenberg Traurig guests, he spoke for about 25 minutes about the Apple Computer case and the presidential campaign.
A former candidate for president in 2008, Guiliani said he's met with every presidential candidate except Ben Carson — but hasn't offered any advice to any of them.
— Contact reporter Richard N. Velotta at rvelotta@reviewjournal.com or 702-477-3893. Find @RickVelotta on Twitter.