Golden Knights fans get team logo tattooed, in hair and on nails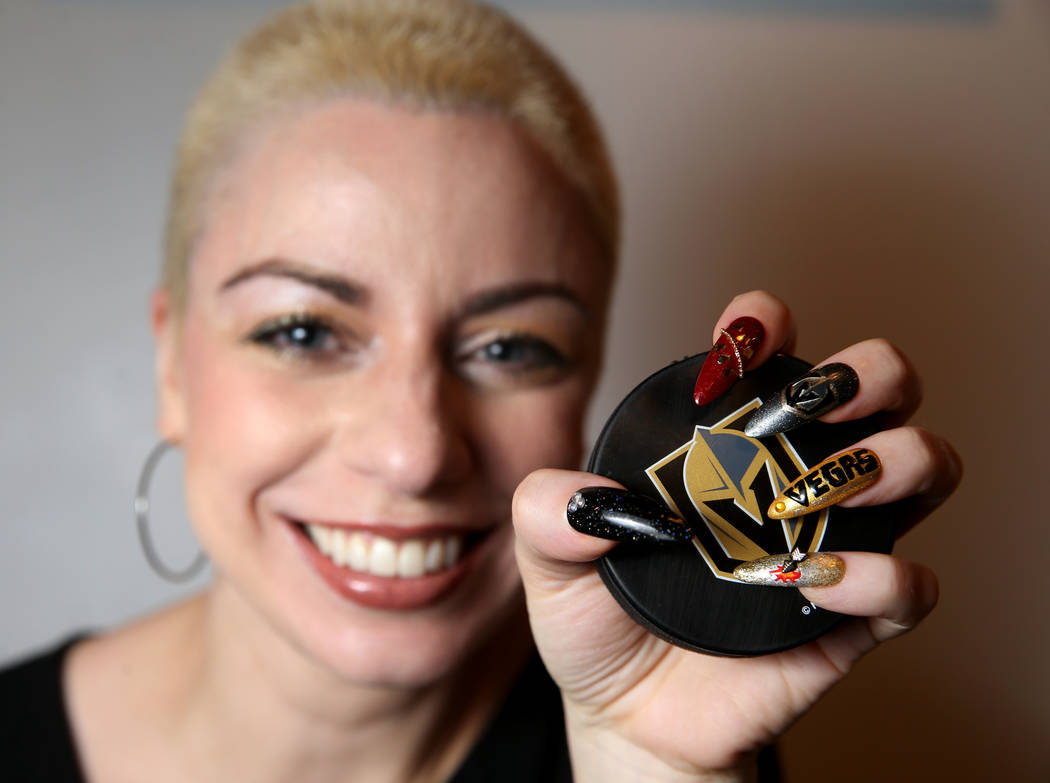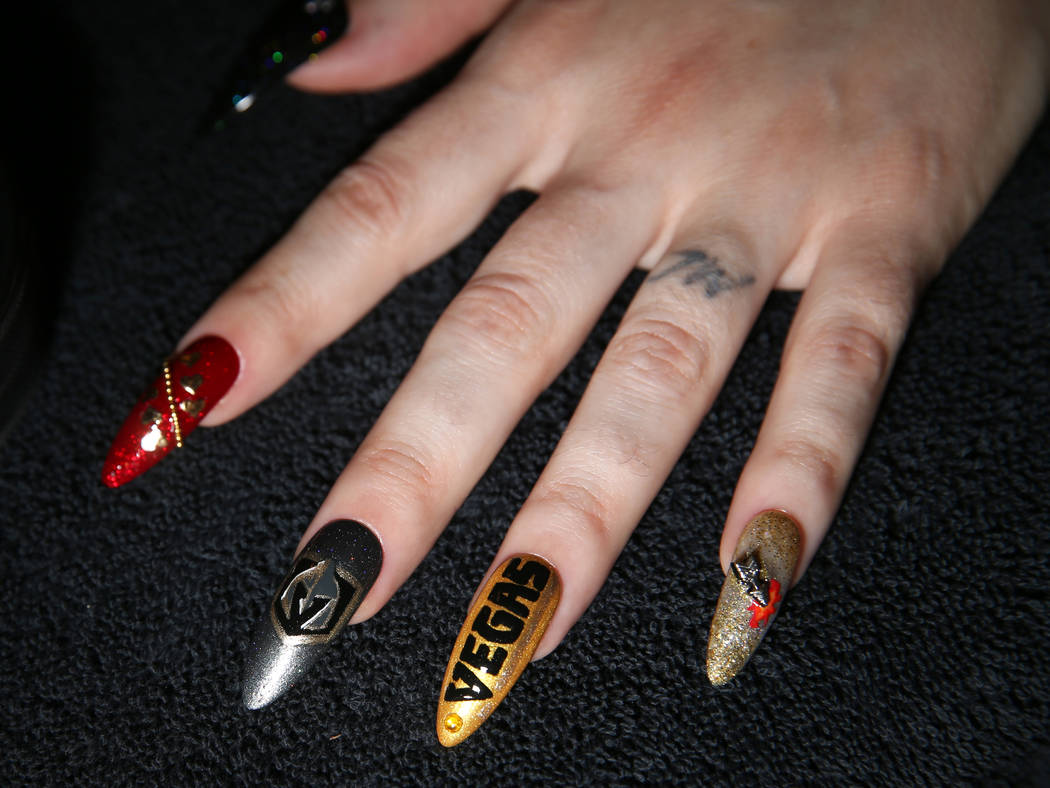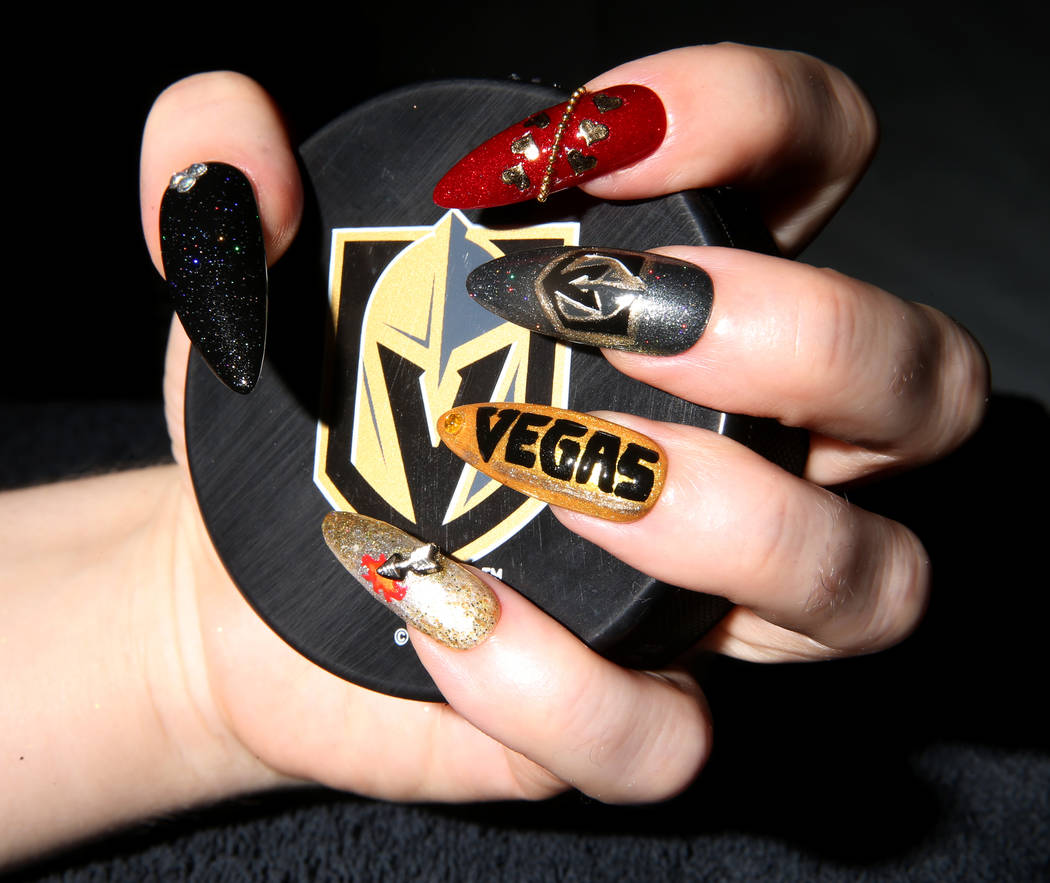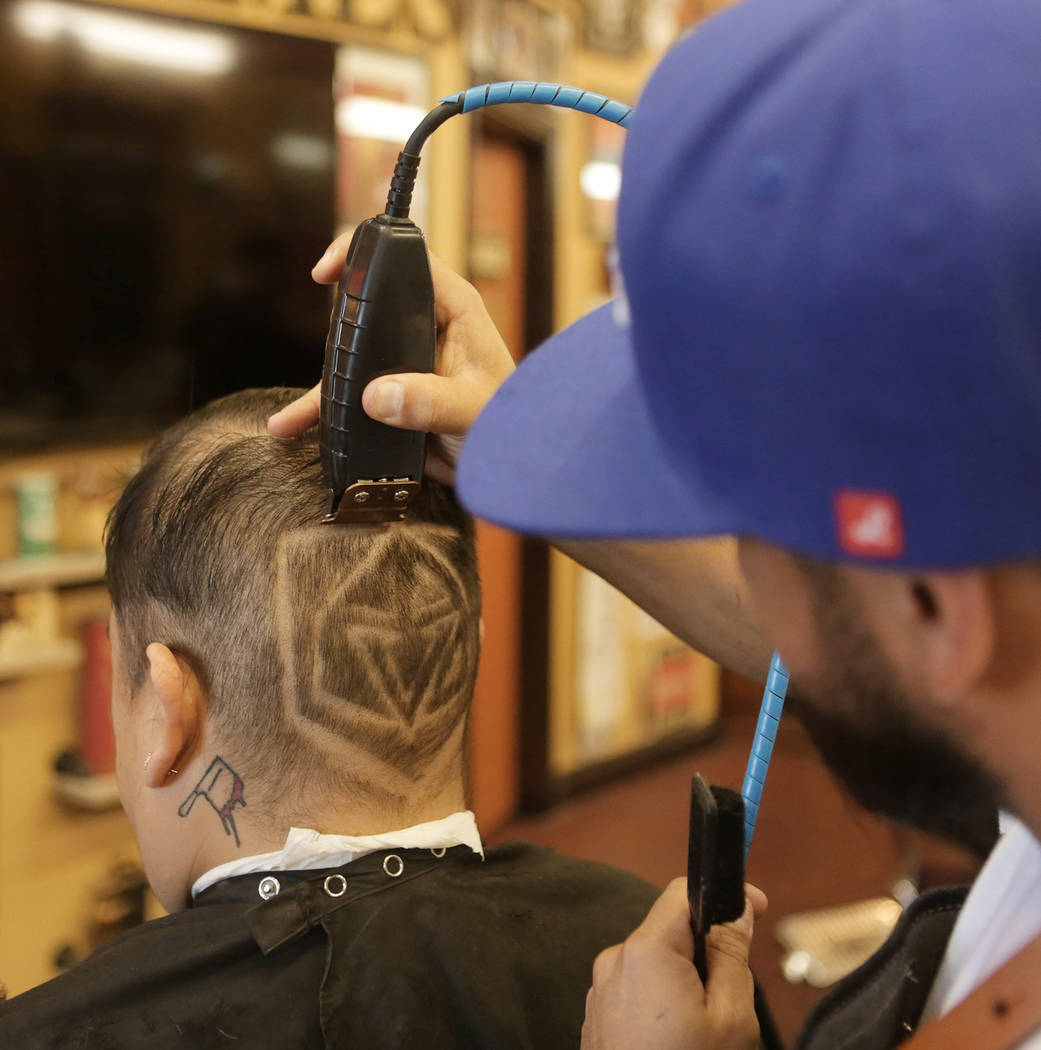 It's not difficult to figure out where Fernando Guzman's loyalty lies.
As he sat getting a large Vegas Golden Knights logo shaved into the back of his head, a black salon cape covered his Golden Knights shirt and bracelet. A black hat with the team logo was perched on the countertop nearby, covered in Golden Knights pins.
Guzman's transition into a fan came at breakneck speed; the native Las Vegas resident went from knowing next to nothing about hockey to spending about $2,000 on Knights gear this year.
"I almost sold my truck to go" to a Stanley Cup Final game, Guzman said. "They've done so much for this city. It hasn't been an easy year for us after Oct. 1."
Businesses across the Valley have seen an uptick in customers looking for ways to show off their alliance with the hockey team, including haircuts, nails and tattoo designs.
Moises Alvarez, owner of Goodtimes Barbershop &Shave Parlor in Spring Valley, said he has shaved four Golden Knights designs into people's hair since the team entered the playoffs. The designs last about a week, he said, depending on how fast the client's hair grows, and cost between $50 and $100.
All of his clients have been regulars, but Alvarez believes the designs will bring more business in. Shortly after the haircut, Guzman told Alvarez others were commenting on the design and asking him where he got it.
"That's the thing about the barbershop: it's word of mouth," Alvarez said, wearing an apron with a Golden Knights pin attached. "You do good work and people want to come and get work done by you."
Bringing in business
Justin "Smitty" Smith, owner of Tatt Life Studios on Flamingo Road and Decatur Boulevard, said the shop has given out about a dozen Golden Knights tattoos. He's a fan of the design; a tattoo of the logo peeked out under his shirt sleeve.
"As they started getting better, business started getting better for us, too," he said. "It's the thing to do. If you live here or you're a tourist, this is a great way to celebrate the city."
Joey Hamilton, owner of Revolt Tattoos on Paradise Road just east of the Strip, said the shop has given out a couple of hundred Golden Knights tattoos. Clients have come by the shop for an appointment, but the vast majority have taken place near T-Mobile Arena on game days, he said.
Hamilton and three other artists from the shop tattoo fans at home playoff games for a minimum $30 donation toward the Golden Knights Foundation. On the first day of the playoffs, Hamilton and the other artists spent about five hours tattooing logos and designs from a Golden Knights truck parked in Toshiba Plaza.
"We do it for the team," he said. "The team's already done a lot for the community, I think part of this is the fans' way of giving back."
Nothing beats the Playoffs! Get your Free Tattoo and Fresh V-cut at Toshiba Plaza outside @TMobileArena before the @GoldenKnights host the 1st Playoff game in franchise history. #VegasBorn pic.twitter.com/qGJJIKBGZl

— Brian Killingsworth (@BKillin7) April 11, 2018
Mike Ortiz, a longtime hockey fan and former California resident, used to cheer on the San Jose Sharks. When he found out Las Vegas was getting its own team, he said, he had no doubt he'd become a fan. A fresh tattoo of the team's star and crossed-swords design sits on his shoulder.
"You don't feel like a community, not always. It's such a transient city," Ortiz said. "This team has brought a sense of community. … They've done a lot of good things since (Oct. 1)."
Justin Lomprey is another resident with new Golden Knights ink.
"I was told my entire life that we wouldn't have a pro team because of gambling, that the city couldn't sustain it," said Lomprey, who was born and raised in Las Vegas. "I'm excited we have a local professional team that's ours now."
Momentum building
Andrea Lipomi, owner and operator of Feetish Spa Parlor, offers Knights fans a less-permanent way to show off their support.
Lipomi has created a custom set of Golden Knights-themed nails for a photo shoot, but clients can have a similar set created for them personally. The reusable nails take her anywhere from several hours to a couple of days to complete, and prices range from $70 to $200.
She has given about a half-dozen natural nail Knights-themed manicures for clients.
"Momentum is definitely building," she said. "It's all people talk about sometimes."
More Golden Knights: Follow all of our Golden Knights coverage online at reviewjournal.com/GoldenKnights and @HockeyinVegas on Twitter.
Contact Bailey Schulz at bschulz@reviewjournal.com or 702-383-0233. Follow @bailey_schulz on Twitter.