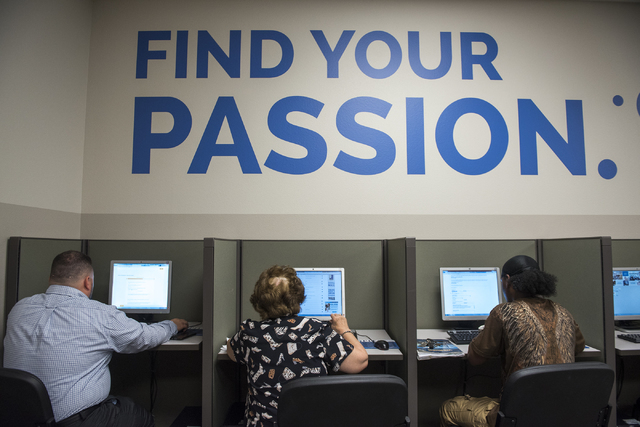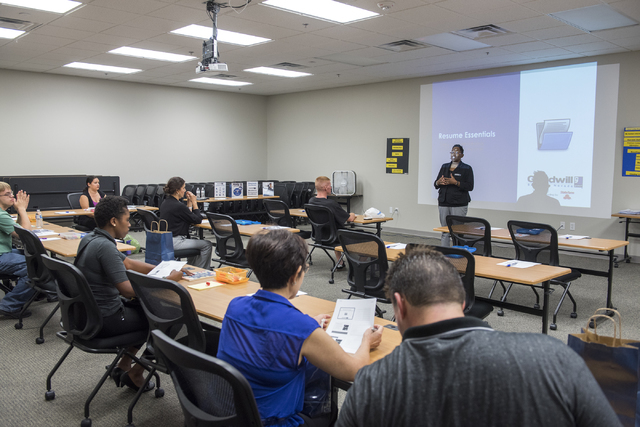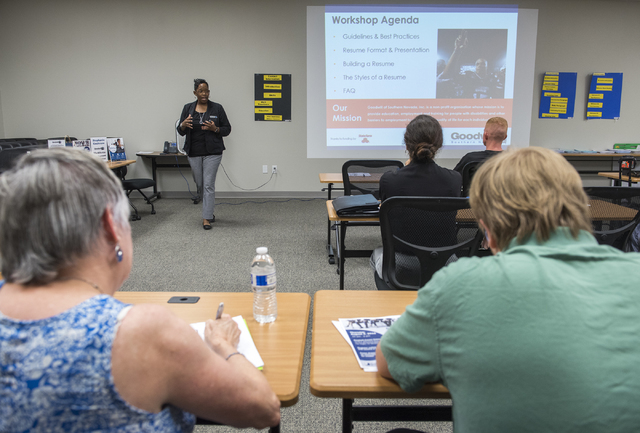 Goodwill of Southern Nevada opened its third Career Connections center on Thursday in an area it identified as among the most in need of its services.
Goodwill's Career Connections center, inside its newest store at the Boulevard Mall, 3700 Maryland Parkway, is a resource for people who are unemployed or underemployed. The center is equipped with computers, three career coaches and workshops to guide visitors through the job search and application process, resume building and job interviews. All the services are free.
Last year, Goodwill's Career Connections centers helped about 2,300 individuals find employment, an estimated total of $48 million in earned wages. Goodwill of Southern Nevada President Steve Chartrand hopes the new center will make an impact in the surrounding neighborhoods.
"When we realized that we were able to put a store in the mall, we realized that this would be a tremendous place to put a Career Connections, because the ZIP codes around it have some of the highest unemployment rates in the city," Chartrand said.
"A job has tremendous impact on a person's quality of life and the lack of a job can have a very negative impact," Chartrand said. "A job means a roof over the head, food on the table, insurance, etc. Our Career Connections is a community service to make that connection between an employer and a job seeker."
Chartrand said Career Connections tries to meet the unique needs of each individual. The Veteran Integration Program is a personalized job readiness service available to veterans, their spouses and dependents. Air Force veteran and career coach Brad Devlin supports fellow veterans transitioning back into civilian life and the workforce, and veterans who find themselves homeless.
Devlin can help these veterans translate the skills they acquired in the military into civilian language or in some cases, enroll them into courses to get the certification or licensing necessary to continue working in their field in a civilian setting.
Las Vegas resident Jason Ali is one of the center's success stories.
Before he found Career Connections, Ali, 31, described himself as a recovering drug addict and scam artist. While undergoing treatment, a friend referred him to the center. Tired of living off of scams, Ali decided to give it a try.
"I was never proud of what I did," Ali said. "I made good money but I was very unhappy. So, going through Goodwill they provided the education that I need to go forth with the career that I wanted."
With funding from grants, donors and store profits, Goodwill was able to help pay for Ali's Heating, Ventilation and Air Conditioning training and certification and buy a shirt and slacks to wear to his job interviews.
Today, he has worked for two months as a building engineer for Wyndham Grand Desert resort.
He said life is now infinitely happy and full of joy.
"Goodwill has given me a career and a future," Ali said.
Contact Rocio Hernandez Hernandez at rhernandez@reviewjournal.com or 702-387-5208. Find @rociohdz19 on Twitter.